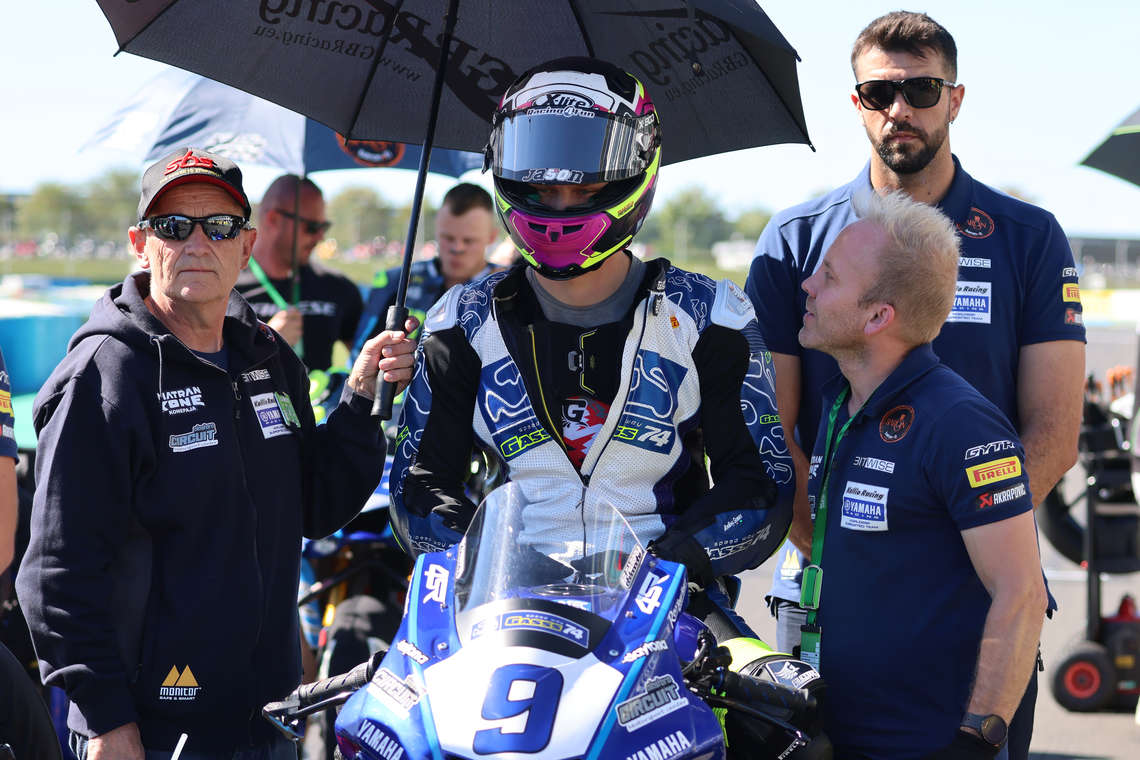 Race weekend in France, Magny-Cours
The FIM Supersport World Championship season 2022 continued last weekend in France, on the Magny-Cours Circuit. In several years Magny-Cours has brought success, but last weekend's races did not serve as a continuum for this. In Superpole, we couldn't find enough pace and we had to start the races far from the top positions. Simon Jespersen started the races from the 27th position on the grid, and Patrick Hobelsberger from the 29th position on the grid. Saturday's race was suspended after the 12th lap, leaving Jespersen ranked 21st and Hobelsberger 25th. On Sunday, both riders managed to improve, with Jespersen battling for the final World Championship points with Raffaele de Rosa and Isaac Viñales. Experience took the victory this time, and Simon Jespersen raced to the finish being 16th. Patrick Hobelsberger rose to 21st position.

Vesa Kallio:
'For Simon, the track was new, and this challenging track brought difficulties to Patrick as well. Fortunately, they both improved in Sunday's race. Let's try to go on from here in Barcelona, which is one of the favourite tracks for both.'

Simon Jespersen:
'Magny-Cours weekend was a tough one for me, I didn't quite manage to find any feeling until Sunday race day. I worked very hard together with Vesa and tried to understand what I have to change, practice, learn and do to be among the top of the points, I think that this weekend is something that I've learn most in from the WSBK paddock and sure I can use all of the things Vesa has told me during the weekend, I'm ready for another fight for the next round at Circuit de Catalunya! Thanks to Kallio Racing Team for amazingly good work as always!'

Patrick Hobelsberger:
'The race weekend was not really easy for me, to be honest. On Friday we had some strange weather conditions because it was raining for a couple of minutes, then it was shining and then raining again, so we didn't really have a lap on dry track, until the end of FP2. Last time I was in Magny-Cours was 2020 when it was raining all the weekend, so I was really hoping that I would be able to ride on a dry track this time. But it was not like that, so Friday was really difficult for me and it was in the qualifying when I had my first laps in the dry. I was not really concentrating being on the right line, I was just making sure that I can get around the track as fast as possible and get some good positions, but I had some big struggles with the track knowledge and everything. I just want to say that the bike was working really well, there was nothing wrong there and my fit and health felt also probably the best that I have all season long, so I'm completely healthy again. It was just about the track knowledge which was really difficult for me. This track needs a lot of flow, and I was just not able to put in the flow, I guess I have not so much track experience. So, I had a really difficult qualifying session which gave me a really bad start position, P29. My starts worked out quite okay and in the second race I was setting my fastest lap of the weekend. The team was working great, even if I had a really tough weekend the team was trying to push me forward, to keep relaxed and just focusing on the goal and everyone was still pushing and trying to support me as good as possible. This was helping me a lot but still I wasn't able to get the result what we deserve. But I'm sure that Barcelona will be a completely different story, because it's my favorite track and I have a lot of experience there. I was already there last year with a wild card, and I got my first top 10 in Supersport, so I'm really looking forward to this place. Thanks to the team for a perfect support and let's move on to Barcelona.'

The World SuperSport season 2022s next race weekend takes place in Spain, on the Barcelona-Catalunya Circuit from 23 to 25 September.

Race results
Saturday:
https://resources.worldsbk.com/files/results/2022/FRA/SSP/001/CLA/Results.pdf?version=3f254ea62985e67d70d5751fd79112ed&_ga=2.105681411.1830424236.1663224493-1282673976.1663224490

Sunday:
https://resources.worldsbk.com/files/results/2022/FRA/SSP/002/CLA/Results.pdf?version=3f254ea62985e67d70d5751fd79112ed&_ga=2.7663922.1830424236.1663224493-1282673976.1663224490

Championship standings:
https://resources.worldsbk.com/files/results/2022/FRA/SSP/002/STD/ChampionshipStandings.pdf?version=67e649219847fb6e7ff3ae98ae3ca54c&_ga=2.105320707.1830424236.1663224493-1282673976.1663224490

Text: Kallio Racing
Pictures: sp8images
---