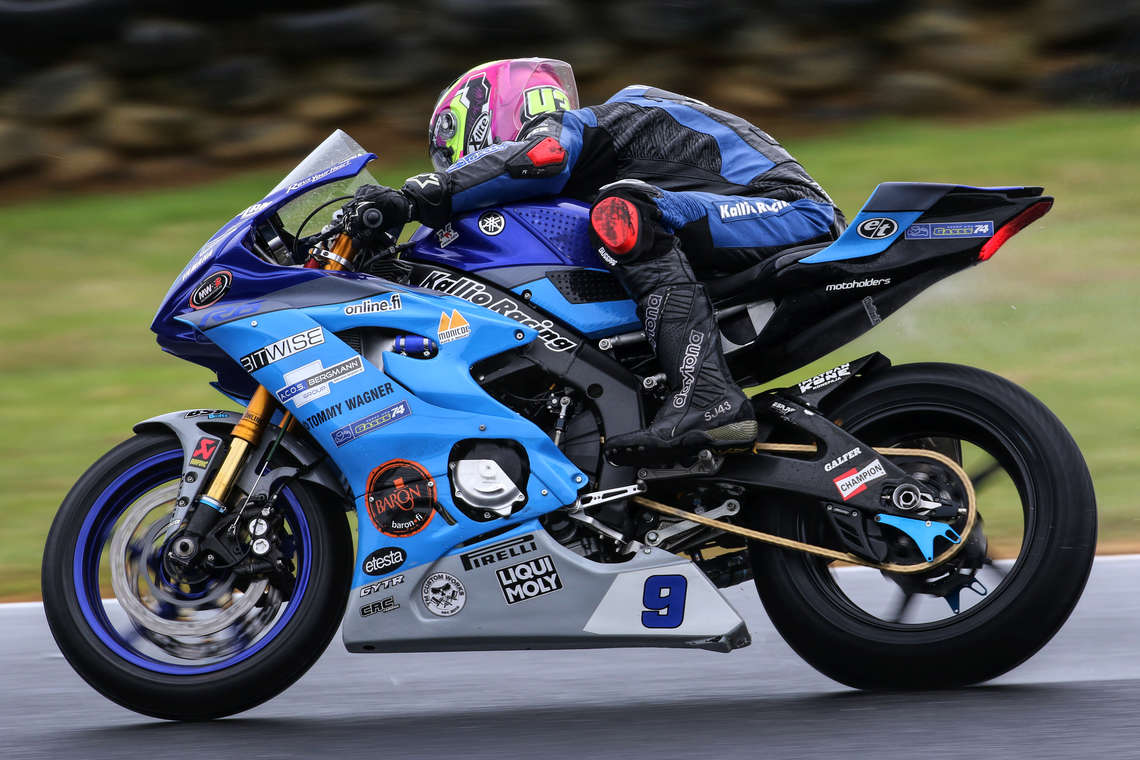 Race weekend in Australia
The final race weekend of the FIM Supersport World Championship season 2022 was run in Australia, on the Phillip Island circuit. This track is fast and demanding, so in Friday's free practices we focused on finding pace and confidence for riding.

Saturday's Super pole started under semi-wet conditions. At the beginning Jespersen was riding with rain tires, which were replaced with intermediate tires after a few laps. This tactic worked well and the timing for changing the tires was successful, since Simon Jespersen was able to ride several laps on a drying track. A good ride led Jespersen to the 9th position on the grid.

The first race of the weekend was ridden in a rainy weather on a completely wet track. Simon Jespersen fought for positions in the top ten group, riding a decent and immaculate race, although he didn't have much experience of this track yet. Jespersen finished the race in the 9th position.

In Sunday's warm up, the track was partly wet again, but the weekend's second race was started on a completely dry track. Simon Jespersen took a good start, and immediately moved one ranking upward in the first round. The top group stood out at an early stage of the race, and the second group was fighting for positions 8-15. Several overtakes were seen during the long race, and the positions changed even in the last lap. At the end of the race, Simon Jespersen crossed the finish line in 14th position.

Vesa Kallio:
"Simon was able to fight for positions with more experienced riders, without giving in an inch. He rode a solid weekend, achieving good positions for a first-timer. We need to bear in mind that in previous years, winter tests have been ridden here at the beginning of the week before the first race."

Simon Jespersen:
'The Australian weekend has come to an end, and it's been a really difficult but learnful weekend overall. I was able to make P9 in Wet Race 1, and P14 in Dry Race 2. I want to thank the crew for their incredibly good work and always being there for me 100%. It's been such a pleasure to work with them and I want to thank them for their trust in me and all the tips and tricks that I learn everyday with them. On Friday I was struggling a lot, but by the end of the weekend with big help from the team I managed to improve a lot on my own riding. I'm really motivated and I'm glad that I have had such good people around me that can tell me what to improve.'

The 2022 season has now been completed, and it is time to look to the future. The entire Kallio Racing Team would like to thank all the riders, mechanics, partners, and followers who participated for this season. Thank you!

Race results
Saturday:
https://resources.worldsbk.com/files/results/2022/AUS/SSP/001/CLA/Results.pdf?version=b908048205075099705dadbb33b3f19d&_ga=2.221416920.1985308421.1669207830-501167247.1669207813

Sunday:
https://resources.worldsbk.com/files/results/2022/AUS/SSP/002/CLA/Results.pdf?version=3f254ea62985e67d70d5751fd79112ed&_ga=2.57787242.1985308421.1669207830-501167247.1669207813

Championship standings:
https://resources.worldsbk.com/files/results/2022/AUS/SSP/002/STD/ChampionshipStandings.pdf?version=67e649219847fb6e7ff3ae98ae3ca54c&_ga=2.57787242.1985308421.1669207830-501167247.1669207813

Text: Kallio Racing
Pictures: sp8images
---