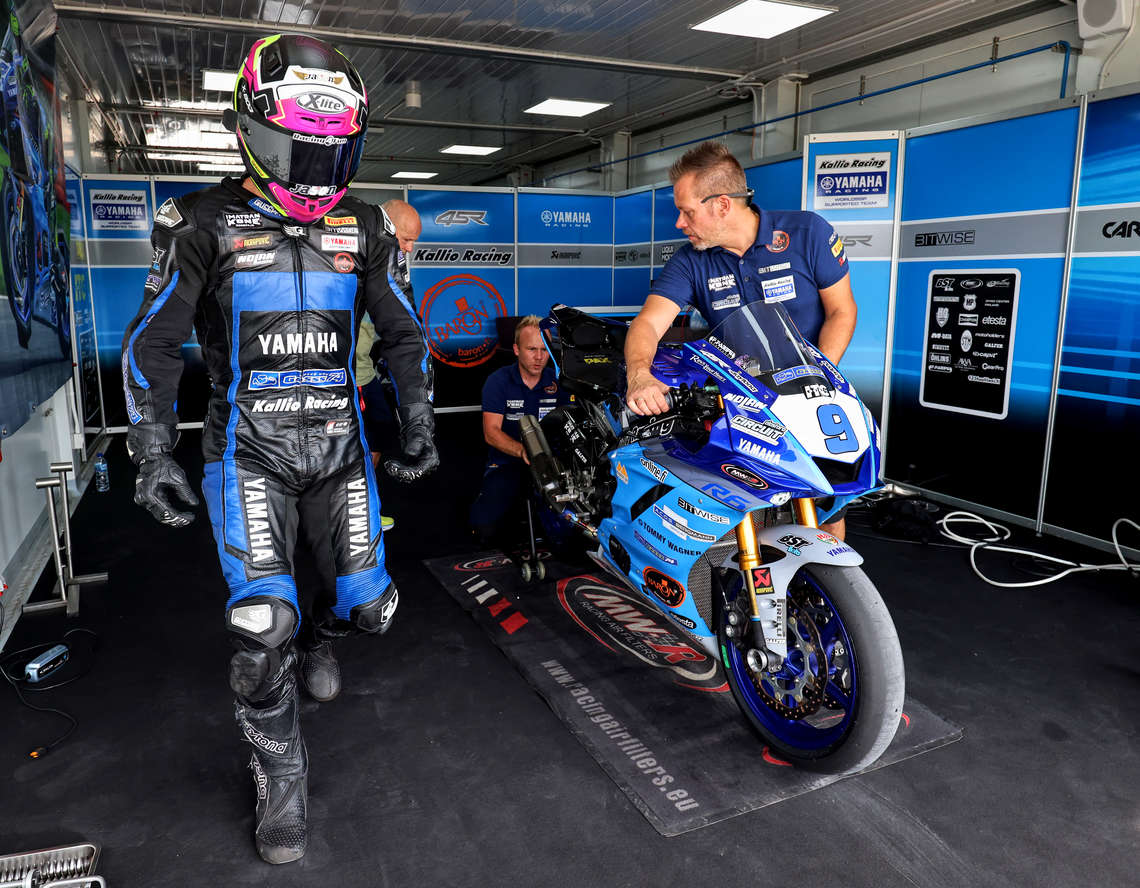 Race weekend in Indonesia
The FIM SuperSport World Championship season 2022 continued last weekend in Indonesia, on the Mandalika Circuit. The track had received a new asphalt this year, and it turned out to be really abrasive on the tyres. The grip was quite bad in Friday's free practices, as the track was relatively dirty and had not yet caught the rubber from the tyres. This created more challenges for the teams, but fortunately the track improved considerably as the weekend progressed.

For Simon Jespersen, the track was completely new, but nevertheless the weekend started off well. Jespersen was 2nd in Friday's first practices, and in FP2 he rode to 12th position. After the qualifications, Jespersen started the races from the 15th position on the grid. '1.3 seconds from the top, that's quite good performance from Simon,' says Vesa Kallio, Kallio Racing's team manager.
Jespersen started with a strong attack for the first race of the weekend, and he was already in 10th place in the first lap. Unfortunately, the battle ended in the second lap due to a crash.

Sunday morning's Warm up was cut short by a technical issue. In Sunday's race the start was again successful, and at the beginning of the race Jespersen rode along in the big top group. Unfortunately, the tyre wear began to make riding difficult, and it was impossible to stay with this top group, so the positions started to drop. 'With a small risk, we ended up trying a different tyre choice. We have used these tyres in many previous races, but for this track, we should have chosen the harder option,' Vesa Kallio reflects. Sunday's race was suspended in the 13th lap, leaving Simon Jespersen in the 15th position.

Simon Jespersen:
'First of all, I'm really happy to be back with Kallio Racing! In Mandalika it was little bit up and down, we started off really good in FP1 with P2, and also not really bad FP2. This weekend we unfortunately DNF Race 1 and lost the laps that I should have had because it was first time for me there. It was a strange crash and bit of shame, Kallio Racing did a great job to fix the bike so we could be ready for Sunday's Warm up and Race 2. Unfortunately, again we had bad luck with technical problems in Warm up but with again amazing work from Kallio Racing the bike was ready for Race 2. I had decent start but after few laps the front tire's grip dropped so fast and I was struggling all race to find confidence and grip. I finished P15 collecting one more point. Thanks to Kallio Racing Team for a nice weekend in Indonesia! Can't wait for Australia!'

The World SuperSport season 2022s last race weekend takes place in Australia, Phillip Island from 18 to 20 November.

Race results
Saturday:
https://resources.worldsbk.com/files/results/2022/MAN/SSP/001/CLA/Results.pdf?version=3f254ea62985e67d70d5751fd79112ed&_ga=2.195807972.93478746.1668420944-1830102026.1668420940

Sunday:
https://resources.worldsbk.com/files/results/2022/MAN/SSP/002/CLA/Results.pdf?version=3f254ea62985e67d70d5751fd79112ed&_ga=2.231907671.93478746.1668420944-1830102026.1668420940

Championship standings:
https://resources.worldsbk.com/files/results/2022/MAN/SSP/002/STD/ChampionshipStandings.pdf?version=67e649219847fb6e7ff3ae98ae3ca54c&_ga=2.231907671.93478746.1668420944-1830102026.1668420940

Text: Kallio Racing
Pictures: sp8images
---