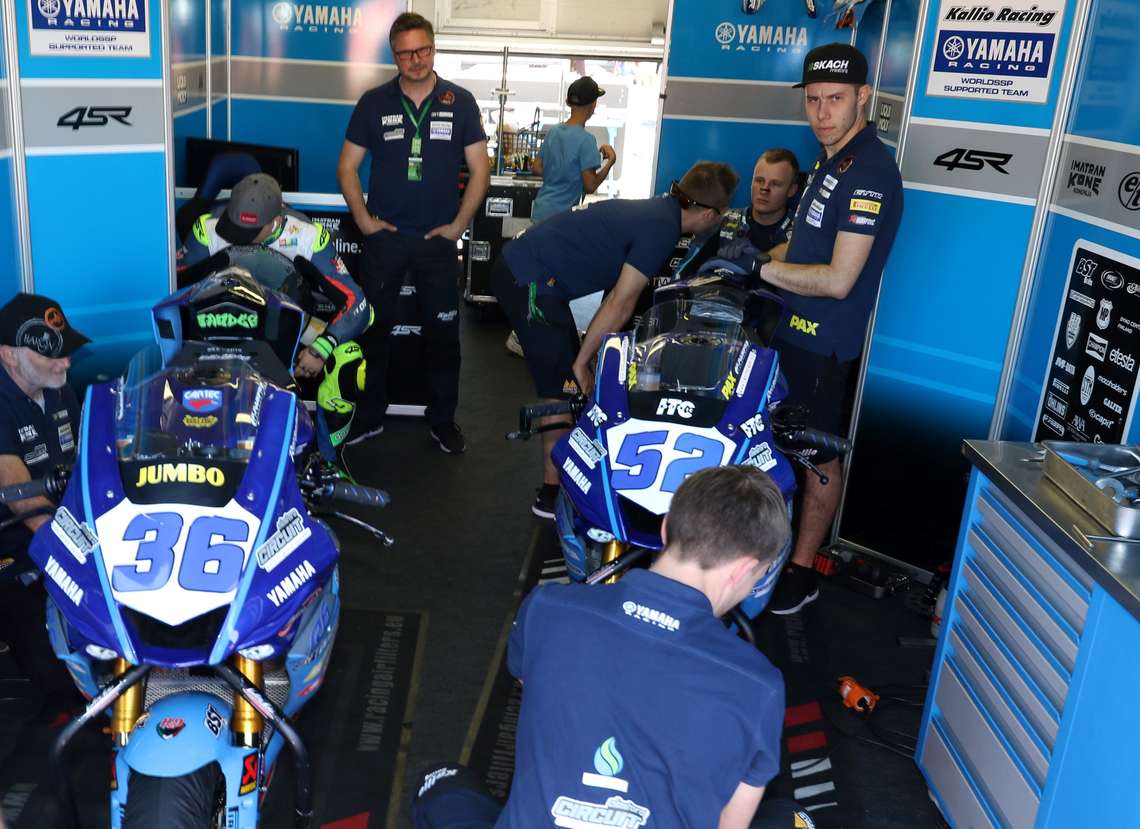 Race weekend in Italy, Misano
The FIM Supersport World Championship's fourth race weekend was run last weekend in Italy, on the Misano Circuit.

Patrick Hobelsberger, who raced for the first time since his injury, started the races from the 18th position on the grid. Unfortunately, in Saturday's race he retired. On Sunday Hobelsberger raced to the finish in position 22. "The whole team was waiting for Pax to return after his injury to Misano, which is one of his most familiar tracks. Unfortunately, however, too little time had passed since the injury and Pax was not yet in 100% condition. It was a very difficult weekend, and we didn't get anywhere near our goals. It is, of course, easy to say in retrospect that we should have prepared the rider for a later return", says Kallio Racing's team manager Vesa Kallio.

Sander Kroeze raced to 32nd position on the grid in Superpole. In Saturday's race, he finished being 20th, and on Sunday he raced to the finish in position 25. "For Sander, the learning process is being worked on all the time, and over the weekend the development proceeded constantly. His lap times improved little by little and the difference to the top was reduced, but in order to be able to race better with others, we need to focus more on overtaking. But now there is a small break from racing, and we will resume at Donington in mid-July", Vesa Kallio says.

Patrick Hobelsberger:
FP1 was quite a tricky session, because I was not properly riding for 5 weeks after the crash and the injury, so it was quite hard to get used to the speed, but it was coming back quickly. FP2 was a lot better, I had quite a good feeling and we made some little improvements for Superpole which were quite good, but I lost some positive feeling on the brakes, and I crashed at the end of the Superpole which left me with the 18th position on the grid. The crash was not really bad, it was just a small crash, and I was not a hurting myself more than it was already from the injury, so that was quite positive as well. For the first race I was getting some problems with the front tire, and I decided to stop and save some energy, because I was already on the back of the field, and it was not worth to continue. Warm-up was quite tricky as well, as I was not able to train for good amount of time because I was injured. On the beginning of the second race, I felt quite strong, but I still have not enough power to ride really fast on the left hand. I had to do everything with the right side, and I was struggling quite a lot with energy and power. I was falling back quite a lot and I had some physically issues to ride on the speed what I normally have. But the training continues.

Sander Kroeze:
" This weekend I really enjoyed. It wasn't easy for me, but we made small steps all the time and I am happy with that. The first race wasn't really good, but in the second race I made a good improvement. Now keep working and try to get a better result in Donington."
The World Supersport season 2022s next race weekend takes place in the United Kingdom, on the Donington Circuit from 15 to 17 July.

Saturday:
https://resources.worldsbk.com/files/results/2022/ITA/SSP/001/CLA/Results.pdf?version=3f254ea62985e67d70d5751fd79112ed&_ga=2.26174783.344668871.1655109165-167626284.1655109162

Sunday:
https://resources.worldsbk.com/files/results/2022/ITA/SSP/002/CLA/Results.pdf?version=3f254ea62985e67d70d5751fd79112ed&_ga=2.21891641.344668871.1655109165-167626284.1655109162

Championship standings:
https://resources.worldsbk.com/files/results/2022/ITA/SSP/002/STD/ChampionshipStandings.pdf?version=67e649219847fb6e7ff3ae98ae3ca54c&_ga=2.93268511.344668871.1655109165-167626284.1655109162

Text: Kallio Racing
Pictures: sp8images
---