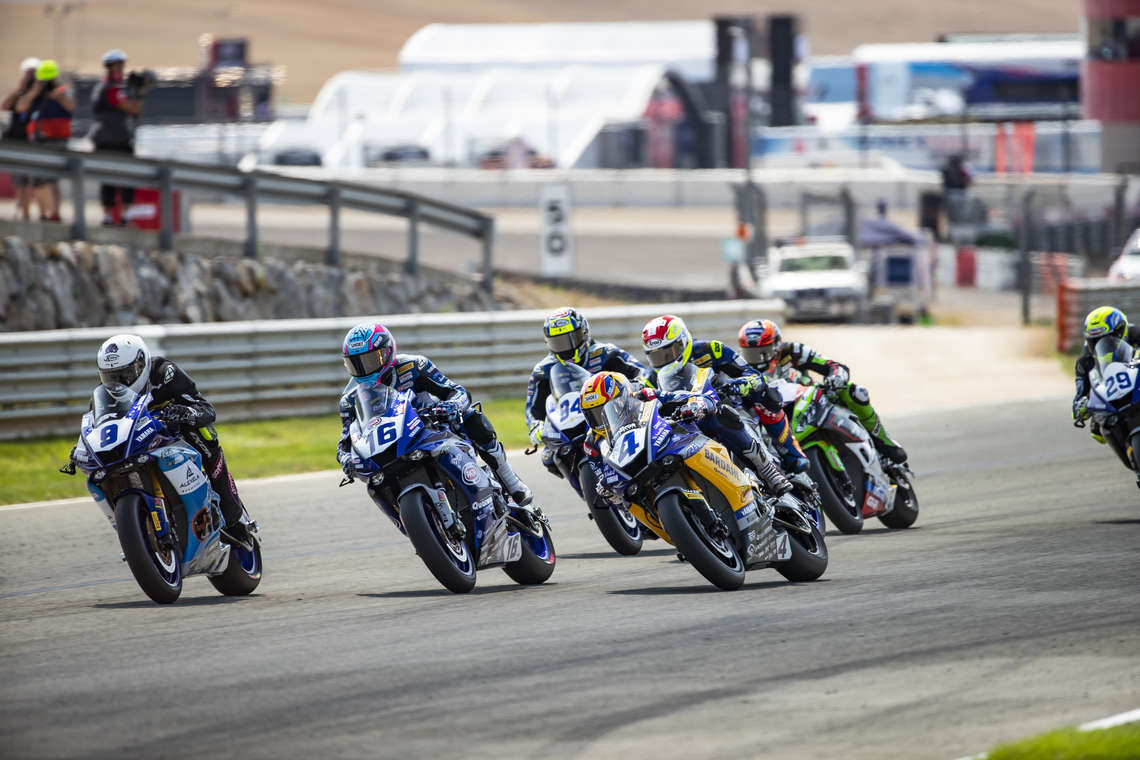 Race weekend in Spain, Navarra
The FIM Supersport World Championship's race weekend was run for the first time at the Navarra circuit, Spain. Hannes Soomer was still injured, so 20-year-old Dane Simon Jespersen rode as his replacement. For Jespersen, who is riding in the ESBK class, the Navarra circuit was already familiar, as it was for Vertti Takala as well. Weekend's races were Jespersen's first in the WSSP class and in the Kallio Racing Team.

The weekend got off to a good start, with a lot of laps being run on Friday. In the Superpole, Simon Jespersen was ranked eight, and Vertti Takala 18th.
For Saturday's race, Jespersen took a really good start, immediately rising to third place. Although there were some minor mistakes during the race, he crossed the finish line in ninth position. Sunday's start was even better from him, as Jespersen shot straight at the top, and led the group over half a lap. He was riding many laps in the top three until, because of some minor situations, a few riders from an even top group managed to overtake him. Jespersen soon regained his rhythm, fighting for the standings with Philipp Öttl and Niki Tuuli. Sunday's race was suspended with a red flag six laps before the finish, and at this point Simon Jespersen was in eight place.

Vesa Kallio:
"Good racing from the youngster, he cool-headedly challenged more experienced riders. It was great to watch how the young boy was able to embrace the new bike and tires really fast. Simon challenged the top riders and finished in the top ten in both races. It was great to see how eager Simon was to learn new things and that he was also immediately able to make changes to his own work. We wish Simon the best of luck for the upcoming ESBK weekend."
Simon Jespersen:
"Overall, I can't really be more satisfied with how the weekend has been going. Of course, you always wanted to have done a few things differently or better but with the lack of experience and time with the bike/team, I think that it's been WAY more successful than what I have thought. As I said earlier when we released the news of me replacing Hannes, I didn't really have any expectations but wanted to learn as much as possible and gain as much experience as possible this weekend. I must say that it's been the most learn fully weekend I've ever had and an eye opener of how professional everything is. It's been a shame that I haven't had more time on the bike or with the team a bit before to get to know each other, but we have managed to make a setup that was good enough to be with the front guys in both races for quite a lot of laps which I didn't expect. We have suffered a little with some problems still about the setup, but I tried to manage it as good as I could. I'm happy that I have walked away from this weekend taking a few points and a great knowledge of what I have to work on by Vesa Kallio and the whole crew. Thanks again for this opportunity, it's been a pleasure!"
Vertti Takala had a pretty good pace in both Saturday's and Sunday's races, but minor mistakes cost too much. In Saturday's race, Takala rode to 14th position, and on Sunday he finished 16th. "It seemed that Vertti was taking a bit of pressure on himself this weekend, and maybe there was some over-trying, because intact performances were not achieved. Saturday's 14th place brought a couple of World Championship points, but of course we can't be perfectly satisfied with that," ponders Kallio Racing's team manager Vesa Kallio.
Vertti Takala:
"It was a difficult weekend. The practices got off pretty well and we found a pretty good pace, but in Superpole I made a little mistake and it paid back; 18th position on the grid although expectations were a little higher as the track was familiar. I didn't really get the starts to succeed either day and on top of that there was a couple of mistakes, and some bends went long in both races. I had a good pace in the second race, lap times similar with the top group, but rankings were 16th and 14th. It didn't quite satisfy, but now let's keep working hard, and then at Magny-Cours we'll go strong again."

The World Supersport season 2021s next race weekend takes place in France, Magny-Cours from 3 to 5 September.
Race results
Saturday:
https://resources.worldsbk.com/files/results/2021/NAV/SSP/001/CLA/Results.pdf?version=3f254ea62985e67d70d5751fd79112ed&_ga=2.195452012.1194487125.1629701550-1474460176.1629469618
Sunday:
https://resources.worldsbk.com/files/results/2021/NAV/SSP/002/CLA/Results.pdf?version=3f254ea62985e67d70d5751fd79112ed&_ga=2.31463678.1194487125.1629701550-1474460176.1629469618
Championship standings:
https://resources.worldsbk.com/files/results/2021/NAV/SSP/002/STD/ChampionshipStandings.pdf?version=67e649219847fb6e7ff3ae98ae3ca54c&_ga=2.192240746.1194487125.1629701550-1474460176.1629469618

Text: Kallio Racing
Pictures: Václav Duška Jr.
---