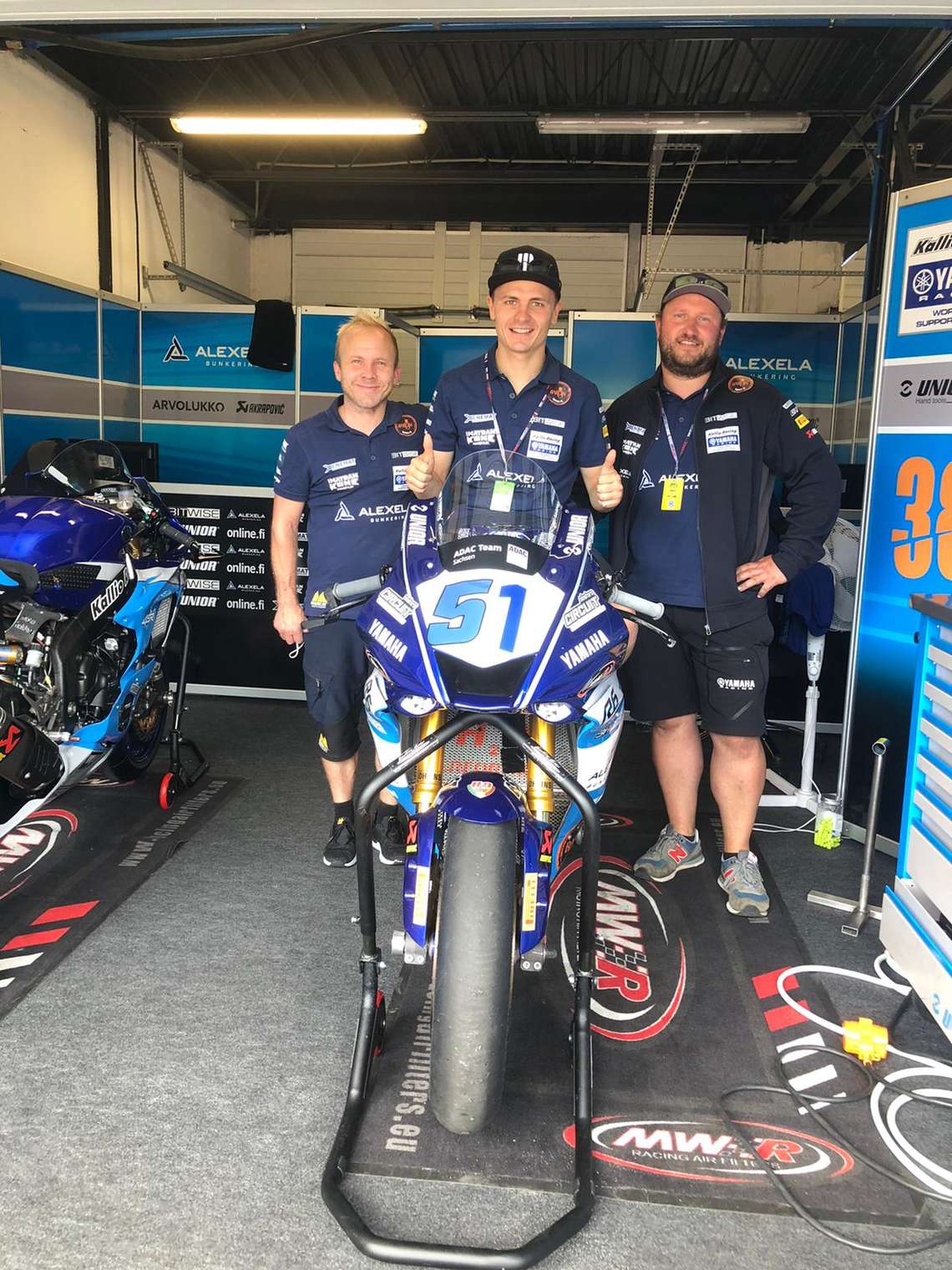 Fifth race weekend of the season 2021
The FIM Supersport World Championship's fifth race weekend was run last weekend in the Czech Republic, on the Most circuit. The track is really challenging for the riders, including many side-to-side exchanges. Due to Hannes Soomer's injury, 24-year-old German Max Enderlein replaced him in this race weekend.

Friday's free practices went well for both riders in the team. In Saturday's qualifications, Enderlein cleared his way to 11th position on the grid. Vertti Takala started the races from 24th position on the grid. "Max did well in the Superpole, the 11th grid in this tough group was promising. For Vertti it was harder to find a good rhythm for bend combinations, and the starting grid was a little too far from the target", says Kallio Racing's team manager Vesa Kallio.

Saturday's race got off to a good start, with Max Enderlein immediately rising in the first bends to ninth place. Unfortunately, midway through the first lap, he collided with another rider, drifted in the gravel, and fell in the standings towards the end of the group. Later he raced in the gravel again and ended being ranked 29th. Vertti Takala had difficulties at the start of the Saturday's race and when the rhythm for riding was found, the race was suspended with red flags Takala being at 16th position.

In Sunday's race, Max Enderlein raced a little too calmly at the start, and the top group got away. The pressure required to reach the top wasn't quite found, and Enderlein raced to finish in 11th position. "However, Max achieved his first World Championship points, so it was very excellent performance from him. Thank you, Max, for riding with us", says Vesa Kallio.
Vertti Takala crashed drastically in Sunday's Warm-up, with the bike suffering big damage. "We tried to get the bike fixed in that short period of time, but not all the damage had been noticed, and Vertti didn't get to start the race at all. Unfortunate situation, but we must learn from this", Vesa Kallio ponders.

Max Enderlein:
"First of all, I have to thank my sponsors, family and Kallio Racing for making this chance to ride in WSSP race possible. At the beginning of the weekend, I struggled a lot with the new bike, but after few laps the feeling got better and better. Finally, I was able to finish Superpole on a great 11th position. Unfortunately Race 1 was already over after around 9 corners. For the second race my first target was to enjoy and to give the team something back. The first laps I was a little bit too defensive. After some laps I found my rhythm, but the leading group was already far away. At the end I finished 11th. My first points in the world championship. For sure I'm really happy about it but I also know that I'm capable of doing even better and ride in group of the top guys. Thanks to everyone who was involved in this great journey!"

Vertti Takala:
"The weekend got off to a bit of a slow start, but in Friday's second practice, I found some better things for riding already. I had a good feeling before qualifications, but we didn't get quite the result we wanted, and the starting grid for the races was pretty bad. In the first race, I got up a few places after the start, found the rhythm and started to catch those riding ahead. I was being 16th when the race was suspended with red flags and my good rise fell short. On Sunday at the Warm-up, I went a bit too wide and got to the outer side of the track. On that dirty section, I was still trying to turn the bike back and speed up, but the rear tire took off from underneath and I ended up crashing rather hard. The bike was spinning quite a few times and suffered a lot of damage. I even hurt myself a little. The team worked hard and got the bike fixed, but on the starting grid we noticed that one bar was still warped, and I didn't dare to start the race. Bad luck and failures piled up a bit too much into this weekend, but let's try to learn from this, and get a better result in Navarra."

The World Supersport season 2021s next race weekend takes place in Spain, Navarra from 20 to 22 August.

Race results
Saturday:
https://resources.worldsbk.com/files/results/2021/MOS/SSP/001/CLA/Results.pdf?version=3f254ea62985e67d70d5751fd79112ed&_ga=2.139861238.433834100.1628438609-1536652635.1628438605

Sunday:
https://resources.worldsbk.com/files/results/2021/MOS/SSP/002/CLA/Results.pdf?version=3f254ea62985e67d70d5751fd79112ed&_ga=2.139861238.433834100.1628438609-1536652635.1628438605

Championship standings:
https://resources.worldsbk.com/files/results/2021/MOS/SSP/002/STD/ChampionshipStandings.pdf?version=67e649219847fb6e7ff3ae98ae3ca54c&_ga=2.38777702.433834100.1628438609-1536652635.1628438605

Text: Kallio Racing
Photos: Václav Duška Jr.
---