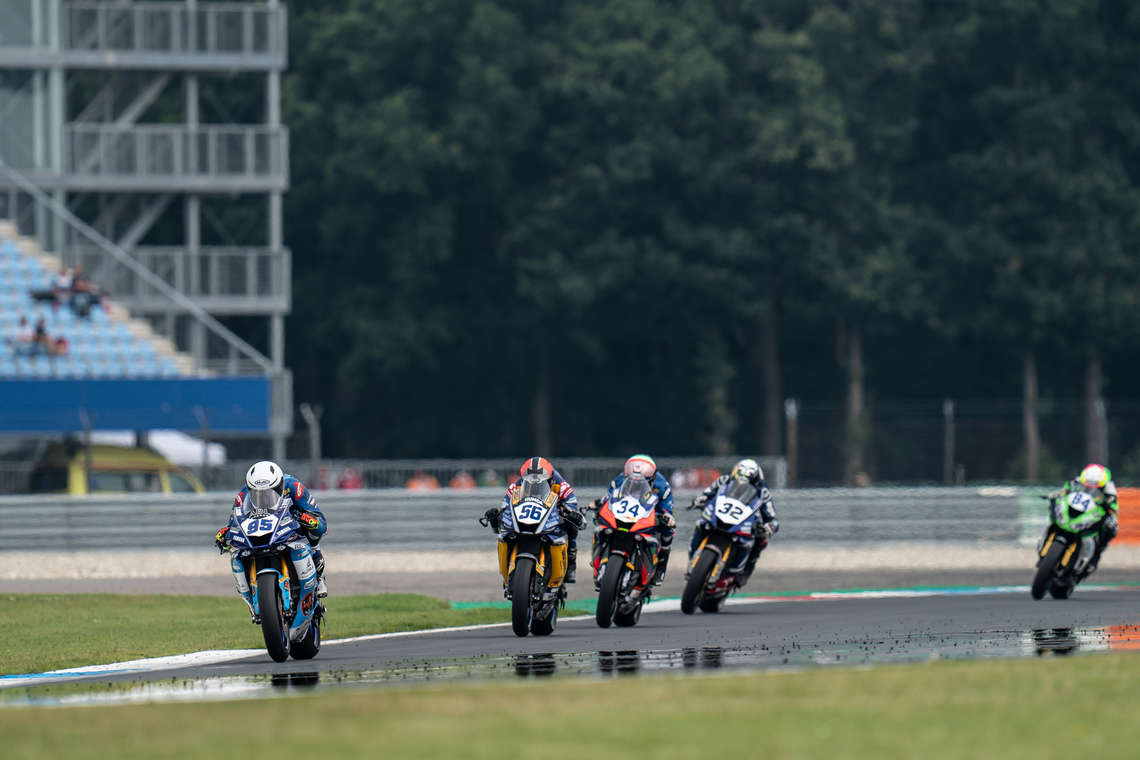 The World Championship season 2021 resumed after the summer break
The FIM Supersport World Championship season 2021 resumed last weekend in the Netherlands, on the Assen track. After the summer break, a full of enthusiasm and belief in possibilities were set out to race. Assen is also Hannes Soomer's favourite track, so expectations were high.

Friday turned out to be a good day, even though there was some wrestling with adjustments and riding lines. In Saturday's qualifications, both riders had good pace on, the relaxation for riding had been found and both improved considerably their lap times. Vertti Takala ran a magnificent Superpole and from the 12th position on the grid it was good to start the weekend's races. Takala took good starts in both races and fought each day for the standings in the top ten. Unfortunately, in Saturday's race he got bumped by another competitor and had to retire. However, in Sunday's race, Takala battled himself to 10th position.

"Vertti, who rode for the first time in Assen, improved his own riding and lap time nicely. He ran an intact and rise-led weekend, 10th place is a top performance at this level. In both starts he battled nicely and without misfortune on Saturday, it would certainly have been Vertti's best start for this season", says Kallio Racing's Team Manager Vesa Kallio.

In Saturday's Superpole Hannes Soomer managed to rise to the second place, but unfortunately, on the next fast lap, Soomer crashed on a fast-pace right-turning bend, after losing the grip of the front tire. As a result of a severe crash, he suffered a broken tibia and fibula.

"In this field of sports, the risk of crashing is high and everyone knows it, but of course injuries are always very unfortunate. We had just reached a good pace and things had moved in a better direction. Now ahead is a multi-week recovery period, but after that we'll try again", Vesa Kallio ponders.

Vertti Takala:
"Good weekend overall, quite eventful. I was in Assen for the first time and in practices I mainly got to know the track. In qualifications I rode a pretty good time, and it was enough for the 12th position on the grid. In the first race there was a chance for me to be in top 10, but another competitor collided with the side of my bike, and I had to retire. In Sunday's race I took a little better start, but on the first lap a few riders got past, and I got stuck behind them. However, I overtook them at halfway of the race as we fought hard for rankings. We even bumped into each other a little bit, and I rode off the track once too. I managed to catch and overtake them though and held on to 10th place all the way to the chequered flag. I've got to be happy, even though the first half of the race didn't go quite perfectly. I still managed to fight myself in the top 10, and that's positive."

Hannes Soomer:
"It was certainly a weekend which could have ended a bit better. On friday we worked really well as a team and although we were not really in the top in the standings we made some long runs, found a good direction and felt strong for saturday. In the Superpole I changed the tire early to find some clear track and could make a few good laps with the second tire. I felt like I can find even more time because the feeling with the bike was very good. The crash itself was nothing special, just a small mistake with the line, but I landed unfortunately in the gravel and broke 3 bones in my ankle. I'm happy to escape any other injuries. Now starts the recovery and hopefully I will be back on the bike soon."

The World Supersport season 2021s next race weekend takes place in the Czech Republic, on the Most track from 6 to 8 August.

Race results
Saturday:
https://resources.worldsbk.com/files/results/2021/NED/SSP/001/CLA/Results.pdf?version=3f254ea62985e67d70d5751fd79112ed&_ga=2.91588314.110626932.1627237000-1860804226.1627236998

Sunday:
https://resources.worldsbk.com/files/results/2021/NED/SSP/002/CLA/Results.pdf?version=3f254ea62985e67d70d5751fd79112ed&_ga=2.186484329.110626932.1627237000-1860804226.1627236998

Championship standings:
https://resources.worldsbk.com/files/results/2021/NED/SSP/002/STD/ChampionshipStandings.pdf?version=67e649219847fb6e7ff3ae98ae3ca54c&_ga=2.93826781.110626932.1627237000-1860804226.1627236998

Text: Kallio Racing
Photos: Václav Duška Jr.
---