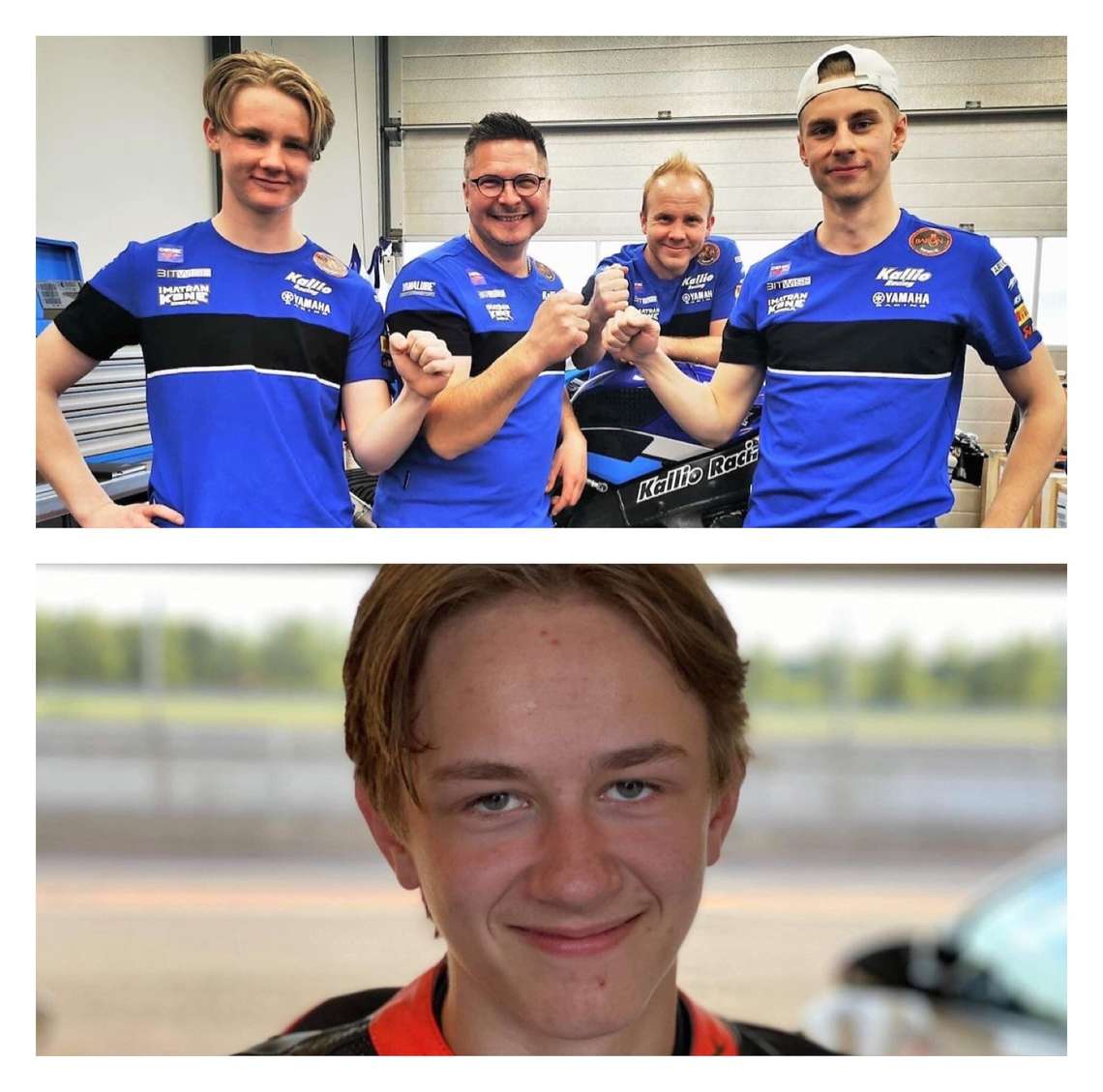 Kallio Racing Junior Team 2021
For several years Kallio Racing has been involved in supporting Finnish road racing promises Rasmus Nurmi, and Tuomas and Matias Kesti. These young riders are aiming out into the world, and therefore their hobby has been directed in a more professional direction. The riders' skills have developed at a tremendous pace and their parents have put a lot of work into the boys' hobby. Winter training has been done on ice tracks, and races have been run as well. 17-year-old Tuomas Kesti was second in the Superstock600 class of the Finnish championship series last summer, and 16-year-old Rasmus Nurmi won the Supersport300 class of the Finnish Cup. 15-year-old Matias Kesti took a big leap forward last winter, winning by sovereign ride both of the ice track's B classes. His age was still not enough for the Superstock600 class last year, so the previous summer was spent practicing. This year, Matias and Tuomas are fighting in the same class.
The 2021 Finnish Championship season for road racing starts next weekend from 18 to 20 June at Motopark in Virtasalmi.

Vesa Kallio:
"All the boys have a chance to fight for victory in their own classes and that, of course, will be the target. But we have to keep in mind that there are many top-notch riders on the track, all of whom have the same goal. If we want to be in the top positions, we have to be able to ride flawlessly and also make progress from last year. Jori Nevalainen and Timppa Pohjalainen are involved in supporting the boys. They both have years of experience in road racing, and they know what things should be paid attention to, when trying to get the rider's full potential exploited. Of course, I try to be as helpful as possible in coaching the boys."

Tuomas Kesti:
"I'm really happy about the start of the season. Races have been looked forward to since the first training session. Because of the corona, few first races had to be postponed, which has been a good thing because now there's been a lot more time to practice. The goal for this season is to ride steadily to the podium from race to race, and after the last race of the season to be in the top spot in points. Thank you to all the supporters, partners and everyone who have been involved in my journey in some way. You have made this possible."

Matias Kesti:
"I'm looking forward to start the season. Postponing the first few races has been a good thing, as I injured my ankle a month ago at Motopark and the healing has taken some time. Now the ankle is already in pretty good shape, and I'll probably get to ride all season. The goal is to gain experience and be in the top group in the races."

Rasmus Nurmi:
"I had good feelings until I heard about the first races been postponed. It was very annoying, but now I feel better when we're already so close to the first race weekend. I'm aiming, of course, to defend my Finnish Championship. I've been training well throughout the winter, so my physics and race condition are all right. My goal is to run the last two races of the ESBK series in Valencia and Jerez in the autumn at the end of October. Jerez is already familiar from last season, but Valencia's track is brand new to me."
---