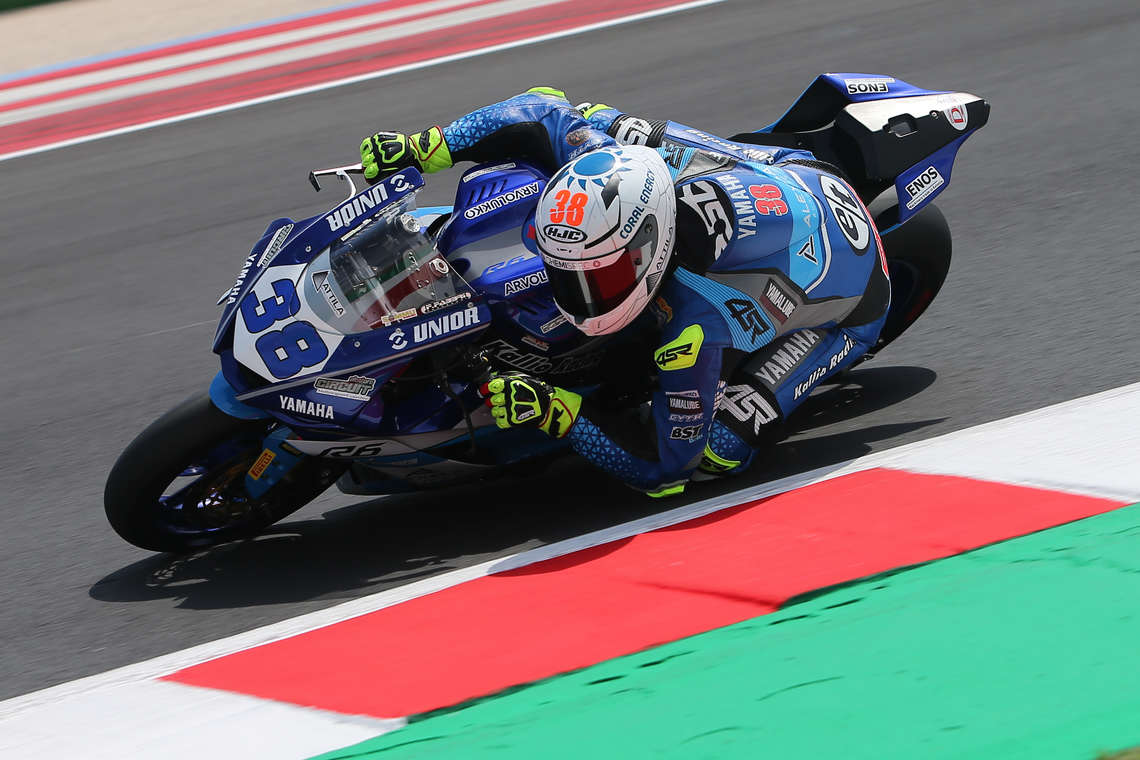 Third race weekend of the season 2021
The FIM Supersport World Championship's third race weekend was run last weekend in Italy, on the Misano Circuit. In Saturday's Superpole, Estonian Hannes Soomer cleared his way to fifth position on the grid, and Finnish Vertti Takala to 28th position on the grid. Soomer rode his best Superpole of this season, and it promised good for the races.
Saturday afternoon's race began as planned, but in the first half of the race braking in the fourth bend failed to succeed, and Soomer's race ended in a crash. Takala made a soaring rise in Saturday's race and rode to the World Championship points. In the race colored by the crashes and, due to the penalty given to the rider above, he ended up in 14th position.
On Sunday, Hannes Soomer's race was pretty tricky from the start, with no confidence to the front tyre to be found. However, he battled himself to finish 10th. Vertti Takala's riding looked even better in Sunday's race, but a minor riding mistake on the final bend of the track caused a crash, and he retired.

"There were a lot of good things over the weekend, and we tried some new things, which seemed to work well. However, we didn't manage to be fast enough in the most important part of the weekend; in the races," ponders Kallio Racing's team manager Vesa Kallio. "For Vertti, Misano's track was a new acquaintance, and things certainly wasn't easy for him at any point over the weekend. The five-week summer break now comes at the right place. We need to analyze things accurately and try to develop the bike to be better and fit for the riders, and find that speed and certainty for the races."

Hannes Soomer:
"Overall an ok weekend with not so ok results. On Saturday I made a mistake in the race and Sunday was a strange day. Everybody suffered with the hot temperatures, for some reason we just suffered a lot more. A crash and P10 wasn't what I had in mind for this weekend but there's still a lot of races left."

Vertti Takala:
"It was a pretty challenging weekend. I haven't ridden in Misano before and the track is pretty challenging, a lot of technical places. It showed in my riding along the weekend. The second race was heading to a pretty good result, but with my own small mistake the front part of the bike left under, and the points were lost with it. But we need to learn from it and now focus on the next race. Thanks to the team for a really great job throughout the weekend, they did a lot of work again."

The World Supersport season 2021s 4th race weekend is going to take place in the Netherlands, Assen after the summer break, from 23 to 25 July 2021.

Race results
Saturday:
https://resources.worldsbk.com/files/results/2021/ITA/SSP/001/CLA/Results.pdf?version=f0b4d5e9bcf29989eb44351b81288000&_ga=2.54950891.1596172872.1623486798-395287472.1623486797

Sunday:
https://resources.worldsbk.com/files/results/2021/ITA/SSP/102/CLA/Results.pdf?version=f0b4d5e9bcf29989eb44351b81288000&_ga=2.8254706.1596172872.1623486798-395287472.1623486797

Championship standings:
https://resources.worldsbk.com/files/results/2021/ITA/SSP/102/STD/ChampionshipStandings.pdf?version=8b046a7c114d0a269b986f43cc1bf767&_ga=2.51698281.1596172872.1623486798-395287472.1623486797
---