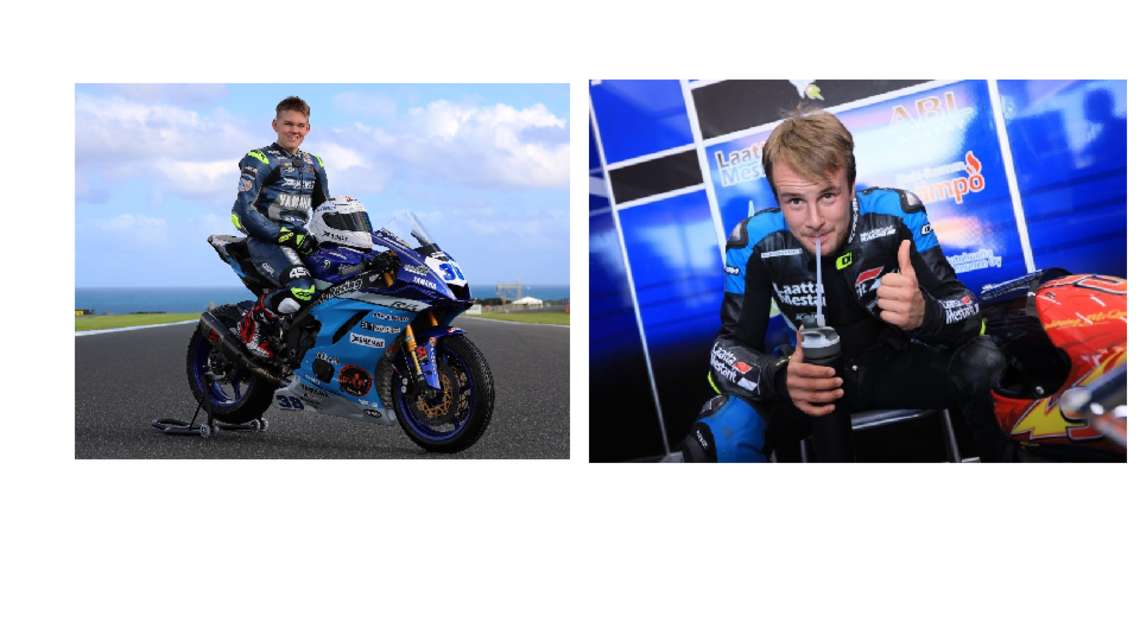 Kallio Racing's World Supersport Championship season 2021
With these prospects the FIM World Supersport Championship season 2021 will start in May and Kallio Racing is once again involved, ready and eager to start a new racing season. This year the Finnish team is also going to be strong with its two riders: Estonian Hannes Soomer and Finnish Vertti Takala. Finns and Estonians are known as hard workers and for their tenacity, so top-level performance is expected this season as well.
23-year-old Hannes Soomer will ride Kallio Racing's Yamaha for the second consecutive season. Last season was a little different due to the COVID-19 but despite the exceptional circumstances, Soomer achieved great results on the track including three consecutive podium placements. "It was extremely important after the challenging last season that the collaboration with Hannes continued. The results improved constantly during the season and especially the end-of-season podiums gave us the impression that we are doing things right. Now we are aware of the things we need to focus on particularly in order to be able to fight at the forefront throughout the season. And of course, this must be our goal," says Vesa Kallio, Kallio Racing's team manager.
Hannes Soomer:
"I am happy to continue for another year with Kallio Racing. We can take the experience of last year and use it to fight for more podiums, wins and a top place in the championship this year. Working with people I know well and value, makes me very excited and confident for the new season. It is a strange time in the world right now, but I am staying healthy, fit and ready to start racing when the season starts."
Vertti Takala, a 26-year-old Finn from Äänekoski, will join Kallio Racing as a new rider. He advances to the WorldSSP class from the Kallio Racing Junior Team, which is racing in the Spanish ESBK series, and where Takala competed the season 2020. Takala has started his racing career at the age of 15 on ice rinks, winning the Finnish Cup in his very first year of racing. He started competing on asphalt tracks in 2017 and won the Finnish Championship in 2018.
Vesa Kallio:
"Of course, this is a big leap for Vertti, but based on last year's results, now is the right time to move on into the World Supersport class. It's important that in the initial tests of the season he gets a good feeling of the bike and that he can start the season without any additional pressure. Vertti also developed his riding upwardly throughout the last season and, of course, it is good to continue working with the same team of mechanics. An interesting season coming overall! According to the entry list, this season is going to be really tough, and we set out with great interest to challenge the other riders."
Vertti Takala:
"I am excited about next season! The WSSP class is very high level and next season is going to be learning for me. However, I think that we have a chance to achieve good positions. The team is very professional, and the bikes are top notch, so things won't get caught up in that. It's great to be able to ride on new tracks and work with the team."
The World Supersport season 2021's first race will be ridden in Estoril, Portugal on 7th – 9th of May 2021.
FIM World Supersport calendar for season 2021:
https://www.worldsbk.com/en/calendar
There may be further changes to the race calendar as the COVID-19 situation continues.
---