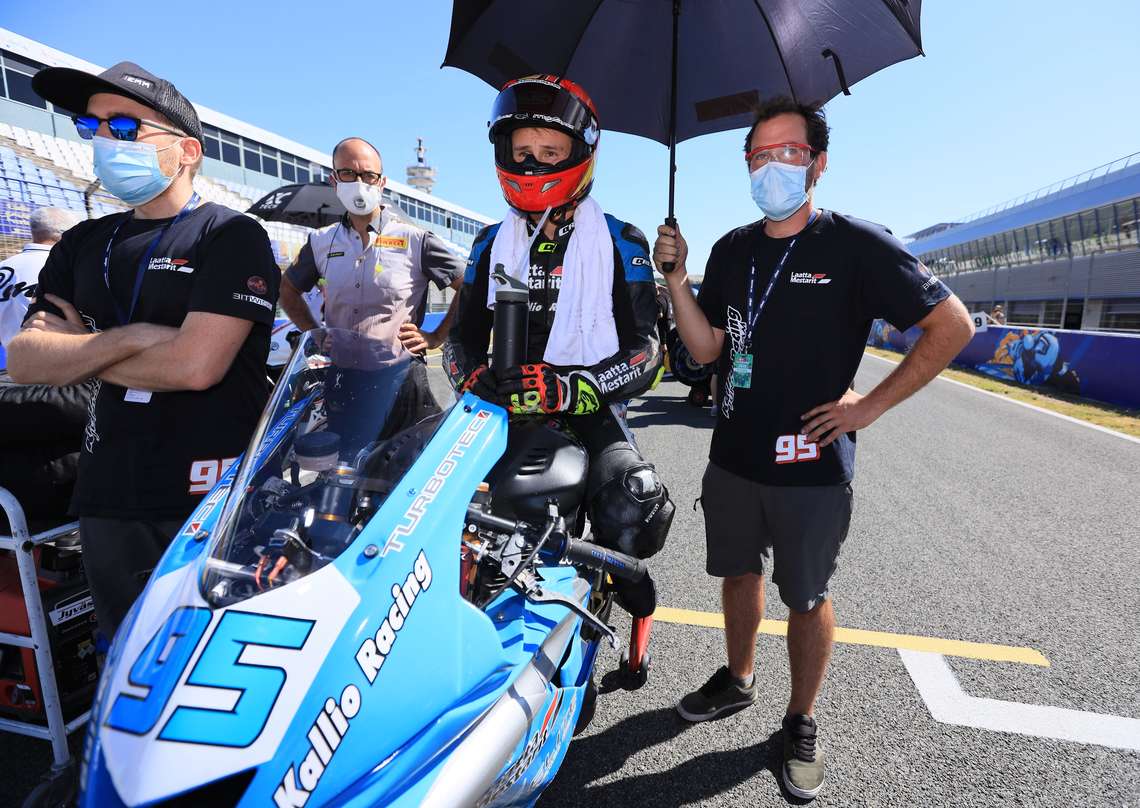 The fourth race weekend of the Kallio Racing Junior Team season 2020 was run in Jerez
Kallio Racing Junior Team's race season continued last weekend, when the fourth race weekend of the 2020 season in the Spanish RFME series was run in Jerez, Spain. In Saturday's race, both riders of the junior team were in the top ten, as Kenny Koskinen finished in 9th position and Vertti Takala was being 10th.
In the second race of the weekend, Kenny was able to start from the 9th position on the grid, based on his ranking in Saturday's race. He took a great start, immediately rising to sixth place. He remained involved in the top-group battle for a few laps, but after that it became difficult to keep the rankings. Kenny Koskinen finished being 13th on Sunday.
Vertti Takala rode good lap times in both Saturday's and Sunday's race, but on both days the fight was difficult due to the 20th starting position on the grid and he also had some hard time catching up with the rhythm in the beginning of the race. On Saturday, he was able to raise his ranking all the way to 10th position, but in the second race of the weekend he was left without points due to a crash.
"There are two more race weekends to run this season and we know what aspects we need to work on. The goal is to concentrate on these areas and make the difference to the top group smaller", says
Vesa Kallio from Kallio Racing.
Kenny Koskinen:
"The weekend started well and I rode faster in first practices than I did last year here. The second and third practices were almost completely missed due to technical problems, so the training time was limited. On Friday, both the bike and riding were yet improved. With the used tire we were able to ride at a pretty fast pace in qualifications, but unfortunately due to the crash we didn't have time to use a better tire. Saturday's race went well, riding improved a bit and the gap to the top narrowed. After the WarmUp, feelings and my starting position for the second race was good, so the expectations were also reasonably high. After a good start, I was being in the 6th place, but the brake lever had moved further and braking was very difficult especially towards the end of the race. Again closer to the top, and the next race will be further improved!"
Vertti Takala:
"The second race started again from the 20th position on the grid. The start was better than in the first race and the pace was better. Just when I got caught the rhythm, the front tire slipped. Now the focus is on preparing for the next race."
The Spanish RFME series season 2020 continues in Albacete on 16th-18th of October 2020.
---