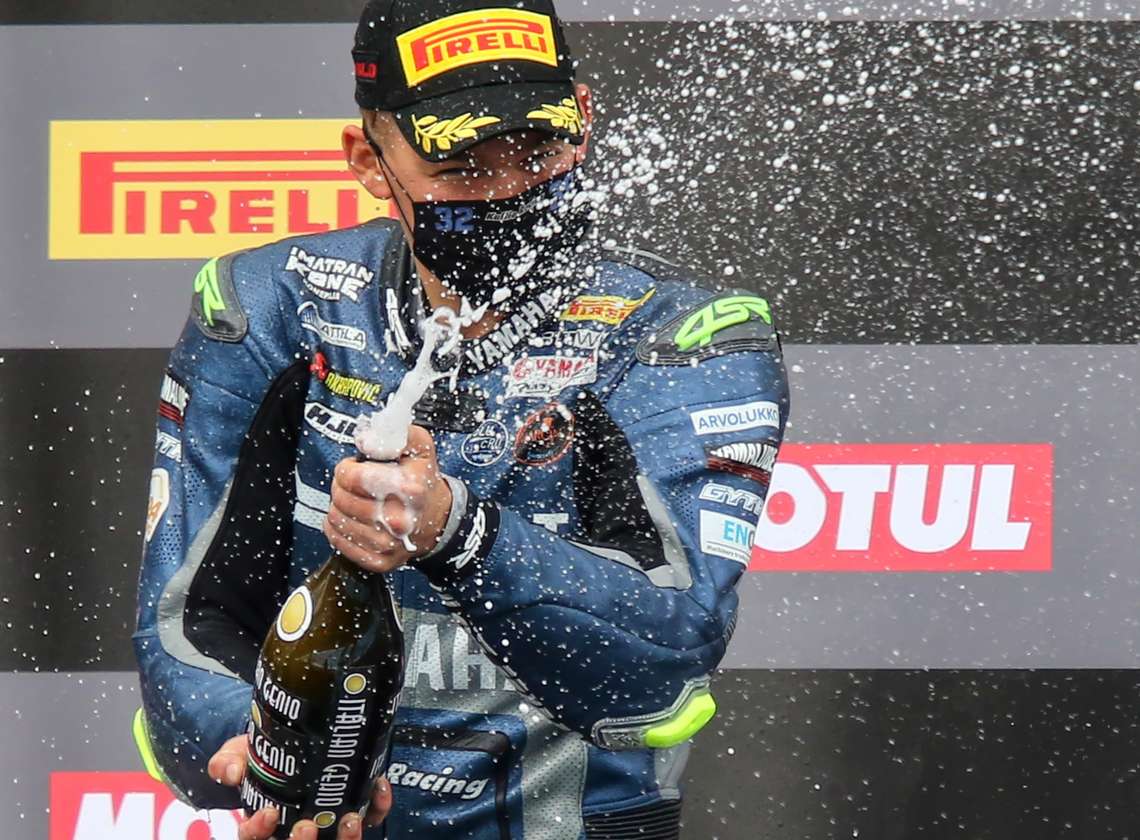 Double podium for Hannes Soomer from Magny-Cours
FIM World Supersport Championship's season 2020 continued last weekend in Magny-Cours, France. The rainy weather posed its own challenges for the second to last race weekend of the
season, as the track was wet from Friday to Sunday and the rain tires were used through the entire weekend.
Despite the weather, the weekend was very successful for Kallio Racing's Estonian rider Hannes Soomer. Only Saturday's Superpole was unsuccessful and he started the races from 16th position on the grid. Soomer didn't let this bother him and made magnificent rises in both races. Winged by stunning passes, he rose to third place in both races and achieved his career's first podium rankings in the WorldSSP class. In Sunday's race Soomer also rode the fastest lap time.
"A top weekend for Hannes. He was really fast in every session when it was raining, only Saturday's Superpole didn't succeed. With a different starting position we could have even fought for the victory here. The first laps of the races had really poor visibility, as the water rising from the surface of the track hampered riders behind the top group. However, Hannes certainly made the most passes of all in both races and achieved the podium by sensible riding," says Vesa Kallio from Kallio Racing.
Hannes Soomer:
"It was a great weekend. From FP1 we were up to speed in the wet conditions and didn't have to work too much with the setup of the bike. In the superpole I struggled a lot in the half-dry conditions so the races were going to be difficult. I had two great races trying not to make any mistakes and got my first two podiums. I am very happy for this result and I want to say huge thanks to the team, sponsors and everybody who work for this. Now we work for the first win."
For Kallio Racing's Spanish rider Isaac Viñales the weekend was more challenging. In Superpole Viñales qualified in 9th place and in Saturday's race he rode to the checkered flag in 13th position. In Sunday's race, Viñales suffered from grip problems caused by the wet track and decided to retire for this reason.
The last two races of the WorldSSP season 2020 will be ridden in Estoril, Portugal on 16th - 18th of October 2020.
Race results:
Saturday:
https://resources.worldsbk.com/files/results/2020/FRA/SSP/001/CLA/Results.pdf?version=3f254ea62985e67d70d5751fd79112ed&_ga=2.182844512.731097799.1601876814-1638565165.1601876814
Sunday:
https://resources.worldsbk.com/files/results/2020/FRA/SSP/002/CLA/Results.pdf?version=3f254ea62985e67d70d5751fd79112ed&_ga=2.81121745.731097799.1601876814-1638565165.1601876814
Championship standings:
https://resources.worldsbk.com/files/results/2020/FRA/SSP/002/STD/ChampionshipStandings.pdf?version=67e649219847fb6e7ff3ae98ae3ca54c&_ga=2.81121745.731097799.1601876814-1638565165.1601876814
---