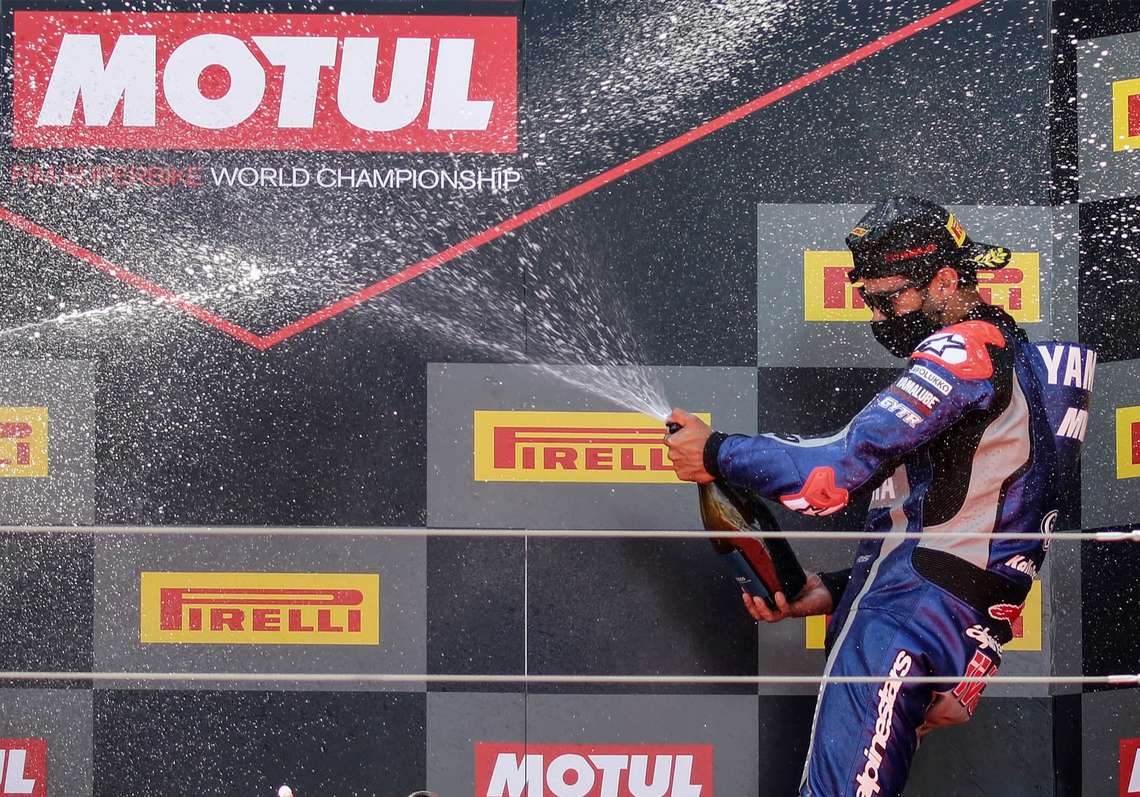 Second podium of the season from Aragon
FIM World Supersport Championship's season 2020 continued last weekend in Aragon, Spain. Both riders of Kallio Racing were on a good pace throughout the weekend and the qualifications were a great indication of that. Spanish rider Isaac Viñales started the race from the second position on the grid and Estonian Hannes Soomer was the 7th fastest rider in the Superpole.
Saturday's race, however, was unlucky as Viñales crashed early in the race and had to retire. Soomer's race, on the other hand, failed due to a technical failure. After Saturday, both riders had a strong desire for rematch as they started the second race of the weekend.
Sunday's race was really interesting. Both Viñales and Soomer were in the group battling for third place of the race. The rankings fluctuated as the race progressed, and in the eventful race we saw both close call situations as well as awesome overtakings. In the final round, Viñales managed to overtake Öttl, who was ahead of him and as a result, Isaac Viñales rode to the finish line being in third position. Hannes Soomer also rode a great race and showed his strength in the final round by raising from 8th position to 5th.
Kallio Racing's Team Manager Vesa Kallio:
"The result of this weekend exceeded our expectations. It is awesome, that both riders succeeded in Sunday's race. Huge thanks to the whole team for the great work! It's great how well everyone does their job. From here it's good to continue to Barcelona, which actually is Isaac's home track."
Isaac Viñales:
" I'm really happy for this podium. On Saturday I crashed, I've worked a lot to understand why I crashed. The race was so hard. In the beginning everything was good but after five or six laps the rear tire went down and it was not possible to go fast. Finally I got back fighting for the third position and I am really happy."
Hannes Soomer:
"It was a good weekend overall. We were strong from practice one and tried our best to prepare for the race the best possible way. In race 2 I had good speed and stayed in the battle for podium but couldn't pass Isaac and Öttl in front. I'm happy for the whole team for this good result and we will be going to Barcelona confident."
The World Supersport season 2020 continues in Barcelona, Spain on 18th - 20th of September, 2020.
Race results:
Saturday:
https://resources.worldsbk.com/files/results/2020/ESP4/SSP/001/CLA/Results.pdf?version=3f254ea62985e67d70d5751fd79112ed&_ga=2.144284086.2097977598.1599310875-1706059878.1598782392
Sunday:
https://resources.worldsbk.com/files/results/2020/ESP4/SSP/002/CLA/Results.pdf?version=3f254ea62985e67d70d5751fd79112ed&_ga=2.112865927.2097977598.1599310875-1706059878.1598782392
Championship standings:
https://resources.worldsbk.com/files/results/2020/ESP4/SSP/002/STD/ChampionshipStandings.pdf?version=67e649219847fb6e7ff3ae98ae3ca54c&_ga=2.112865927.2097977598.1599310875-1706059878.1598782392
---