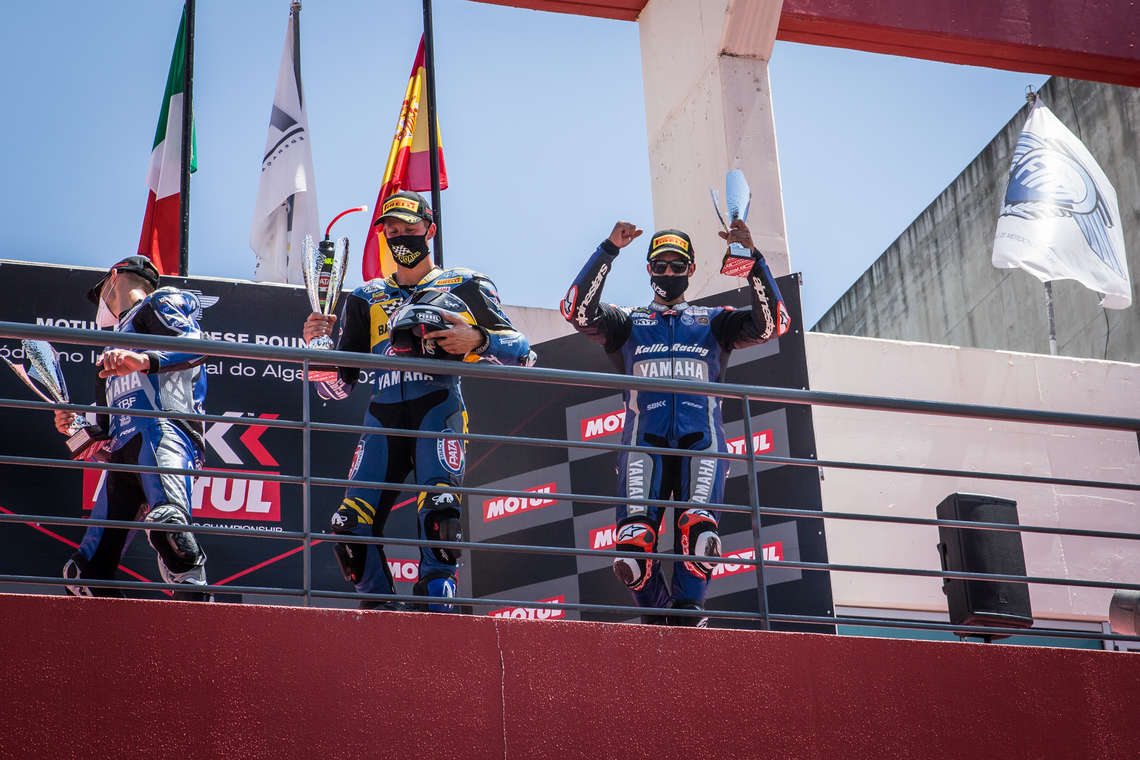 The first podium of the 2020 season
FIM World Supersport Championship's season 2020 continued last weekend in Portugal, Portimão. Two races were run in good weather, in a pleasant +30-degree heat. This weekend was allowed to expect good results, as last year Kallio Racing's Spanish rider Isaac Viñales had a good pace in Portimão, and Estonian Hannes Soomer also rode a well-done race in Portugal in 2018.

Isaac Viñales was the 4th fastest rider in the Superpole. In Saturday's race, he took a slightly cautious start, getting a little stuck behind a few riders, and thus couldn't quite get into the top spot. However, he had a good pace and he fought nicely throughout the race in places 3-5, eventually crossing the finish line in 5th place.

"The overtake from De Rosa in the final lap was great and it already looked like there is now a good chance of getting on the podium. Unfortunately, in the last turn, there was a small mistake with changing gears and both De Rosa and Perolari got past at the last minute. Fifth place was thus a bit unfortunate," Kallio Racing's Team Manager Vesa Kallio states.

Saturday's race and the nearby podium place left a good fighting spirit, and a rematch was planned to get from Sunday's race. Viñales started briskly on Sunday and the race got off to a good start. He was among the four fastest riders right after the start and quickly rose to third place after overtaking Perolari. Third place remained until the end of the race and as so Viñales nicely got the first podium place of the season.

"The intention was to try to catch Locatelli and Cluzel, who had ridden ahead, and at best Isaac was just over a second away from them. It was not yet possible to challenge them, but we attempt to continue from here in Aragon", says Vesa Kallio.

Isaac Viñales:
"It has been a positive weekend, we have returned to the podium. But something still needs to be figured out to make the bike even faster."

Hannes Soomer started the races from the 7th place on the grid. In Saturday's race, however, he had problems with the grip of the front tire and that caused difficulties into his riding throughout the race.

"Hannes had a tough fight in the race, even though there were problems. His ranking was ninth, nicely in the top ten", Vesa Kallio says.

In Sunday's race we wanted to try to improve our rankings and Soomer's start actually was a nice success. He was in 7th place after the start and stayed in the top group at the beginning of the race. After the challenging race, he rode to the finish being in the 8th position.

"Again Hannes had a tough fight and he did improve his ranking from Saturday. Some little things need to be improved before Aragon, so that we can challenge the top group even better", Vesa Kallio ponders.

Hannes Soomer:
"The weekend was a step forward from Jerez but not what I had hoped for. Our speed is not so bad over a lap, but over race distance we are struggling more. In Aragon we have to avoid mistakes and make a good result."

The World Supersport season 2020 continues in Aragon, Spain on 28th - 30th of August, 2020.
---