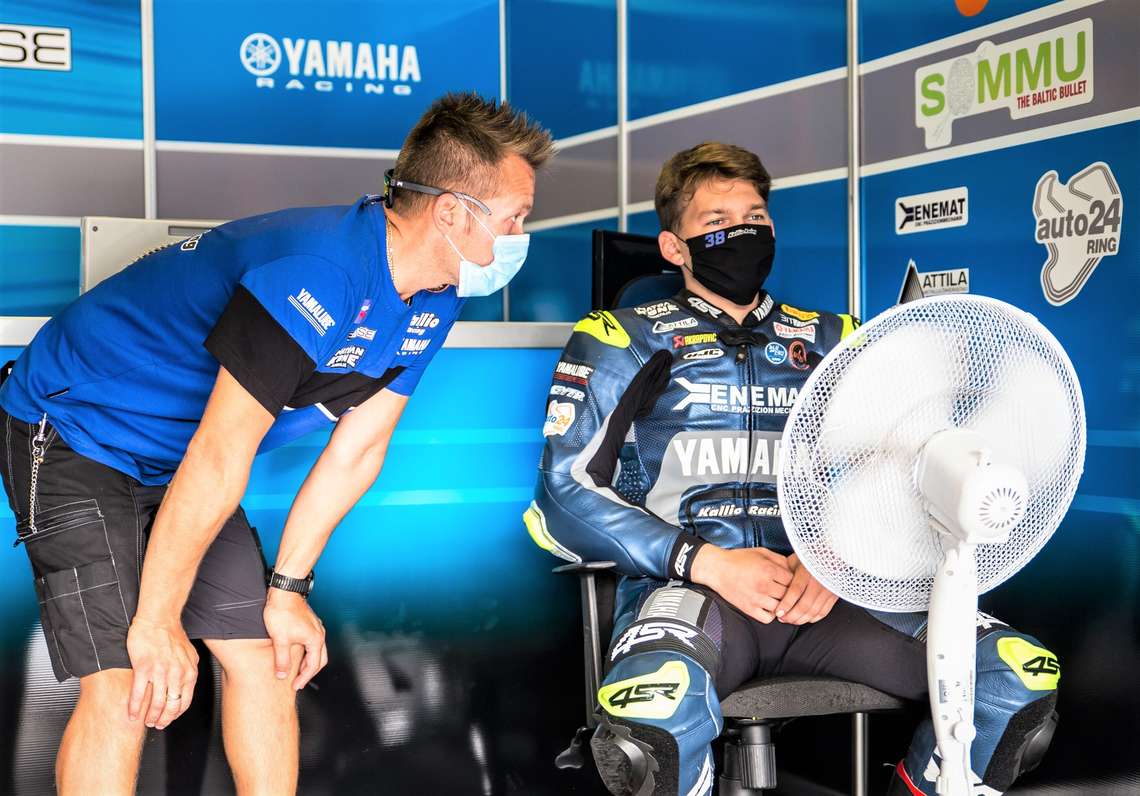 FIM World Supersport Championship's season 2020 is running again
FIM World Supersport Championship's season 2020 restarted last weekend after a long wait, when the second and third race of the season were ridden on Saturday and Sunday in Jerez, Spain. Missed races due to a break as a result of exceptional circumstances will be compensated by running two races for the rest of the season in each race weekend.

"This weekend was difficult, as we had problems with technology and grip as a consequence of the really hot weather. The temperature was over 40 degrees and the engines were in a really tight spot, as were the riders," says Vesa Kallio, the team manager of Kallio Racing.

Kallio Racing's Spanish rider Isaac Viñales started the races from the fifth position on the grid. In Saturday's race he had to retire as the engine overheated, but on Sunday he was currently battling of the fifth place. Eventually, he had to bow to De Rosa and Perolari, finishing 7th in Sunday's race.

Isaac Viñales:
"It was a difficult weekend with many problems. In the first race we broke the engine and in the second we don't finish finding the rhythm."

Estonian rider Hannes Soomer was the 11th fastest in the Superpole and he rode nicely to the points in both races, being 10th on Saturday and 9th on Sunday. Sunday's 9th place came at the end of a tough fight, as fellow competitor Odendaal was only 2 thousandths faster in the end.

Hannes Soomer:
"The weekend was quite difficult one. We started good on Friday but had some problems on Saturday morning. It's good we finished both races and got some points. Now we have few days to analyze, make some changes and start fresh in Portimão."

"This weekend needs to be meticulously analyzed and we have to be even more focused on the upcoming race in Portimão. There, the whole team wants to make a better result," Vesa Kallio states.
The World Supersport season 2020s next races will be ridden in Portimão, Portugal on 7th - 9th of August, 2020.

Race results:

Saturday:
https://resources.worldsbk.com/files/results/2020/ESP2/SSP/001/CLA/Results.pdf?version=3f254ea62985e67d70d5751fd79112ed&_ga=2.99620446.1516844.1596392004-738540480.1596392004

Sunday:
https://resources.worldsbk.com/files/results/2020/ESP2/SSP/002/CLA/Results.pdf?version=3f254ea62985e67d70d5751fd79112ed&_ga=2.91232218.1516844.1596392004-738540480.1596392004

Championship standings:
https://resources.worldsbk.com/files/results/2020/ESP2/SSP/002/STD/ChampionshipStandings.pdf?version=67e649219847fb6e7ff3ae98ae3ca54c&_ga=2.70205136.1516844.1596392004-738540480.1596392004
---