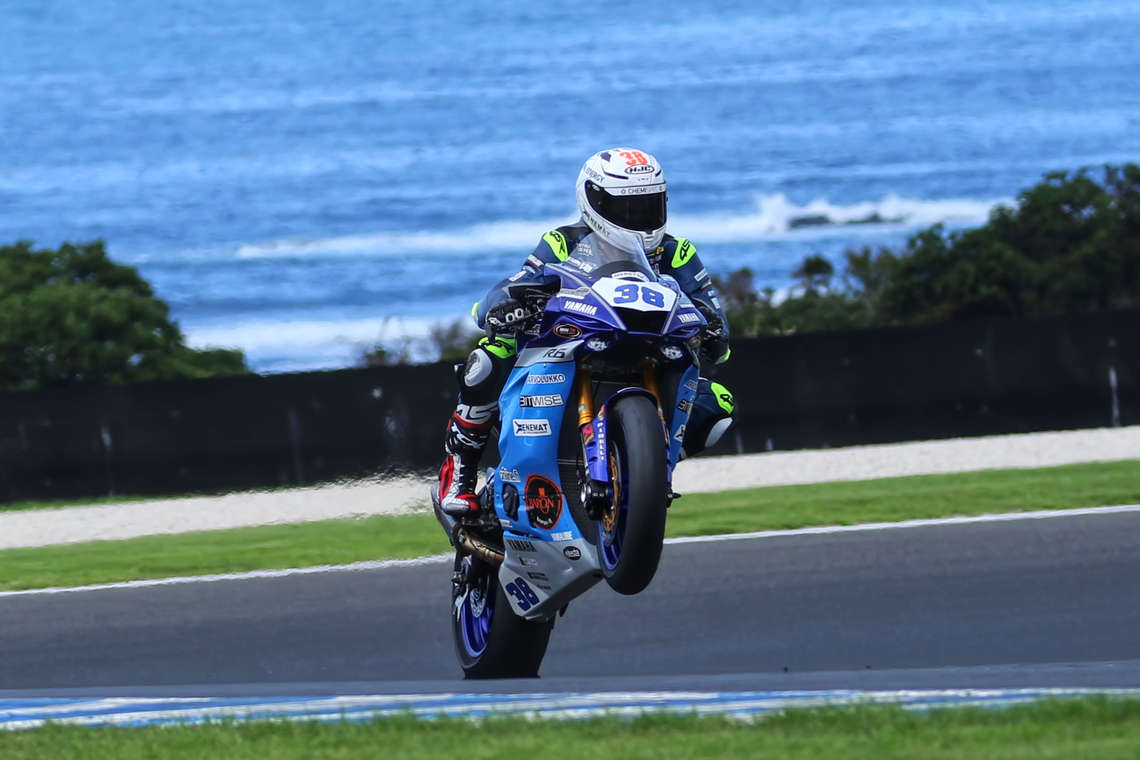 FIM World Supersport season 2020 has started
The long wait ended as FIM World Supersport Championship's season 2020 started this weekend in Australia on Phillip Island Circuit. Two-day tests were held on Monday and Tuesday and the race weekend followed right afterwards.

"It hasn't been an easy week for us, that's for sure", tells Team Manager Vesa Kallio. "In practices we were from time to time able to keep up with the top group, but sometimes we were clearly clueless. We also suffered few crashes, which didn't at least make things easier for us," Vesa Kallio sums up.

Phillip Island Circuit is a real challenge for the tires, so the organizers decided this year to once again have a rear tyre change in the middle of the race. No more than 10 laps is allowed in any rear tyre so the pit stop was possible only during a few laps. Therefore, fast tyre changes were expected.

Estonian Hannes Soomer, the new rider for Team Kallio Racing, started the race from the 11th position on the grid. At the start he lost a few positions but soon he managed to keep up with a good pace and quickly started to gain up some positions. Soomer passed Viñales just before the pit stop and for the tyre change, the team riders rode being 4th and 5th in succession. The change of tires itself went smoothly, but unfortunately the timing failed and both Viñales and Soomer were penalized for a too short pit stop.

"We were aware that the pit exit line should not be crossed too early and we had been practicing the timing, but tactics didn't go as planned this time," says Vesa Kallio.

At the end of the race Hannes Soomer reached the 2017 World Champion Lucas Mahias and Team GMT94 Corentin Perolari who were riding in front of him. Unfortunately, there were not enough remaining laps for takeover, so Soomer rode to the checkered flag being 6th.

"All in all, today's race was a really good one for Hannes. There were many positive things in the race and one of them was his good pace at the end, which for sure gives a lot of confidence for a young rider. 6th position is his best in Supersport class and it's good to continue from this on to his favorite rounds that will be next on calendar," says Vesa Kallio.

Hannes Soomer:
"The test and the race weekend was not easy for sure but the end result was positive. We didn't really find a great setup for the bike during the practices but made a good step forward for the race. In the race I didn't get a good start and had to fight a lot in the first laps. The second half of the race was strong though and this is very positive. In Qatar we have to continue the same way and improve our speed. The team is working well, and I am happy. Looking forward to Qatar!"

Kallio Racing's Spanish rider Isaac Viñales was in the 8th position on the grid after the Superpole. Unfortunately, he was afterwards penalized for having a too light bike and he was dropped six places down the starting grid. Hence Viñales started the race from 14th position on the grid. In the race he took a really good start and right away in the first turns he rose to the 7th place. This time, however, he had no opportunity to keep up with the top group.

"This weekend was very challenging for Isaac and then we had that failed pit stop that made him lose even more positions. 10th place wasn't what we were expecting, but I'm happy that we were able to finish this race and have at least some results of this weekend. Let's try to challenge the leading group properly in Qatar," Vesa Kallio ponders.

Isaac Viñales:
"Weekend to forget. Penalized in QP and penalized in race. In Qatar we will become stronger."
The World Supersport season 2020s second race will be ridden in Qatar, Losail International Circuit on 13th - 15th of March 2020.
Race results:

https://resources.worldsbk.com/files/results/2020/AUS/SSP/001/CLA/Results.pdf?version=3f254ea62985e67d70d5751fd79112ed
Championship standings:
https://resources.worldsbk.com/files/results/2020/AUS/SSP/001/STD/ChampionshipStandings.pdf?version=67e649219847fb6e7ff3ae98ae3ca54c
---