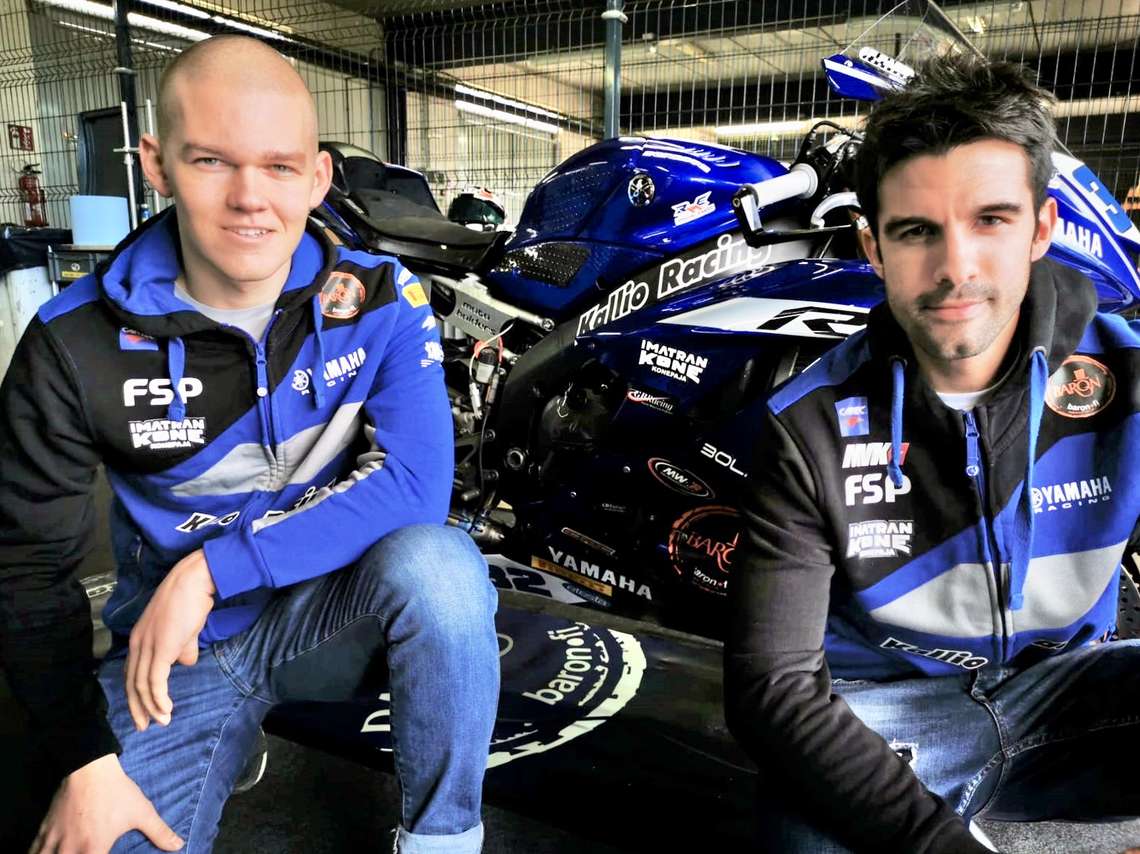 Kallio Racing has two riders eager for success for 2020 World Supersport season
Preparations for FIM World Supersport Championship's season 2020 has already started and now it is time to release Kallio Racing's riders for the next season. In 2020 in the World Supersport the Finnish team will have two riders, both eager for success: Isaac Viñales and Hannes Soomer.

In the latter half of the season 2019 the 26-year-old Spanish Isaac Viñales was one of the fastest riders in Supersport class, achieving three podium places. "It's great to be able to continue working with Isaac for a second consecutive season and to aim for success also at the season 2020. We shall continue that hard work which led to good results at the end of last season," says Kallio Racing's team manager Vesa Kallio.

Isaac Viñales:
"I am very happy to be able to run another year with Kallio Racing. Last year was a year of learning where the progressions were clear and we finished the season very well. This year the goal is to follow the progress of last year and fight for the title."

As a new confirmation the Finnish team is joined by the 21-year-old Estonian Hannes Soomer. The cooperation between Kallio Racing and Hannes Soomer started back in 2015 when Soomer participated with a wild card to the FIM World Supersport race in Magny-Cours, France. Soomer now has two full seasons behind him with Honda in World Supersport class and in next season success is being sought with Yamaha. "It's nice to be able to work with Hannes again. Now it's important to find confidence in the bike and in to his riding from the very first tests, so that we are ready at the season opening in Australia," Vesa Kallio thinks.

Hannes Soomer:
"I am happy to be back with Kallio Racing for 2020! It is clear that Kallio Racing is one of the top level teams on the World Supersport grid and I am keen to see what we can do together. I think me and the team have similar ambitions for this season and that is to fight for top positions consistently. This means a lot of work before the season which I can't wait to start."

With the riders, preparations for season 2020 will start at the end of November 2019 with tests in Cartagena and Jerez, Spain.

The World Supersport season 2020's first race will be ridden in Australia, Phillip Island Grand Prix Circuit on 28th of February - 1st of March 2020.

FIM World Supersport calendar for season 2020:
http://www.worldsbk.com/en/calendar
---