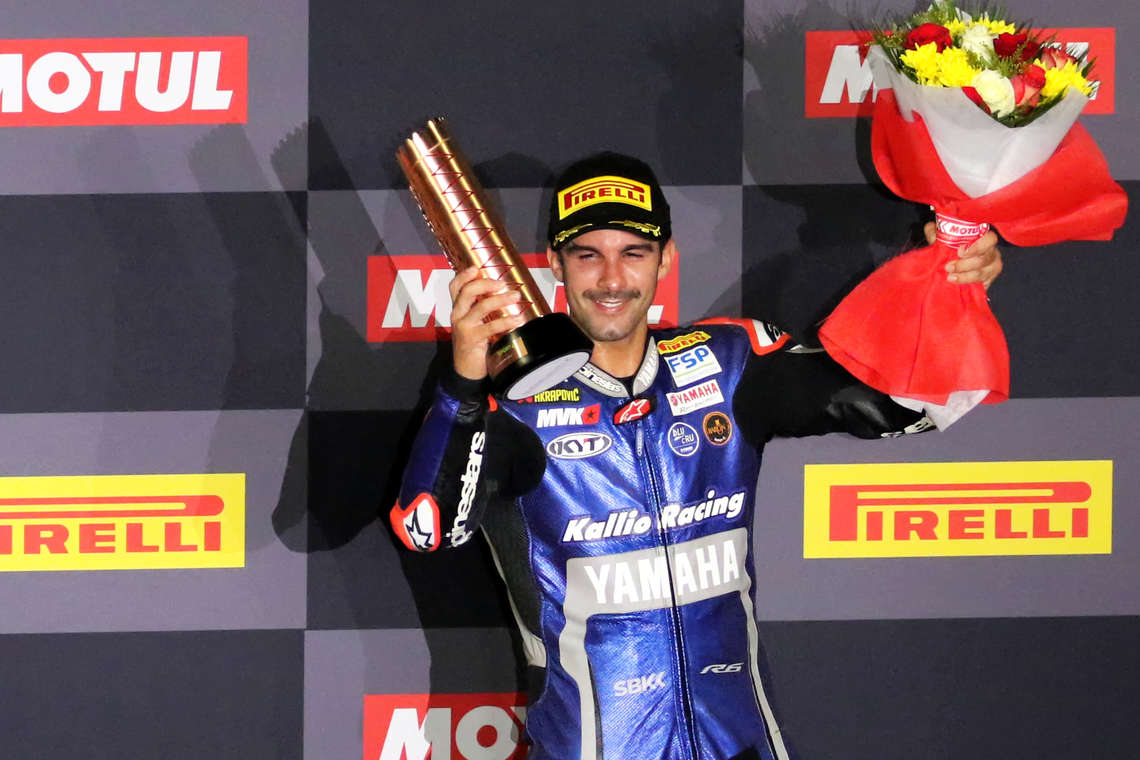 Third consecutive podium to Isaac Viñales in the final race of the season 2019
FIM World Supersport Championship's season 2019s final race was ridden on Saturday in Qatar, Losail International Circuit. The initial settings for an eventful season-ending weekend were challenging, because Kallio Racing's Austrian rider Thomas Gradinger had been sick and still feverish on Wednesday, whereas Spanish rider Isaac Viñales had a minor hand injury as a result of a crash in motocross practice. Thursday's and Friday's practices didn't go as expected and in Superpole Isaac Viñales was 8th and Thomas Gradinger was 10th.

In Saturday's race Isaac Viñales got off a good start and he was immediately challenging the top group. He fought hard of the positions throughout the race and the battle for victory was between him, Lucas Mahias and Jules Cluzel. Behind the top three Federico Caricasulo and Randy Krummenacher fought for the following positions with Corentin Perolari.

"We made a few more adjustments to the settings before the race and those seemed to work for Isaac. A couple of laps before the finish line Isaac was even in the lead for a moment, but then, at the end of a long straight, the battle grew so fierce that the covers of the bikes almost rattled and Isaac went wide. Unfortunately after that Mahias escaped and rode to victory, Cluzel being behind him. But after all Isaac got his third consecutive podium finishing in third place here in Qatar", says Vesa Kallio from Kallio Racing.

Isaac Viñales:
"I am very happy that we finished the year on podium. Thanks to the team for the work they have done."
Unfortunately, Thomas' start for the race didn't succeed well and he fell far behind in the rankings, finishing the race being 12th.

"Thomas' race was a struggle from halfway to the end and it's great that still he managed to cross the finish line. Being sick had exhausted him completely and he wasn't able to show his full potential today," Vesa Kallio says.

Thomas Gradinger:
"It was another hard weekend for me. I arrived already sick and got fever before the weekend started. Also, a crash in FP2 made it not better. The team worked so good to give me a strong bike which I felt comfortable with. Unfortunately, I was very fast out of power and in the race I pushed in the first laps, after the worst start ever in my life, too much for me. In parc fermented I was completely empty and taken to medical center. Thank you to my team and all people around for helping me all the season, unfortunately I couldn't give them back what they deserve."

Loris Cresson made the decision not to participate in Saturday's race.

In final Championship standings Isaac Viñales rose to 7th position and Thomas Gradinger reached 9th position. Loris Cresson is 12th in final Championship standings.
We want to thank our riders for this World Championship season. Thanks also to all of our sponsors, supporters and the members of the Kallio Racing team.
Race results:

http://resources.worldsbk.com/files/results/2019/QAT/SSP/001/CLA/Results.pdf?version=3f254ea62985e67d70d5751fd79112ed
Championship standings:

http://resources.worldsbk.com/files/results/2019/QAT/SSP/001/STD/ChampionshipStandings.pdf?version=67e649219847fb6e7ff3ae98ae3ca54c
---