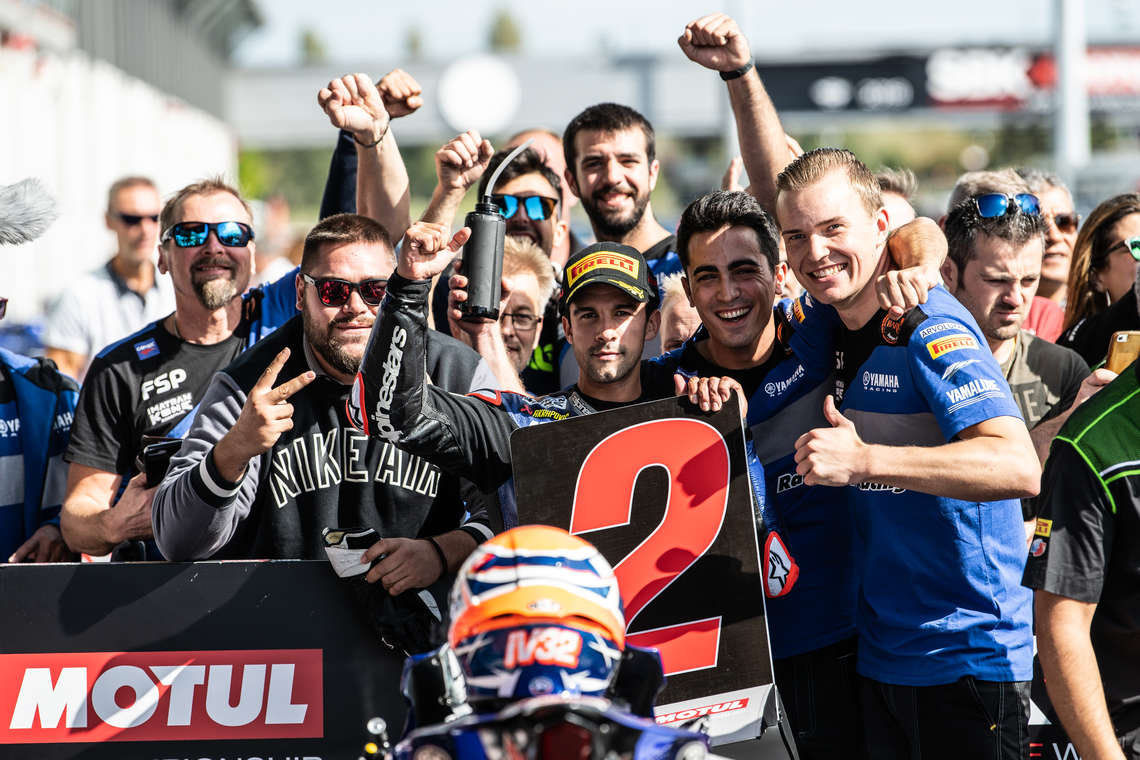 Kallio Racing's Isaac Viñales made it to the podium in France
FIM World Supersport Championship's season 2019s 10th race was ridden today on Magny-Cours round in France. The weather conditions were challenging this weekend and the rain interfered with both practices and the Superpole. Kallio Racing's Spanish rider Isaac Viñales started for Sunday's race from ninth position on the grid, Austrian rider Thomas Gradinger was 21st in the Superpole and Belgian rider Loris Cresson started the race from 22th position on the grid.

"On Friday and Saturday weather conditions were demanding and the Superpole was ridden on a wet track. That was not a very expected weather for us and unfortunately it showed a little bit too much in our riding performances, but we had a confident mind to ride in dry weather conditions," team manager Vesa Kallio says.

Today's race was ridden in dry but windy conditions. The start had to be interrupted because of the crash in the first turn, but after the second start the race continued well. All Kallio Racing's three riders made a good climb in the first round. After few laps Isaac Viñales was already in the top three, Thomas Gradinger had made up positions being 8th and Loris Cresson was 13th.

With his fine overtakings Isaac Viñales rose to fight for the victory with World Championship 2017 winner Lucas Mahias. The battle culminated after numerous overtakes in the very last lap but in the end of the race Mahias was able to keep Viñales behind him.

"It was a tough fight and the victory wasn't far away! This was the first podium for Isaac in World Supersport class and it's great that this success happened at this point, after many retires," Vesa Kallio says happily.

Isaac Viñales:
"It was a though weekend because it was all Friday and Saturday between tricky conditions but well, we did a very good Warm up and then in the race we got the pace to be in front and fight for it. So so happy with this super worked podium, thanks to all in the team and the sponsors!"

Thomas Gradinger made a spectacular rise in the race all the way to the 8th position.

"Thomas was able to ride a good race and at the best his pace was similar to the top group. Even when he finished the race he was only 5,5 seconds behind the top group," Vesa Kallio notes.

Thomas Gradinger:
"It was a quite difficult race weekend I would say, and also crazy weather conditions. We saw on Sunday at the race that we had too less practice on dry conditions, but we still had a good bike. At the race I could make up really fast some positions, but I also destroyed there little bit my tyres and also my riding style was not really good. But I can be happy about the 8th place. We should be for sure more on the front positions, but from 21st place on the starting grid that result's not so bad. I'm really looking forward to Argentina and let's see what we can do there."

In Sunday's race Loris Cresson had a familiar competitor from many previous races as he and Jules Danilo from CIA Honda fought hard against each other throughout the race.

"This time Loris had to give up to Danilo, but even so Loris nicely achieved points being 13th in the race and he was able to maintain his 12th position in the World Championship. Now we have packed our things and after two weeks, we shall continue where we left off today," Vesa Kallio sums up.

Loris Cresson:
"Weekend was hard, we struggled finding settings that fits to me. In the race first lap the pace was not bad but the bike was hard to handle, then I was stuck behind another rider for the rest of the race and I loose the group for the 10th place. Not happy with the weekend for sure, let's work in Argentina."
The World Supersport season 2019 second to last race will be ridden In Argentina, San Juan Villicum round on 11th -13th of October 2019.

Race results:
http://resources.worldsbk.com/files/results/2019/FRA/SSP/001/CLA/Results.pdf?version=3f254ea62985e67d70d5751fd79112ed

Championship standings:
http://resources.worldsbk.com/files/results/2019/FRA/SSP/001/STD/ChampionshipStandings.pdf?version=67e649219847fb6e7ff3ae98ae3ca54c
---