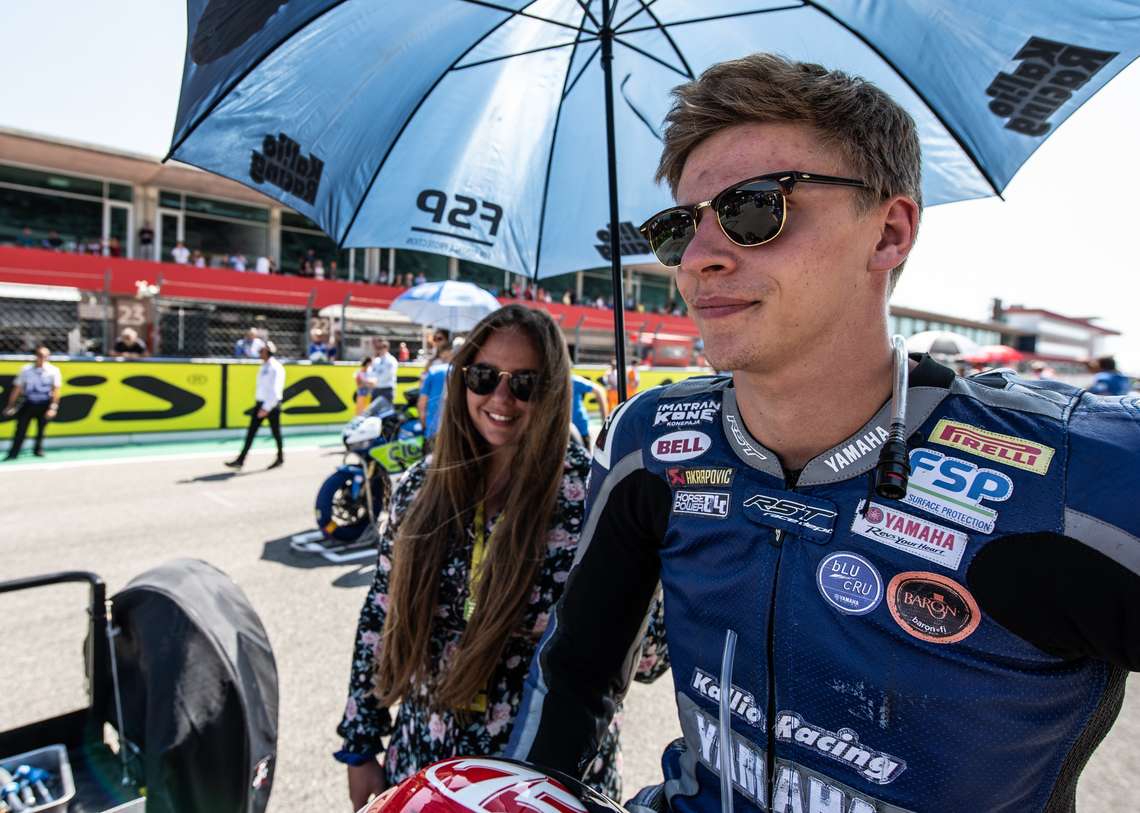 The World Supersport season 2019 continued after the summer break in Portugal
FIM World Supersport Championship's season 2019 continued on Sunday after a long summer break on the hot Portimão round in Portugal. The situation for the race were slightly different this time, because Kallio Racing's Austrian rider Thomas Gradinger was injured and unable to ride in Portugal. Luckily Spanish rider Maria Herrera was able to come at short notice and replace Thomas for this weekend.
Expectations were high for Sunday's race, as all three riders were able to improve their pace as the weekend progressed. Spanish Isaac Viñales started the race from 4th position on the grid and he shot from the second row immediately into the top fight, challenging Federico Caricasulo's leading position. Unfortunately at the quite beginning of the race he started to have problems with the gearbox. The transmission gear had been damaged and the gears were no longer engaged, so he had to retire.
"Isaac's pace is now the best he has had in this season and now he has the opportunity to fight from the top positions. In France the intention is to continue in the same way and we'll be trying to get the best results of the season there," team manager Vesa Kallio ponders.
Isaac Viñales:
"The weekend has been positive, both free practice and qualifications I was in the top 5. In the race we had a problem with the gearbox and we couldn't finish it."
Belgian rider Loris Cresson rose right from the start of the race to fight for tenth place and his riding seemed strong. As the race progressed he was already ninth and was riding in the same group that was fighting of sixth place, when Raffaele de Rosa had a technical problem and the whole race had to be suspended five laps before chequered flag and results from the previous full round remained valid.
"Without the red flags Loris would have had a good chance to fight of sixth position but today's race was still his best in this season. Loris did a good job through all weekend and he found relaxation into his riding which was seen in the result of today's race; small difference in times to the front group and good points from this difficult track. In France we need to try to get better results from qualifications so it would be easier to be involved with the front group," Vesa Kallio is planning.
Loris Cresson:
"Weekend was pretty good, we did good job all the weekend and we found a good pace. The qualifying was really good, unfortunately when I put a new front tyre I choose one that was not perfect and after that I couldn't improve. For the race I did a good start and I had a good fight, unfortunately we had the red flag. But pace was good and I could have finished in top 6, but anyway I'm happy with the race!"
Maria Herrera was in a difficult situation replacing Thomas Gradinger in such a short notice. In spite of that she had a good, ascending weekend that unfortunately ended with a crash.
"It wasn't an easy place to come as a replacer on a fast schedule here in Portimão, where all the other rides have had 2-4 days lasting practices just two weeks ago. Without the crash Maria would probably had been fighting of the points, but she can still be happy to the totality of this weekend," Vesa Kallio says.
Maria Herrera:
"The start was a little bit bad, some riders push me out of the line in the second corner so I lost time. Then I had to make up some positions and fight with some riders for catching the one in front of us, but I pushed too to the front and finally I crashed. But I did my best lap in the race too so I'm really happy with the work done during the weekend, because it was my first time with 600cc in this difficult track. I've been improving every practice, the team helped me a lot and I'm really grateful with all of them. So thank you Kallio Racing for this amazing opportunity!"
The World Supersport season 2019 continues In France, Magny-Cours round on 27th - 29th of September 2019.
Race results:
http://resources.worldsbk.com/files/results/2019/POR/SSP/001/CLA/Results.pdf?version=f0b4d5e9bcf29989eb44351b81288000
Championship standings:
http://resources.worldsbk.com/files/results/2019/POR/SSP/001/STD/ChampionshipStandings.pdf?version=8b046a7c114d0a269b986f43cc1bf767
---