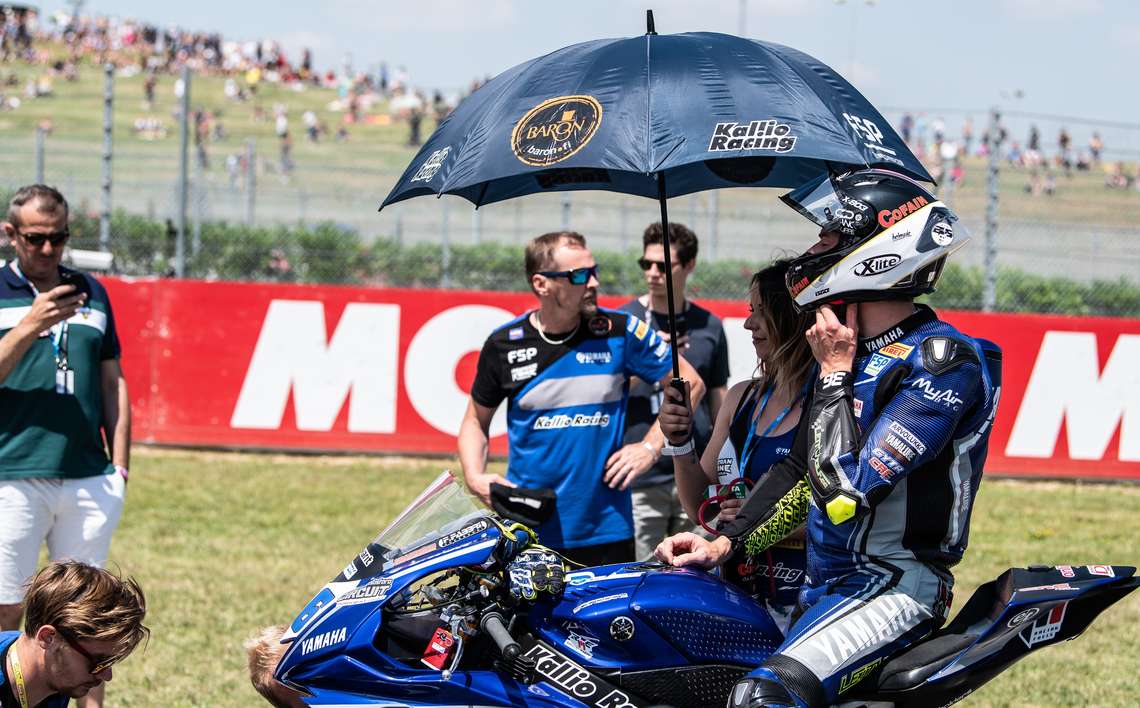 Challenging weekend in Misano
FIM World Supersport Championship's 7th race was ridden today in Italy at Misano round. This time the race weekend was quite challenging for Kallio Racing.

"The grip was really bad here in Misano through the whole weekend and we suffered a lot because of that. I have to say that this was definitely the most challenging weekend in this season. I want to thank our mechanics and technicians, they all worked so hard in this weekend," team manager Vesa Kallio says.

After all the difficulties Austrian rider Thomas Gradinger crossed the finish line being 9th and Belgian Loris Cresson nicely pushed himself into the 13th position. Spanish Isaac Viñales had a very promising start in todays race but unfortunately he crashed on lap four and ended up being 27th.

Thomas Gradinger fought his way to the 9th position, but in the end he wasn't pleased with the race. "Thomas had a very difficult weekend and we couldn't get the best results out of todays race," Vesa Kallio ponders.

Thomas Gradinger:
"Over all it was a difficult weekend from Friday on, we struggled in all the sessions but we also improved in every session and that's a good thing. But we are definitely not there where we have to be. I wasn't really confident on the bike, the start was not really good and I wasn't making up positions us quickly as I should have. But we don't mind, we have to look forward and learn out of these things. In Donington we will be back in the front group that's for sure!"

Loris Cresson rode a complete, good race and wonderfully lifted himself up from the 24th position on the grid to all the way at earning three Championship points. "Loris is always well capable to rise up positions in races. We need to improve in Superpoles and we need to find our limit! If we manage to get that done, he will surely fight of the top ten positions in the races after that," Vesa Kallio says.

Loris Cresson:
"Weekend was so hard. But in the race I was able to push and come back from 24th to 13! I'm happy to score points and to have this great battle during the race. Now we need to work hard together to find some improvements, see you in Donington!"

For Kallio Racing the best part about this race weekend was Isaac Viñales's tough fight in the front group. Unfortunately he crashed after his front tyre slipped. "This crash was not a good thing because Isaac had just found new confidence into his riding," Vesa Kallio bemoans.

Isaac Viñales:
"It's been a positive weekend, so I'm sorry for the fall in the race. Now it's time to think about Donington."
The World Supersport season continues in Great Britain at Donington park round on 5th - 7th of July 2019.

Race results:

http://resources.worldsbk.com/files/results/2019/ITA2/SSP/001/CLA/Results.pdf?version=3f254ea62985e67d70d5751fd79112ed

Championship standings:

http://resources.worldsbk.com/files/results/2019/ITA2/SSP/001/STD/ChampionshipStandings.pdf?version=67e649219847fb6e7ff3ae98ae3ca54c
---