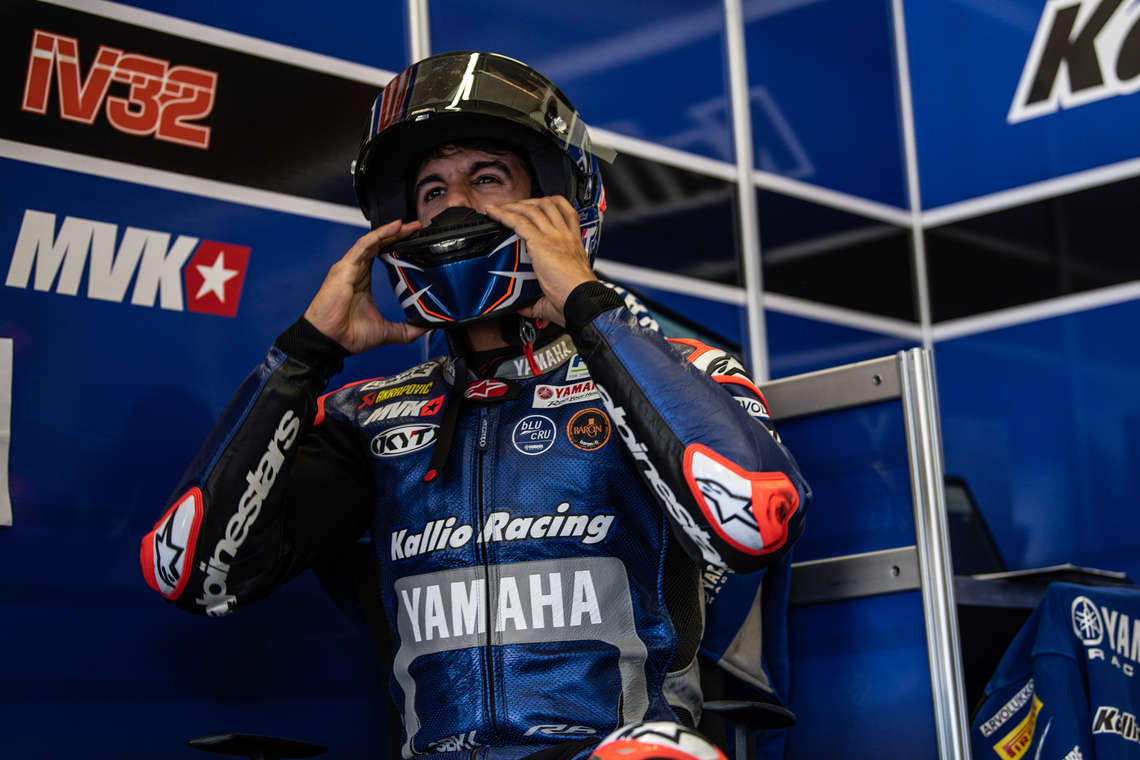 Great work in hot and sunny Jerez
FIM World Supersport Championship's 6th race was ridden today in sunny Spain at Jerez round. Kallio Racing's team did a good job throughout the whole heated race weekend. After a very tight fight Austrian rider Thomas Gradinger ended the race being fourth. Spanish Isaac Viñales was 8th here in his home round and Belgian rider Loris Cresson crossed the finish line being 12th.

In the beginning of the race weekend Thomas Gradinger struggled a little bit trying to find a good feeling with the bike, but his weekend was ascending and on sunday morning his riding felt quite fluent. Yet again there was a thrilling fight of the positions between well-matched front group.

Team manager Vesa Kallio:
"Thomas had a good performance in todays race. At the beginning he had some difficult moments, but after that he was able to catch the front group and nicely made his way to the fourth place."

Thomas Gradinger:
"Race start was good and I could stay with the front group. I tried to overtake some other guy and he passed me back so that I had to go wide and some other guys went by. I also made some mistakes in the race so I had a big gap to the front group which I had to close. As doing that I destroyed my tyres and I didn't really have a good grip, so I think fourth place was a good way to finish this weekend. We are quite positive for the next races and I think we can do really good also in Misano."

Isaac Viñales had quite a lot of modifications done to his bike during the race weekend, as trying to find the best runnability to the bike. The bike was modified again for the race, but the change wasn't functional for Viñales and therefore his race was a bit more difficult. "We have to figure out what modifications we need to do for the bike so that it would fit better for Isaac and he could have more aggression in his riding," team manager Vesa Kallio ponders. In spite of these difficulties Viñales managed to get his way into the top ten riders, being 8th at the end of the race.

Loris Cresson had a good and complete race weekend in Spain. In todays race he was catching up positions being 11th at his best. " Loris' riding and confidence improved a lot here in Jerez, we are really happy about it. Unfortunately something happened in the start, because his bike had a rain map switched on and maybe the bike would have been easier to ride if that hadn't happened," Vesa Kallio says.

Loris Cresson:
"Race was unlucky. I took a good start but something happened with the button and I had the rain map during all the race. It's sad because the pace could have been really better and strong fight in the top ten. But let's take the positive of this and look at the four points we took. See you in Misano!"
The World Supersport season continues in Italy, Misano on 21-23.6.2019.

Race results:
http://resources.worldsbk.com/files/results/2019/ESP2/SSP/001/CLA/Results.pdf?version=3f254ea62985e67d70d5751fd79112ed

Championship standings:
http://resources.worldsbk.com/files/results/2019/ESP2/SSP/001/STD/ChampionshipStandings.pdf?version=67e649219847fb6e7ff3ae98ae3ca54c
---