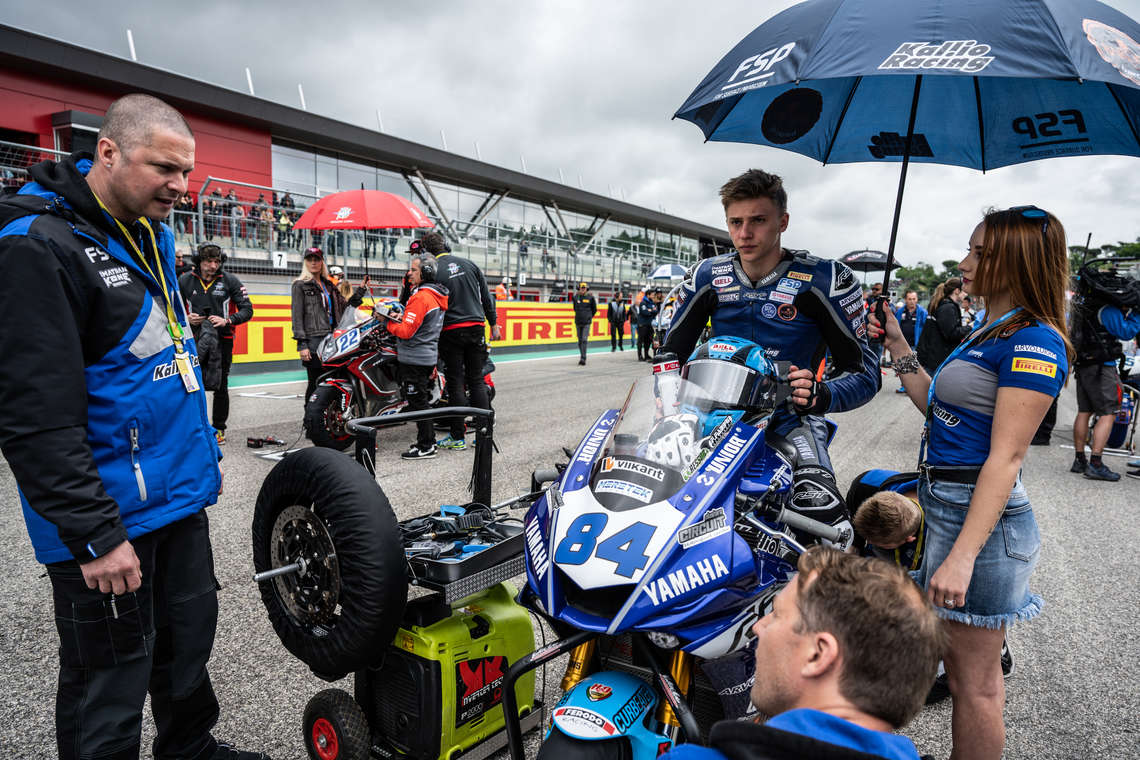 Crashes and drama in Imola, Italy
The fifth race of Supersport World Championship was ridden today in Italy, Imola round. Austrian rider Thomas Gradinger started in to the race from 4th, Spanish Isaac Viñales from 12th and Kallio Racing's third rider, Belgian Loris Cresson started the race from the 16th position on the grid.

After a little unlucky start Thomas Gradinger was able to raise up in to the battle with the front group. He was having a good pace and he was timing consecutive fastest laps, but unfortunately Cluzel and Mahias collided and because of that, Gradinger crashed too and he had to retire.

Team manager Vesa Kallio:
"Thomas's pace is in a very good level, as we saw today. It is very unfortunate, that his misfortune continued and he had to retire because of what happened between Cluzel and Mahias. Cluzel made some kind of a mistake in the last chicane, Mahias collided with him and Thomas didn't have any chance to avoid crashing with Mahias' bike. I am happy that Thomas didn't hurt himself in that crash, but I must say this is hard that we don't have any good luck with us."

Thomas Gradinger:
"All over the weekend there were quite a lot that happened to us. In every practice we were in the top 5 or top 6 so we felt quite comfortable about the race. My start wasn't so good but I tried to stay calm and when I found my confidence I got much more faster and I could ride really good pace. I was able to close the gap to the front guys and I was ready to fight for the podium. Then a small mistake happened to Cluzel and I wasn't able to avoid Mahias' bike to hit me. But I'm sure we will be much stronger in Jerez, that's for sure."

Isaac Viñales got an amazing start and he was fighting for the positions after the front group. With a confident ride, he took the sixth place in the race. "Isaac had a good race, even though he has just been through a surgery beacause of an arm pump. We hope that his wrist will be completely healed before the next race", Vesa Kallio says.

Isaac Viñales:
"I am happy that we finished a complicated circuit even when I was not 100% this weekend. Now it's time to recover, so I am 100% ready for Jerez."

Loris Cresson had a tough fight of the Championchip points in a group of top 15 riders.

Vesa Kallio: "It was very exciting all the way until to the end of the race. Even in the very last lap the positions changed. It was great that Loris completed points by being 12th."

Loris Cresson:
"Race was a bit difficult due to miss of luck in qualifying. We were far on the grid and I lost so many times trying to overtake the other rider. The pace was good but I was too far from the group! We scored four points, but we want to be more in the front and I'm sure we can do it. See you in Jerez!"
The World Supersport season continues in Spain, Jerez round on 7th-9th of June.
Race results:
http://resources.worldsbk.com/files/results/2019/ITA1/SSP/001/CLA/Results.pdf?version=3f254ea62985e67d70d5751fd79112ed

Championship standings:
http://resources.worldsbk.com/files/results/2019/ITA1/SSP/001/STD/ChampionshipStandings.pdf?version=67e649219847fb6e7ff3ae98ae3ca54c
---