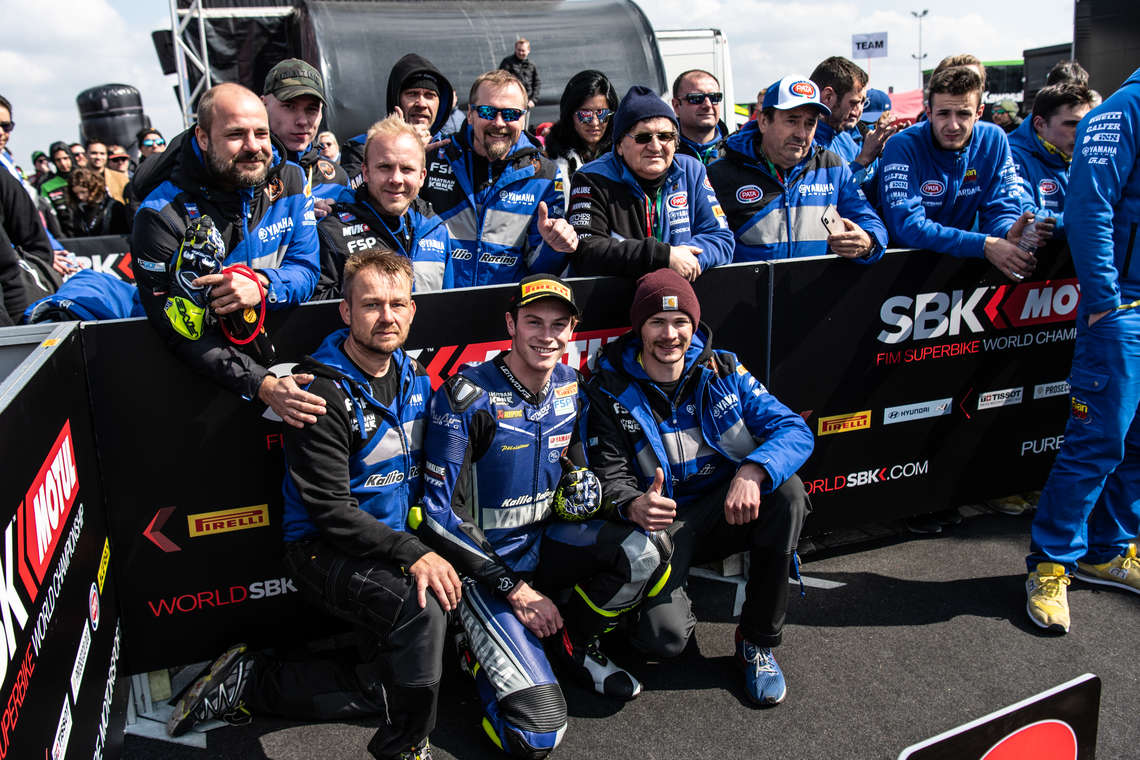 Magnificent third position for Kallio Racing's Thomas Gradinger
Kallio Racing's Austrian rider Thomas Gradinger achieved his first FIM Supersport World Championship podium today in the Netherlands' Assen. With this position he made history being first Austrian rider to accomplish WorldSSP podium.

"Yesterday in Superpole we had difficulties with timing and todays starting positions for the race weren't quite what we expected. But in Warm Up we were strong and we were able to expect good results in the race", team manager Vesa Kallio says.

Thomas Gradinger got a amazing start from the 7th position and headed his way to the front group. At the beginning of the race there were ten riders in the front group fighting of the top positions, including Kallio Racing's Spanish rider Isaac Viñales. At halfway of the race top six riders made a good gab to the rest of the group. Thomas Gradinger fought really well through the whole competition and managed to make his way to third just a few laps before finish line.

"Even tough Cluzel was giving Thomas a hard time in the very last lap, Thomas managed to keep his third position. It was his first SSP Podium and it feels so good here in cold Assen. Amazing race for Thomas", Vesa Kallio says.

Thomas Gradinger:
"It was a quite tough weekend. We had a really tricky weather conditions, everything from rain to snow and it was also really cold. In qualifying practice we were unlucky with red flags and snow, but nothing was lost with the 7th starting place. I got a great start and could rise some positions, but the whole race was a tough fight. Last laps I just tried to stay with the front two guys and defend my position. I was pretty happy of the result and I'm ready for more in Imola. I want to thank my whole team for amazing job. Now we are on the podium and next time we want to get more up on those stairs!"

Isaac Viñales was fighting of the 6th position but in the end of the race he had to give up few positions, being eventually 8th. Loris Cresson improved his riding throughout the race and he was fighting hard of the positions. At the end of the race Cresson was 13th.

"Isaac had a good pace in the beginning of the race and it looked like he could fight in the front group for the whole race. He didin't quite manage to do that and we found out few spots where he was dropping out of the front group. As a team we have to find solutions to these problems, so he can pull himself into the fight for podium. And I hope we have better weather conditions in Imola", team leader Vesa Kallio sums up.

Isaac Viñales:
"Despite the result, it was not a bad race. We know what we have to work on and we will get to Imola stronger!"

Loris Cresson's problems with the tyre grip continued in Assen.
"We haven't found a solution how to give Loris more confidence when we are riding in cold conditions. Now we have had troubles in last two races and we need to find a compromise for this problem", Vesa Kallio says.

Loris Cresson:
"This weekend started well on friday morning, but then I could not improve my lap times. For the race we had a good feeling the first five laps, but once we didn't have the full tank I lost the feeling and we lost very quickly the grip on the rear tyre, so it was a bit complicated to end the race. But now we know how to work for Imola. See you there!"

With this podium Thomas Gradinger moved to 4th in Championship standings. Isaac Viñales is being 9th and Loris Cresson is 12th in Championship standings. After four rounds, Kallio Racing is being third in Team standings.

The World Supersport season continues in Italy, Imola on 10th-12th of May.
Race results:
http://resources.worldsbk.com/files/results/2019/NED/SSP/001/CLA/Results.pdf?version=3f254ea62985e67d70d5751fd79112ed

Championchip standings:
http://resources.worldsbk.com/files/results/2019/NED/SSP/001/STD/ChampionshipStandings.pdf?version=67e649219847fb6e7ff3ae98ae3ca54c
---