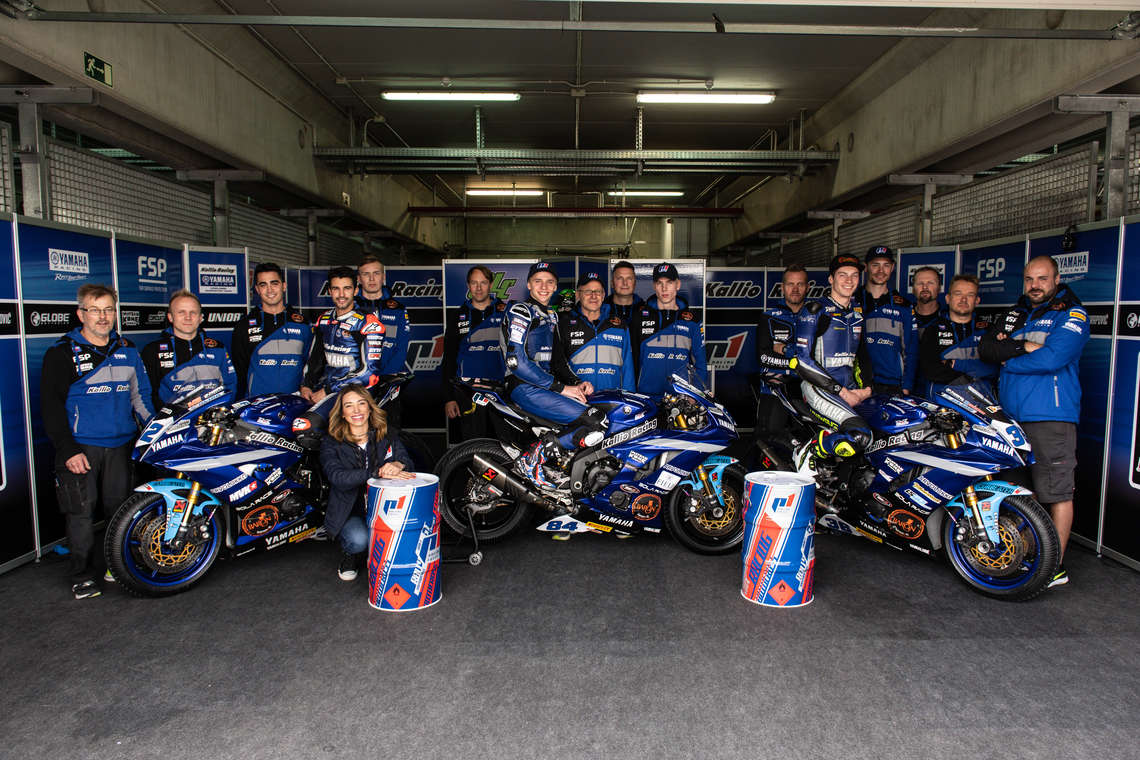 P1 RACING FUELS AND KALLIO RACING ANNOUNCE THEIR COOPERATION FOR THE 2019 WSBK SEASON
P1 Racing Fuels and Kallio Racing are pleased to announce their technical partnership. It marks the start of an exciting new era for the competition fuel manufacturer with the Supersport 600 team competing in the World Superbike Championship with Thomas Gradinger, Loris Cresson and Isaac Viñales.
Kallio Racing and P1 Racing Fuels have cooperated over a year on the development of a fully consistent component-based racing fuel geared at maximizing power output of racing motorcycle engines. The result of the cooperation is a FIM certified fuel designed as P1 SBX. P1 SBX has been extensively tested by the racing outfit and pushed to the limits on the track and in engine testing trials. The FIM certification of P1 SBX is valid for World Championship Grand Prix and Superbike, and Supersport & Supersport 300 World Championships.
P1 and Kallio Racing will cooperate throughout the 2019 season to further develop advanced fuel formulations for motorcycle applications. "I'm proud of this relationship as it perfectly demonstrates P1's abilities to formulate ultra-high-performance pure component racing fuels for various racing applications" said P1 CEO Martin Popilka. "The cooperation with Kallio Racing has been a great learning experience for both parties and the knowledge shared will ultimately benefit motorcycle racing team customers."
"We are so excited that we can start the cooperation with P1 Racing Fuels. We planned and developed our cooperation idea for about a year. It was important for both of us to get the product and ideas that satisfied both parties. P1 Racing Fuels has an old tradition from the car side, now it is also supposed to bring it here among the motorbikes. We already got great results with this fuel, so I can already recommend it to everyone!" added Kallio Racing Team Manager Vesa Kallio.
The partnership was presented at the WSBK 2019 race in Aragon.
P1 Racing Fuels is well known across Europe and Asia as a full-service provider with an in-house capability to not only formulate, manufacture and distribute high-quality fuels but also provide on-event refuelling and analysis. Consistency is of primary importance to P1, which works closely with vehicle and engine manufacturers as well as series organisers and teams to ensure its products are designed in accordance with the needs of their application.
Indeed, whilst many racing fuels are based on conventional refined crude oil, which – by default – contain a significant percentage of impurities, P1's products are engineered on a molecular level and produced from the highest purity chemical components. Thus, each and every batch of fuel is identical, allowing calibration engineers to maximise engine performance to the optimum level without risk of failure due to variances in the fuel's composition.
Kallio Racing is a professional racing team from Finland, focus on continuously improving and on becoming the champions of the Supersport FIM World Championship. A force to be reckoned with.
---