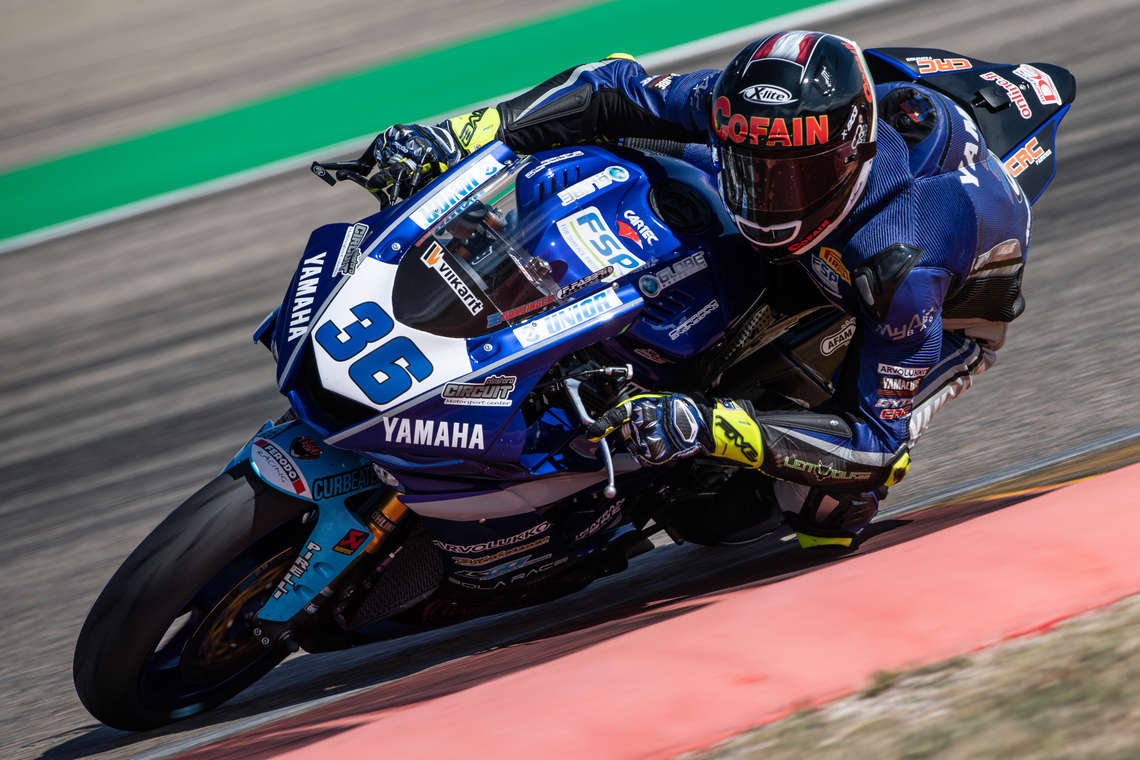 Really eventful race weekend in Aragon, Spain
The third race of Supersport World Championship was ridden today in Aragon, Spain. Starting point was excellent as Austrian rider Thomas Gradinger started to the race from pole position and Spanish Isaac Viñales was starting from the fifth grid. Belgian rider Loris Cresson finished Superpole in 17th place.

Gradinger got a good start for the race being second. The battle at the front was tough between four bikes. Thomas Gradinger came through and passed the first rider being at lead for a while. Unfortunately with only four laps remaining a small definitive mistake made him drop positions from first to fourth. Gradinger had a good fight in last laps of the race, but he wasn't able to make any passes at the end of the race.

"Thomas can still be very satisfied of his race weekend. He has enough pace and he is able to fight of the victory with the front guys", team manager Vesa Kallio sums up.

Thomas Gradinger:
"I think it was a really good weekend. We started really good from FP1 on, we were very confident and Superpole position was really surprising. My crew did very good job. In the race I could stay really easily with the front guys, but when I was leading it was really difficult to keep up a good pace and I made some mistakes. In the last laps I had difficulties because the grip was going down so fast. But anyway it was the first time I could lead the race and stay with the front guys for the whole race, so I am very happy and pleased. Let's see what Assen brings!"

Isaac Viñales also had a good start, but unfortunately he made some mistakes in the first lap and that impacted for the rest of his race.

Isaac Viñales:
"Bad first lap ruined the race, I went far back and only could go back until 10th."

"I wonder did Isaac had too much pressure here in his home track and that affected his riding so that he made those mistakes. Now we need to reset this race and try again in Assen", Vesa Kallio says.

Loris Cresson had problems with the grip values of his tyres here in the cold Aragon track. At the end of the race his position was yet 14th.

Loris Cresson:
"Weekend was really difficult, we struggle a lot with the tyres. In the race I tried my best to get in the front group but it wasn't possible. We work hard to be in the top again in Assen. See you!"
The World Supersport season continues in Netherlands Assen track on 12th-14th of April.
Race results:
http://resources.worldsbk.com/files/results/2019/ESP1/SSP/001/CLA/Results.pdf?version=3f254ea62985e67d70d5751fd79112ed

Championchip standings:
http://resources.worldsbk.com/files/results/2019/ESP1/SSP/001/STD/ChampionshipStandings.pdf?version=67e649219847fb6e7ff3ae98ae3ca54c
---