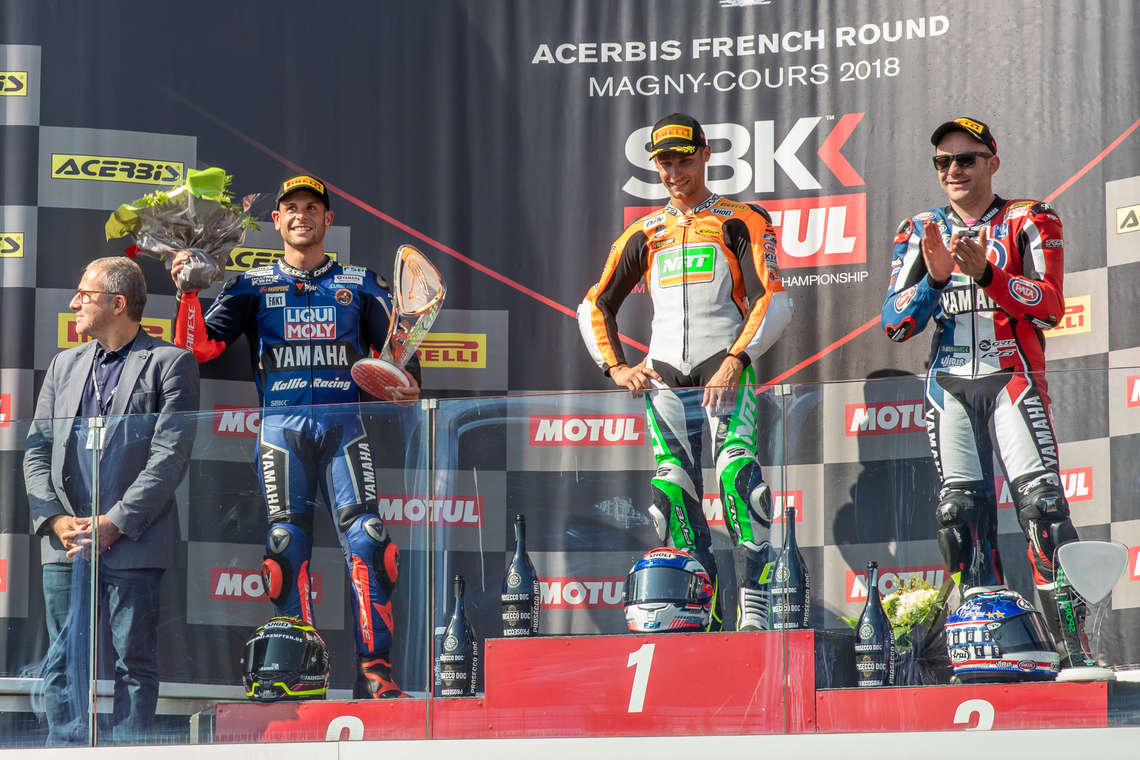 Cortese second at the French Round – Cresson had a great fight after a surgery
Kallio Racing's Sandro Cortese finished today second at the French Round of the FIM World Supersport Championship while Loris Cresson showed his fighting spirit just nine days after his collarbone surgery.
Sandro Cortese crossed the finish line second today at the Circuit de Nevers Magny-Cours at the World Supersport Acerbis French Round. The race was won by French Jules Cluzel who secured his fourth win of the season with fellow countryman Lucas Mahias third on the podium.
Cortese started from the fourth position of the grid but lost few positions after the start. The German then made his way up during the race and after finishing second, leads the championship now with 11 points before Cluzel.
Finnish team's Belgian rider Loris Cresson who had his collarbone operated just nine days ago started from the 17th place of the grid and finished 18th.
Loris Cresson:
Weekend was a bit hard as the collarbone operation was only nine days ago. On Friday we struggled with the set-up but on Saturday's qualifying we found quite good base with what I was happy. We improved the lap time by more than one second. Sunday morning the setting we tried was not perfect and at the race the pain got so intense after few laps. I struggled with the bike because the miss of power from my shoulder. I fought with all I could to score points but unfortunately I missed it by less than one second. Anyways I am happy to see that I can ride like this and it gave me confidence for Argentina, kiitos (thank you) to the team!
Team manager Vesa Kallio:
Sandro had a good race. He fought against Cluzel very well during the whole race and was even leading at some point. I am very pleased for the second position now. Sandro was very nervous yesterday and luckily he didn´t hurt himself in the crash he had at the qualifying. It could have ended worse. That's why this second position feels almost like a victory now. For Sandro this was an important achievement and we are happy to go now to the new circuit of Argentina. I am also pleased with Loris's riding. He fought during the whole race for the points and missed them just slightly. You could see from his riding that he had his collarbone operated just over a week ago so comparing to that he had a good weekend. In Argentina he will be ready to fight for the points and for sure his arm is in better condition then!
Race results: http://resources.worldsbk.com/files/results/2018/FRA/SSP/001/CLA/Results.pdf?version=3f254ea62985e67d70d5751fd79112ed
Championship standing:
http://resources.worldsbk.com/files/results/2018/FRA/SSP/001/STD/ChampionshipStandings.pdf?version=67e649219847fb6e7ff3ae98ae3ca54c
The World Supersport season continues in Argentina with a penultimate race on 14th of October.
---