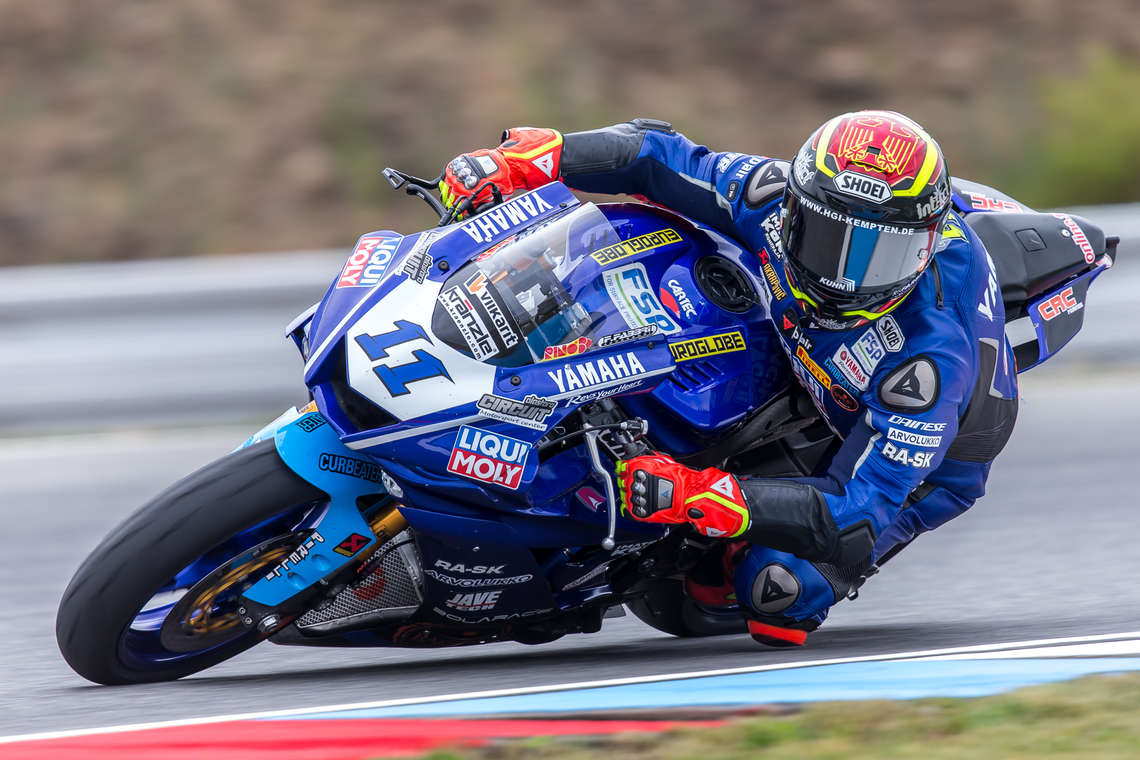 Cortese extended his lead in Portugal
Kallio Racing Team's Sandro Cortese finished fifth today at the round 10 in Portugal extending his lead in the championship into 16 points.
Kallio Racing returned in action after a long summer break this weekend at the Autodromo Internacional do Algarve circuit in Portugal.
Sandro Cortese who was leading the championship with five points over Jules Cluzel started the FIM Supersport World Championship round 10 from third place of the grid while Cluzel took a lightning start from fourth place into first place. Soon pole man Lucas Mahias moved back in front and Cortese tried to make his way into second. The move was not a success as the German slipped taking both him and Cluzel out. Cluzel needed to retire while Cortese managed to head back in the track. He was able to finish the race scoring important points of fifth place.
The race was won by Federico Caricasulo ahead of Kyle Smith and Raffaele De Rosa.
Kallio Racing's young rider Loris Cresson was not fit to race as he broke his collarbone at the second free practice. The Belgian aims to be back in action when the FIM Supersport World Championship series continues on 30th of September at Magny-Cours track, in France.
Sandro Cortese:
It was a very tough race today. Unfortunately I crashed when I tried to overtake Jules. I was lucky that I could continue but of course I am very sorry for Jules and for his team, it´s a shame that I made him crash and I am very sorry for that. We were lucky that I could take fifth place. Big thanks to the team, they made a great job as always and I am now looking forward the next round at Magny-Cours.
Team leader Vesa Kallio:
The weekend before the race was so perfect, we were very competitive so it´s a shame that Sandro was a bit too eager in the beginning of the race. I am sorry for Jules and his team for that. It feels strange that we extended the lead but I don´t really feel like celebrating that as we could have doneso much better. Now we have to focus on the next race in France as there we can´t make any mistakes in order to keep the leading position. I hope that Loris will also manage to be on the grid then.
Top 6 in Portugal
1. Federico Caricasulo, Yamaha
2. Kyle Smith, Honda
3. Raffaele De Rosa, Agusta
4. Randy Krummenacher, Yamaha
5. Sandro Cortese, Yamaha
6. Hannes Soomer, Honda

The World Championship Stading after round 10/13
1. Sandro Cortese 149
2. Jules Cluzel 133
3. Federico Caricasulo 129
4. Randy Krummenacher 129
5. Raffaele De Rosa 119
6. Lucas Mahias 103
–
13. Loris Cresson 30
---