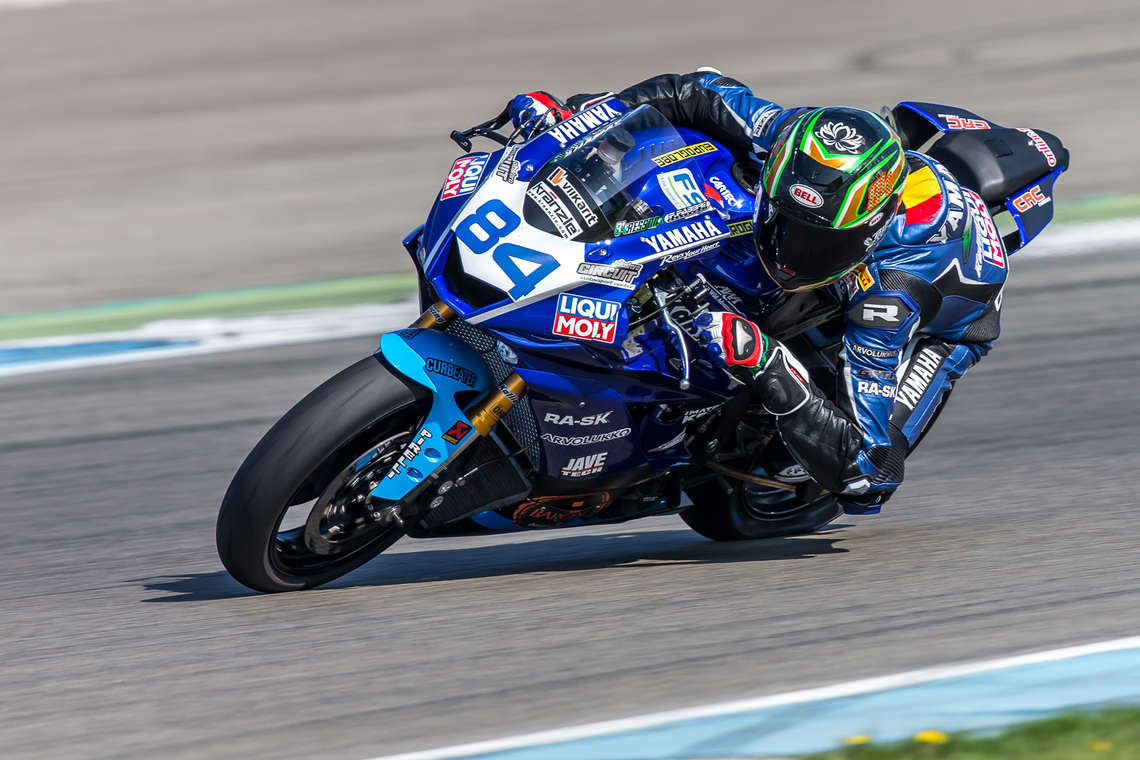 Cortese fifth at Assen – Cresson ninth after incredible fight
Round four of the FIM World Supersport gave mixed feelings for Kallio Racing Team. Sandro Cortese who started from the pole position ended up fifth but Loris Cresson made a remarkable job fighting his way from 17th position of the grid finishing ninth.
Legendary TT Assen Circuit hosted today round four of the FIM World Supersport series. Kallio Racing Team´s Sandro Cortese started to the race from the pole position second time in a row. However, when the last weekend´s Aragón GP ended up to victory celebration, today Cortese couldn´t keep his position. After extremely tight race he ended up fifth while Jules Cluzel crossed the finish line first Randy Krummenacher and Raffaele De Rosa joining him to the podium.
It was Loris Cresson who organized the positive surprise of the day for the Finnish Team. The Belgian who started from the 17th place of the grid made an incredible job finishing the race ninth. This was his first top ten result.
Team leader Vesa Kallio:
"It was good that Sandro was competing the whole race in the leading group. However, in the end he was not able to get better result. The tyres were wearing out quite much over here and this was perhaps something with which we didn´t succeed in the best possible way. Loris did a very good job when he fought himself to ninth position. When the young guy will get more experience, we can expect even better results from him."
Loris Cresson:
"The weekend started a bit difficult way. I struggled with the track and with the bike, but on Saturday we found a good set up for the qualifying practice. I felt better on the bike then and I managed to improve my time being 17th on the grid. At the warm up we tried something else but it wasn't that good. Luckily the race setup was really good and I had a great battle during the whole race. My pace was very good and I did lap by lap almost the same lap time than in the qualifying and I managed to finish 9th. I am really happy of the first top10 of the year. Kiitos (thank you in Finnish) Kallio Racing and see you in Imola!"
The round five of the WorldSSP championship will be in three weeks-time, May 11-13 at the legendary Imola circuit in Italy.
Riders' Championship Standing
1. Lucas Mahias 71
2. Randy Krummenacher 70
3. Sandro Cortese 65
4. Jules Cluzel 50
5. Raffaele de Rosa 35
---
11. Loris Cresson 18
Teams' Championship Standing
1. GRT Yamaha Official WorldSSP Team 120
2. Kallio Racing 83
3. Bardahl Evan Bros WorldSSP Team 70
---