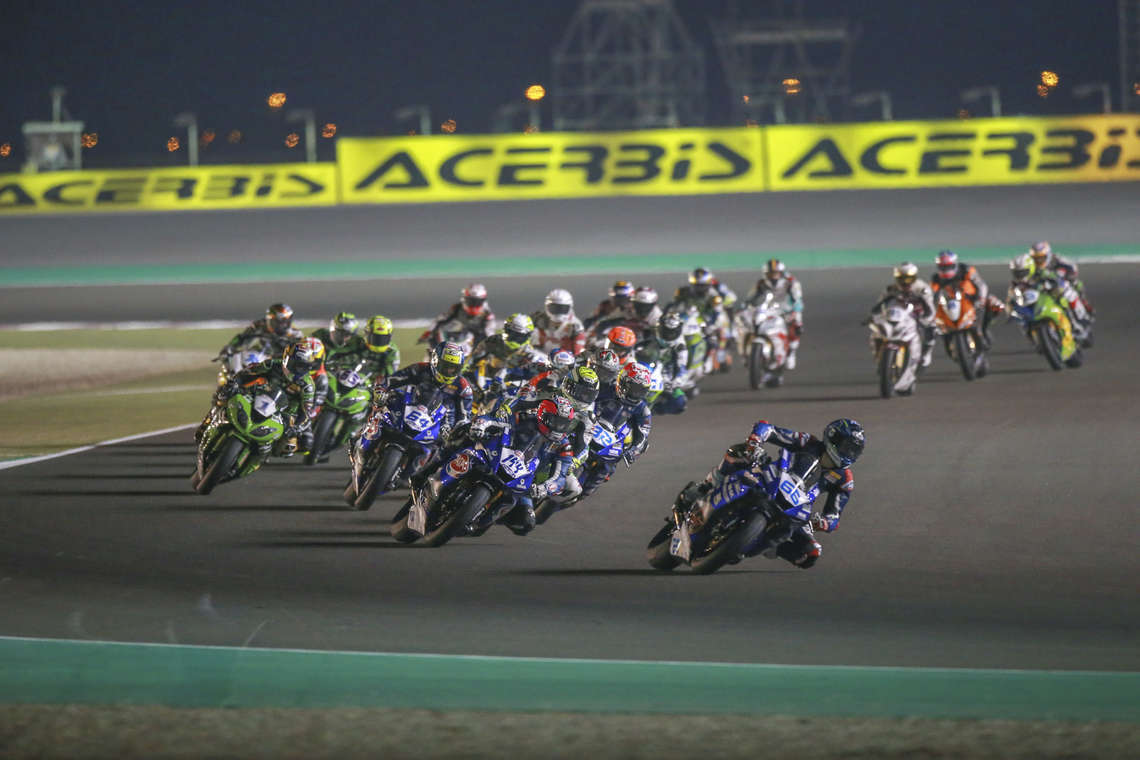 Kallio Racing had nightmerish start for the last race day of the season, but the team goes home as world championship third, even if the rider world championship medals were left out of reach
­­In the very beginning of this morning's warm-up session Kallio Racing's World Supersport's Finnish rider Niki Tuuli crashed, Tuuli walked away unharmed but the bike didn't do so well and was still being fixed in the race starting grid. South-Afrikan Sheridan Morais warmed-up one lap and retreated to the pits due to major issues with the clutch. Hard to image much worse starting point for the race.
But we never give up, and that applied also today. The team and mechanics were working harder than ever and when the race warm-up lap finally started, both riders and their bikes were in one piece and ready to race-rumble. The race was just as exciting as expected, Kallio Racing's both riders were riding in a leading group until the last laps of the race, when top 4 Mahias, Cluzel, Caricasulo and Sofuoglu left the rest behind and shared the worldchampionship medals amongst each other. Sheridan Morais was seventh in the race, which meant he was left fourth in the world championships, Niki Tuuli was sixth in the race and landed 7th position in the world championship standings.
Team Manager Vesa Kallio: "Based on yesterday, we were expecting more of today. We were supposed to be competitive, but that was not the case today. In warm-up we had some technical issues and Niki crashing his bike, the team was really stretched to get the bikes in order and to the race condition. I believe our chances for the best perfiormance went with the morning hassle, our race pace simply was not good enough today. I would like to thank the whole team for good and hard work they have done throughout the whole season; I would like to thank your partners for their support and making it possible for us to race this season; and I would like to than all our families, friends, fans and followers for believing to us and supporting us. We could not have done this without you."
Niki Tuuli: "Of course I'm dissappointed that I made a mistake in the morning, crashed and my bike broke pretty bad. The team made splendid job tho, getting the bike back together and in to the grid, I'm very grateful for that. I made few small mistakes also in the race too, but I can honestly say that I gave all i got. Today the top was just too fast for me. As they say, you make a mistake and you suffer for the consequences.
Anyway this season has taught me a lot, next season I know many things which has to be done more and better. Next season I'm ready to fight for the championship, which we can I'm certain."


Results World Supersport class Losail, Qatar 4.11.2017
Lucas Mahias
Jules Cluzel
Kenan Sofuoglu
Frederico Caricasulo
Anthony West
… 6. Niki Tuuli
… 7. Sheridan Morais
Rider World Championship 2017 World Supersport
Lucas Mahias, France
Kenan Sofuoglu, Turkey
Jules Cluzel, France
Sheridan Morais, South-Africa
Frederico Caricasulo, Italia
… 7. Niki Tuuli, Finland
Team World Championship 2017 World Supersport
1. GRT Yamaha Official WorldSSP Team
2. Kawasaki Puccetti Racing
3. Kallio Racing
Photo: Ratchata Tanwira. Rights free photos for the media: www.kallioracing.com
---