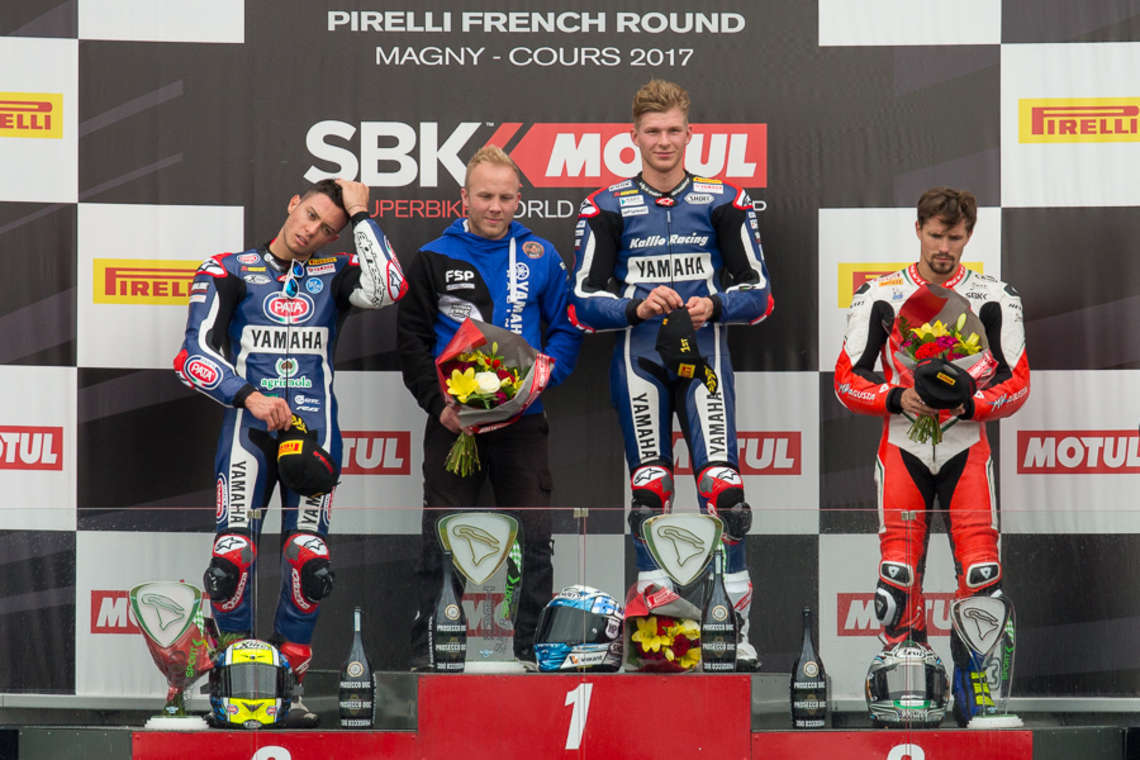 Kallio Racing and Niki Tuuli made history
Kallio Racing and Niki Tuuli won World Supersport class in French Round of World Superbike, rode on Circuit Nevers Magny-Cours. The historical win for the Finnish rider Tuuli came after strong performances throughout the weekend, where Sheridan Morais was working hard with the bike set up and had to give in few positions on the time sheets.
Kallio Racing and its riders in World Supersport class were working hard in France. Morais, the only rider getting world championship points in every race this season, and the team were working long days to get his bike's set up right. Luckily the pace was found when it was needed the most – in Superpole2 on Saturday Morais stopped the clocks to the second fastest lap time, only losing to that of team mate Tuuli, who had kept good pace throughout the whole weekend and took his first ever pole position in World Supersport class. No better way to start the day and race on Sunday!
In the race both riders had a good start and took turns in leading the group in the first laps. As the race grew older Tuuli took the lead and kept it to the very last lap being the first at the checkered flag taking his first victory in the World Supersport class. Morais was eight. In the world championship standings Morais kept his 3rd position and Tuuli rose to that of 7th.
The winner gave special thanks to the clever tyre tactics of the team, "We made right tyre choice again. This must be the best race I have ever done, thanks everyone for believing in me!" Tuuli rejoiced.
Morais: "Race started good, but then I had a high side moment that got my dash loose. That must have caused problems to the electronics, because I struggled with them for the rest of the race."
Team manager Vesa Kallio: "Niki rode very well throughout the weekend. Based on our experience here last year, we made a different tyre choice to that of the most other leading group riders. The choice was well worthwhile, and Niki was able to control the race nicely. I'm very happy for Niki on this first victory and regained self-confidence in riding.". Kallio pointed out the problems shadowing Morais' race "Very unfortunate that Sheridan was struggling with the electronics and gears. There is only two races left and we would have loved to get more championship points to narrow the gap to the lead."
Next race in Jerez, Spain the 22nd of October.
Results World Supersport, Magny-Cours France 1.10.2017
Niki Tuuli
Frederico Caricasulo
PJ Jacobsen
Lucas Mahias
Jules Clutzel
... 8. Sheridan Morais
Championship Standings World Supersport after 10 of 12 rounds
Lucas Mahias, France, 154 points
Kenan Sofuoglu, Turkey, 145 points
Sheridan Morais, South-Africa, 122 points
Jules Cluzel, France, 115 points
PJ Jacobsen, USA, 95 points
… 7. Niki Tuuli, Finland, 63 points
In World Supersport 300 Kallio Racing's young talents Kimi Patova and Renzo Ferreira started to the race from the starting grid positions 17. ja 37. Patova's 17th grid position in sixth row was the best starting position for a race this season, so expectations were high for the race. Unfortunately in the very early stage of the race Kimi got knocked over by a fellow racer and his race was over. Ferreira rode steadily from the beginning to the end of the race landing on 27th place, which is quite a bit higher up than where he started.
Ferreira comments: "I took too slow the first laps because of the slight rain, couldn't get into a proper rhytm and just rode till the end."
Kimi was disappointed: "What can I say, no, I'm not happy. Someone crashed to me from the behind and that was it for me."
Team manager Vesa Kallio: "Yeah, I have to admit I'm a bit disappointed. Kimi had the best grid position of the season and climbed up few positions more in the start. It is impossible to avoid all collision situations like this in in the race, but there has been too many similar this season."

Race results World Supersport 300 class, Magny-Cours Ranska 1.10.2017
Marc Garcia
Alfonso Coppola
Robert Schotman
Mika Perez
Daniel Valle
Championship Standings World Supersport 300 Class after 7 of 9 rounds
Marc Garcia, Spain
Alfonso Coppola, Italy
Mika Perez, Spain
Scott Deroue, The Netherlands
Borja Sànches, Spain
… 27. Kimi Patova, Finland
… Renzo Ferreira, Brazil
Photo: Philippe Damiens. Rights free photos for the media: www.kallioracing.com
---