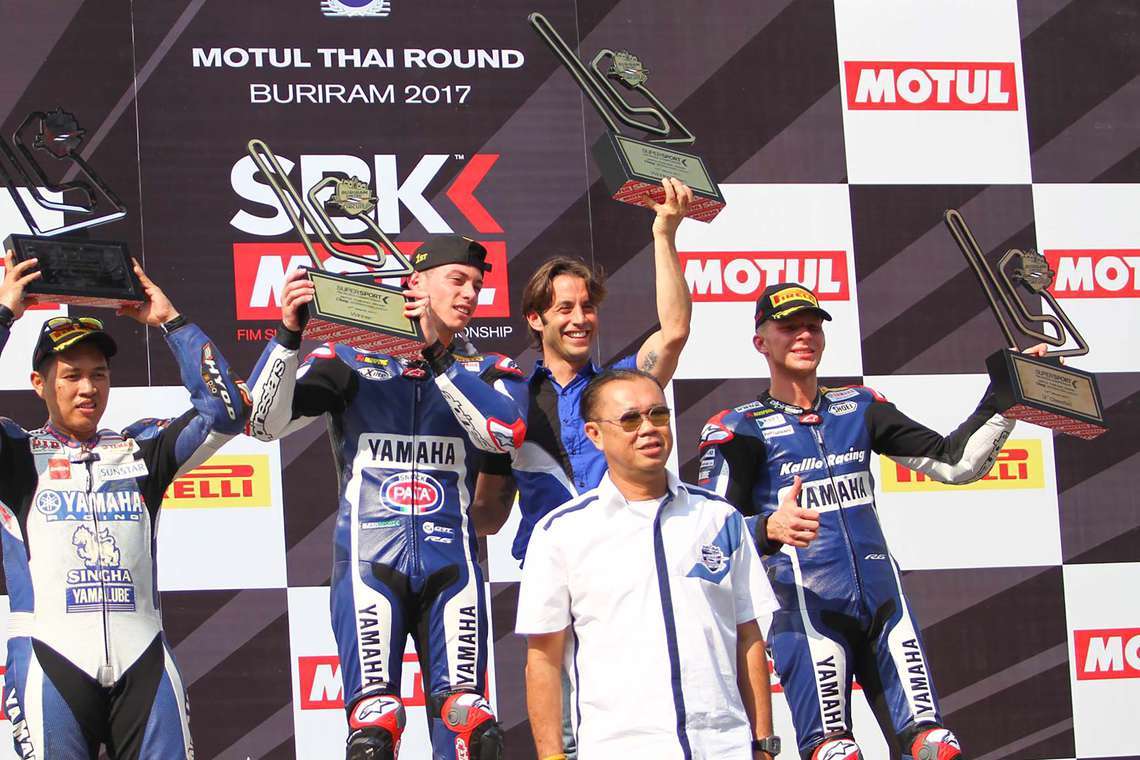 Tuuli clinches podium place at Thailand
The second World Supersport race of the year at the Chang International Circuit brought drama with Niki Tuuli of Kallio Racing team clinching the third spot on the podium with Sheridan Morais crossing the line in seventh place.
Tuuli had a rough start in a race that featured very high track and air temperatures. The Finn survived a massive highside on the first lap, but composed himself and caught up to third place at the flag.
"I tried a little bit too much and I lost it. I was really lucky not to crash, there was still over 200 km/h speed at that time", Tuuli said.
He was more than happy with third place.
"It was almost like a win to me. The Kallio Racing team was working so well and we are now second in the Riders' Championship and that feels so good!"
Sheridan Morais started good, but struggled a little bit in the first five laps. Last part of the race was way better and Morais finally met the checkered flag in seventh place.
"I am finding a good feeling on the bike and the team have worked hard with and for me. We now have winning race pace but just need the first 5 laps of the race to be faster", Morais said after the race.
Team Manager Vesa Kallio was quite happy with the race.
"I'm happy with the performance of the both riders. Niki riding to third place at the flag was of course awesome. Whole team worked really good together. Now we have small test to do before the next race and hopefully we'll find out some new things to the bikes."
Next race will be at the Motorland Aragon circuit in Spain on April 2nd.
World Supersport Thailand
1. Federico Caricasulo, Italy, Yamaha
2. Decha Kraisart, Thailand, Yamaha
3. Niki Tuuli, Finland, Yamaha
4. Thitipong Warokorn, Thailand, Kawasaki
5. Kyle Ryde, Great Britain, Kawasaki
…7. Sheridan Morais, South Africa, Yamaha
World Supersport championship standings 2/13
1. Roberto Rolfo, Italy, 30
2. Niki Tuuli, Finland, 27
3. Federico Caricasulo, Italy, 25
4. Kyle Ryde, Great Britain, 24
5. Decha Kraisart, Thailand, 20
…10. Sheridan Morais, South Africa , 14
Photo: Ratchata Tanwira
---