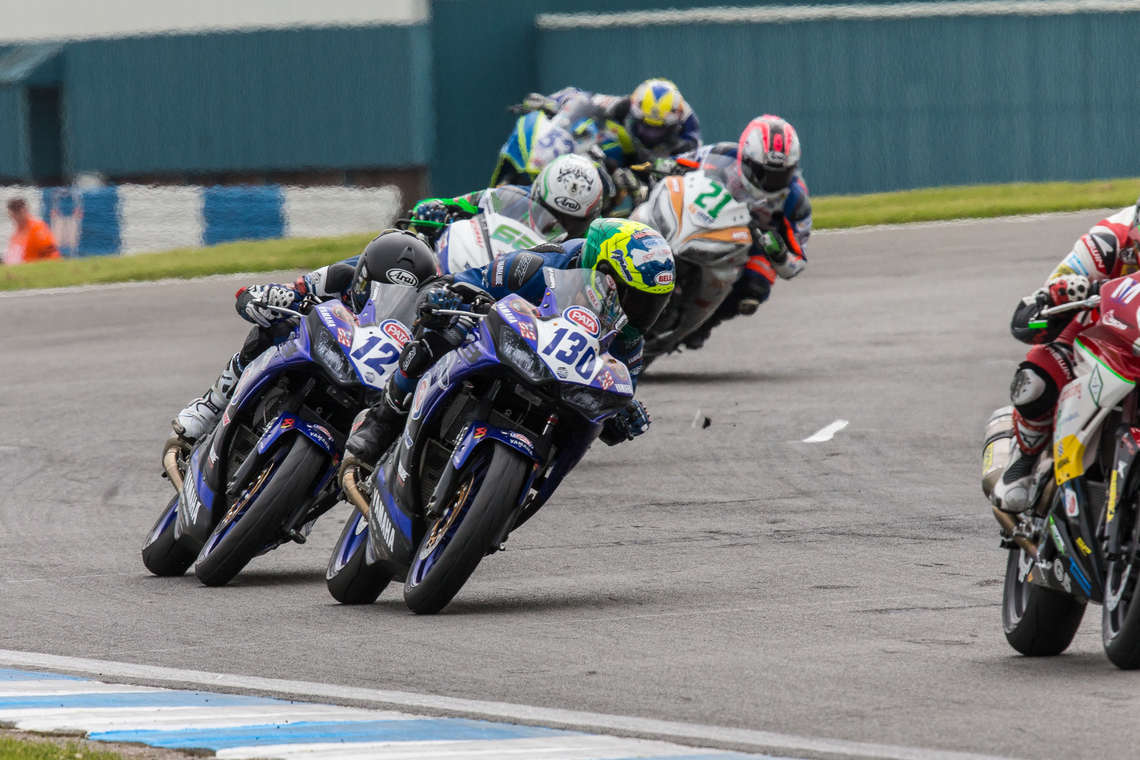 Difficult weekend for the Kallio Racing team
The World Supersport Championship race of Donington Park was a little off the mark for Kallio Racing team as Niki Tuuli scored no points at all. Sheridan Morais rode a good race and he managed to get to the sixth-place in the finish line.
Morais did a good job at the start of the restarted race, gunning his Yamaha R6 to its full speed. South African fought his way to the sixth place and was happy with that.
"It was a difficult weekend. This time we had a luck with the red flag, because the first start was bad and in the second one I got the good position and I manage to fight for the better results. Sixth place is quite good, because we had some issues and the team worked really hard. I'm grateful for the team and looking forward to Italy, were we can start fresh again", Morais said.
Niki Tuuli struggled with his riding throughout the weekend and ended up 24th place finish.
"Nothing much to say. The riding isn't there where it supposed to be, but now we go home to Finland and we will work harder than ever to get the results we want", Tuuli said.
In the 300 class Kimi Patova had a crash in time qualifying, but despite of that the Finn kept a calm head and rode a good race finishing 24th.
"The race was pretty good after starting from 30th place. It was too bad, that I had a crash in Saturday, because I missed a lot of practice time on the track. Anyways, next race is in Italy and I try to be better there", Patova said.
Renzo Ferreira crashed out of the race.
"I think it was on the fourth lap, I braked too late and I went out of the track. I did a high side in front of the grass and fell down. I got a little bit hurt on my back and my chest, but everything is good now", Ferreira said.
Next Round: June 18, 2017 – Italy
Results World Supersport class, Donington Park, Great Britain
1. Kenan Sofuoglu, Turkey, Kawasaki
2. Jules Cluzel, France, Honda
3. Luke Stapleford, Great Britain, Triumph
4. Lucas Mahias, France, Yamaha
5. Kyle Smith, Great Britain, Honda
6. Sheridan Morais, South Africa, Yamaha
... 24. Niki Tuuli, Finland, Yamaha
Standings World Supersport Class after 6 of 13 rounds
1. Lucas Mahias, France, 105
2. Kenan Sofuoglu, Turkey, 75
3. Sheridan Morais, South Africa, 68
4. Jules Cluzel, France, 55
5. PJ Jacobsen, USA, 55
…12. Niki Tuuli, Finland, 27
Results World Supersport 300 class, Donington Park, Great Britain
1. Alfonso Coppola, Italy, Yamaha
2. Mika Perez, Spain, Honda
3. Marc Garcia, Spain, Yamaha
4. Scott Deroue, Netherlands, Kawasaki
5. A Pontone, Italy, Yamaha
21... Kimi Patova, Finland, Yamaha
Kesk... Renzo Ferreira, Brasil, Yamaha
Standings World Supersport 300 Class after 4 of 9 rounds
1. Scott Deroue, Netherlands, 68
2. Alfonso Coppola, Italy, 66
3. Marc Garcia, Spain, 51
4. Mika Perez, Spain, 42
5. Borja Sanchez, Spain, 39
…22. Kimi Patova, Finland, 5
… Renzo Ferreira, Brasil, 0
Photographer: Philippe Damiens
---