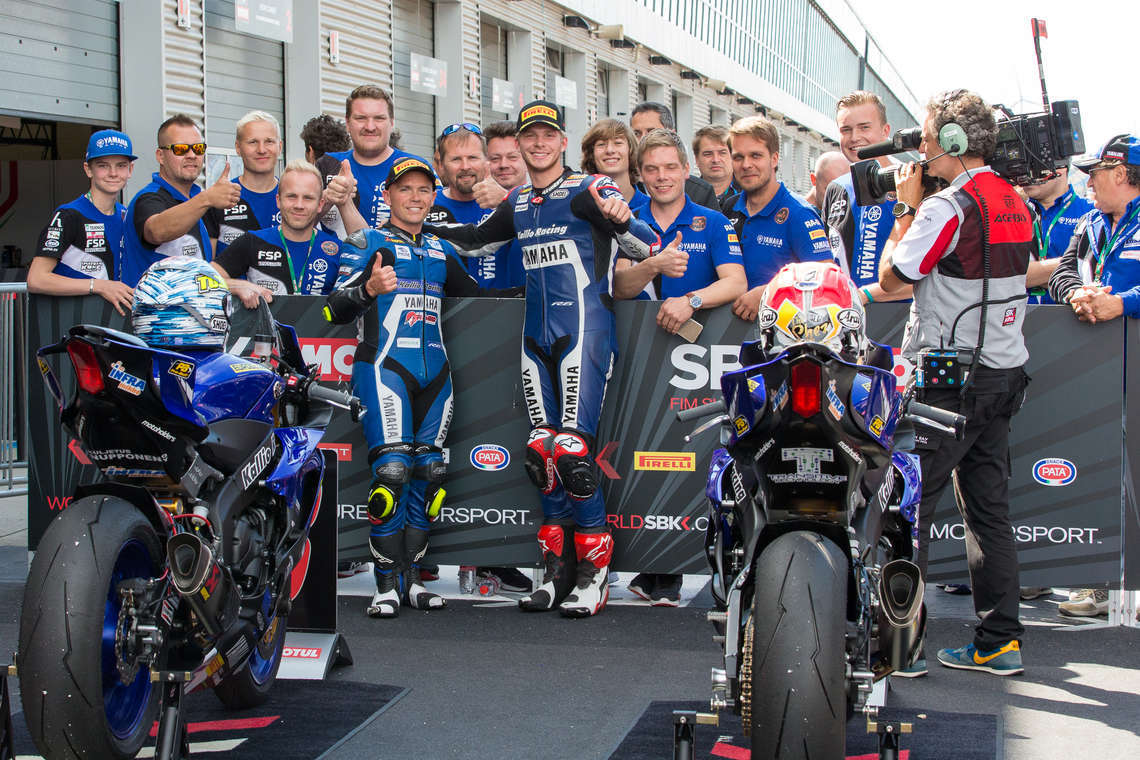 Kallio Racing is back on track in Portugal this weekend – It's all about the points now, World Championship for World Supersport is far for being set.  
The next race for Kallio Racing is this weekend, the 15th – 17th September in Portimao Portugal. The run for the road racing world championship continues for both classes the team is participating in, World Supersport and WorldSSP300. In the previous race, Lausitzring in Germany, Kallio Racing and Sheridan Morais both took their first ever win in World Supersport class. The expectations are high for this weekend as well. Morais, who lives in Portugal, is very much at home on the race circuit and of course extra push is gained from the fact that the World Championship in World Supersport class is far from being set yet. Morais is currently third in the World Championship standings, 20 points behind the current leader Lucas Mahias.
The new Yamaha R6 bikes the team took out in Lausitzring could not have had better premiere, both Morais and team mate Niki Tuuli were very comfortable, confident and fast on them from the first laps. More good to come this weekend, we are sure!
"Sheridan's win was a magnificent thing for the whole team. New bikes have made both our riders faster, Sheridan and Niki are in a good place right now. In Portugal the aim is no less than being on the podium, the goal is the same for both riders. It is great to have some friendly competition within the team and between the riders." Team Manager Vesa Kallio reminds.
Also World Supersport 300 riders Finnish Kimi Patova and Brazilian Renzo Ferreira are looking forward the weekend. The amazing track, Autódromo Internacional do Algarve, is news for the freshmen and the first impression is it is a challenging kind, as Patova puts it.
Follow us through the weekend in social media. Do it in:
Facebook www.facebook.com/kallioracing/
Instagram @kallioracing
Twitter @KallioRacing

World Championship standings, before Portugal:

World Supersport
http://resources.worldsbk.com/files/results/2017/GER/SSP/001/STD/ChampionshipStandings.pdf?version=67e649219847fb6e7ff3ae98ae3ca54c

World Supersport 300
http://resources.worldsbk.com/files/results/2017/GER/SSP300/001/STD/ChampionshipStandings.pdf?version=8b046a7c114d0a269b986f43cc1bf767
Photo: Philippe Damiens.
---