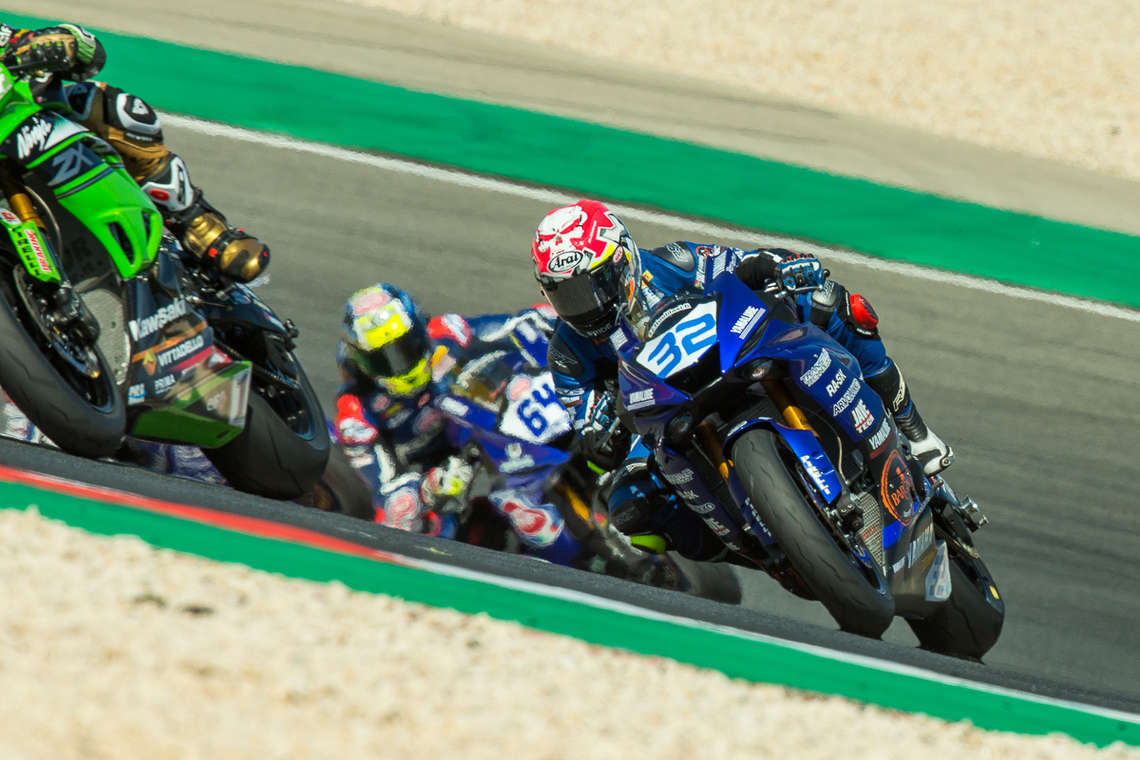 Sheridan Morais fourth in World Supersport race in Portugal
Sheridan Morais secured the fourth position, 13 championship points and maintaining his 3rd position in the championship standings in the 9th race of the season. The race winner Kenan Sofuoglu took the lead also in the world championship standings with four points difference to Lucas Mahias who was second in the race today. Morais has now 31 points to the first and 27 to the previous with 3 races to go and 75 points to get. It has to be pointed out that Morais is the most consistent rider in the championship – the only one who has been scoring points in every race this season.
Niki Tuuli who started to race from second row as well, was fighting long and hard with Frederico Caricasulo, and eventually made a small mistake leading Finnish to crash from the 6th position on the 14th lap.
"The start for both guys was not as good as it should have been, leading us giving out few positions in the very beginning. Sheridan fought his way back to the leading group, but didn't manage to catch up with the top three guys anymore. Race winner Sofuoglu and second Mahias were in front of Sheridan in the world championship standings and third today Cluzel is lurking as fourth behind him. The rest of the races are expected to be very tight and exciting indeed." Team manager Vesa Kallio told. "Sheridan's pace was very fast throughout the weekend and it was bad luck that there was no rear grip and hence some of the slowliest of the lap times occurred in the race. Niki rode well this weekend, but uneven track, tight fight with a colleague and a small mistake in the 8th corner lead him to crash in the end of the race. There are still three races to go this season, we will go after 25 points in each one of them. Both guys have what it takes to be on the podium, no doubt about it." Vesa Kallio ends.
In World Supersport 300 Renzo Ferreira rode to 31st and Kimi Patova to 33rd position.
Next race in Magny Cours, France the 29th of September – 1st of October.

Results World Supersport class, Portimao, Portugal 17.9.2017
Kenan Sofuoglu
Lucas Mahias
Jules Clutzel
Sheridan Morais
PJ Jacobsen
... DNF Niki Tuuli
Championship Standings World Supersport after 9 of 12 rounds
Kenan Sofuoglu, Turkey
Lucas Mahias, France
Sheridan Morais, South Africa
Jules Cluzel, France
PJ Jacobsen, USA
… 13. Niki Tuuli, Finland
Race results World Supersport 300 class, Portimao, Portugal 17.9.2017
Ana Carrasco
Alfonso Coppola
Marc Garcia
Daniel Valle
Mika Perez
Championship Standings World Supersport 300 Class after 7 of 9 rounds
Alfonso Coppola, Italy
Marc Garcia, Spain
Scott Deroue, The Netherlands
Mika Perez, Spain
Borja Sànches, Spain
… 25. Kimi Patova, Finland
… Renzo Ferreira, Brazil
Photo: Philippe Damiens.
---