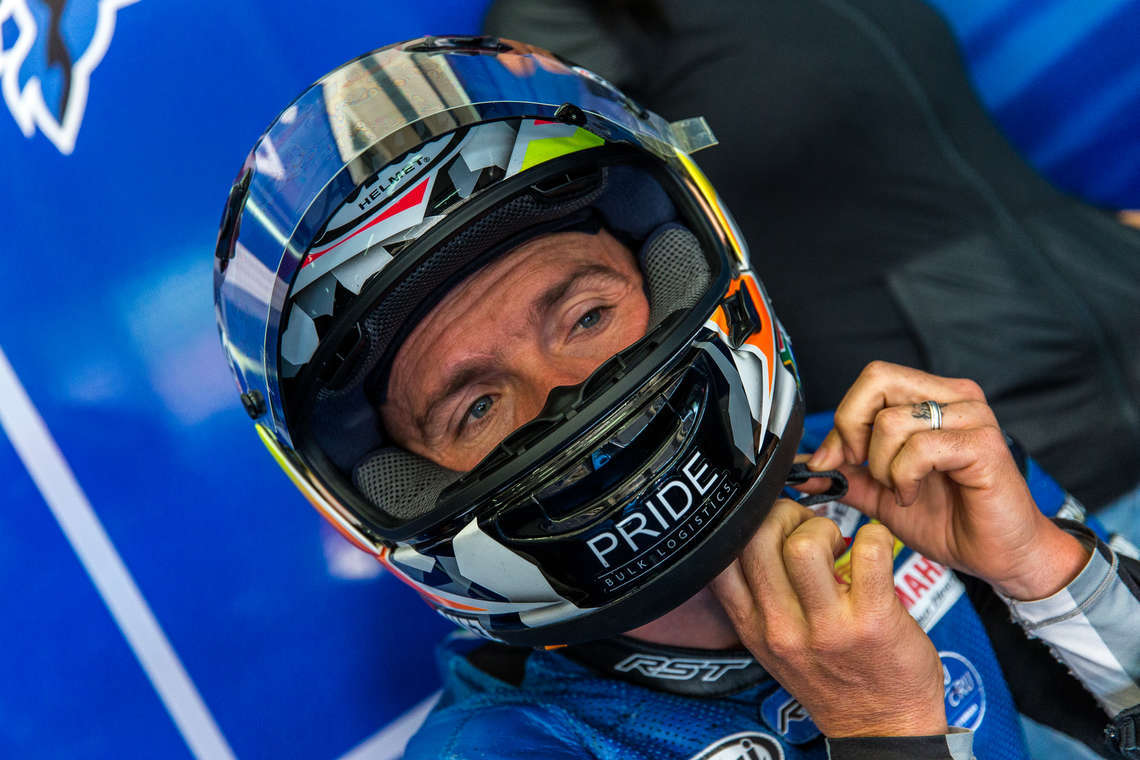 Kallio Racing misses out on a podium place in Imola
Sheridan Morais of Kallio Racing team showed good speed with his Yamaha R6 in the fifth round of 2017 FIM Supersport World Championship in Imola, Italy.
The race was filled with red flags, restarts and delays, but despite of that the South African rode steady race and took home important points with his fourth-place finish.
"On the race, we worked really hard during this weekend. After Assen we thought we can win the race, but this time our plan didn't work. The temperature was higher we expect, so we choose a wrong tire. That made the race very difficult, but I'm still happy with good finish fourth, it could be worse. Just looking forward to Donington and carrying this momentum there", Morais said.
Niki Tuuli had a bad luck felling down and unfortunately had to retire from the race.
"I feel so disappointed, another race with no points at all. I don't know what happened, was there some oil on the track or not. Everything happened so fast."
Vesa Kallio, the Team Manager of Kallio Racing was happy with the fact, that Morais is still second in the points.
"I still think Morais should be more aggressive, but we scored good points and that's good. Tuuli is riding better, but he had bad luck and crashed. Good thing is, Tuuli is going on the right direction and we just have to keep on working and believing our own thing", Kallio said.
In the 300 class, both riders Kimi Patova and Renzo Ferreira crashed and had to retire from the race.
"Nothing much to tell about the race. I took a good launch, but then another rider took me out. I lost he front brake and that was it", Ferreira said.
Next Round: May 28, 2017 – Donington Park, Great Britain.
Results World Supersport class Imola, Italy
1. Kenan Sofuoglu, Turkey, Kawasaki
2. Lucas Mahias, France, Yamaha
3. PJ Jacobsen, USA, MV Agusta
4. Sheridan Morais, South Africa, Yamaha
5. Kyle Smith, Great Britain, Honda
DNF… Niki Tuuli, Finland, Yamaha
Standings World Supersport Class after 5 of 13 rounds
1. Lucas Mahias, France, 85
2. Sheridan Morais, South Africa, 58
3. PJ Jacobsen, USA, 55
4. Kenan Sofuoglu, Turkey, 50
5. Roberto Rolfo, Italy, 41
…9. Niki Tuuli, Finland, 27
Results World Supersport 300 class Imola, Italy
1. Marc Garcia, Spain, Yamaha
2. Alfonso Coppola, Italy, Yamaha
3. Mykyta Kalinin, Ukraine, Yamaha
4. Borja Sanchez, Spain, Yamaha
5. Giuseppe De Gruttola, Italy, Yamaha
DNF... Kimi Patova, Finland, Yamaha
DNF... Renzo Ferreira, Brasil, Yamaha
Standings World Supersport 300 Class after 3 of 9 rounds
1. Scott Deroue, Netherlands, 55
2. Alfonso Coppola, Italy, 41
2. Borja Sanchez, Spain, 39
4. Marc Garcia, Spain, 35
5. Dorren Loureiro, South Africa, 29
…20, Kimi Patova, Finland, 5
… Renzo Ferreira, Brasil, 0
Photographer: Philippe Damiens
---