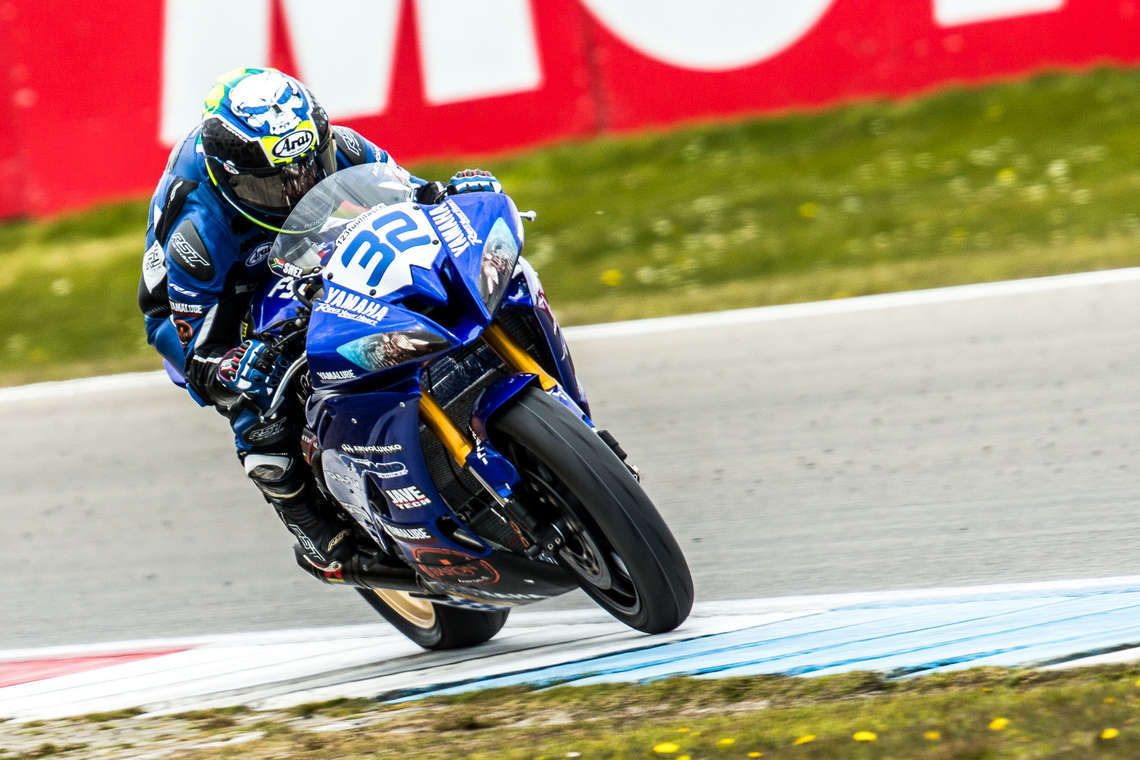 Sheridan Morais fifth in Assen
Sheridan Morais of the Kallio Racing Team reached the second place in the World Supersport class World Championship series after taking the fifth place at the GP of Assen in Netherlands.
The South African snatched a third-placed start with his Yamaha R6 and was riding comfortably with the leading riders. After dropping a couple of places Morais rode a strong last lap and met the squared flag in the fifth place which gives him a second place in the points standings.
"Another strong race. I'm not happy with the position, but I'm happy with the progress we made and that we were fighting in the front. We'll have some things to work on before the next race, but I feel good and looking forward to the next race. The team is working really hard and we will be even stronger in Imola, which is a great track for me", Morais said.
Niki Tuuli had a lot of bad luck and didn't get any points from Dutch GP.
"I tried way too much during the weekend and it didn't turn out good. I feel so disappointed, but life goes on and we know how to turn this around. I have the whole team behind me and we will come back strong in Italy", Tuuli said.
In the World Supersport 300 class Kimi Patova rode a strong race finishing 11th.
"I had some difficulties during the weekend, but I've got my first world championship points and I'm happy with that", Patova said.
Renzo Ferreira was 18th.
"The race was pretty good, because I didn't crash and I built up my confidence for the next race."
Next race will be in Imola and Team manager Vesa Kallio is sure that the team will do better in Italy.
"Morais was riding good the whole weekend, but he has to be little more aggressive in the passings. Tuuli had a bad weekend, but for sure he will be better in Imola. In 300 class, it was great to see that the hard work will always pay off. Riders are more comfortable with the bikes and we are getting closer to the top riders."
Next Round: June 14, 2017 – Imola, Italy
Results World Supersport class Assen, Netherlands
1. Kenan Sofuoglu, Turkey, Kawasaki
2. Lucas Mahias, France, Yamaha
3. Jules Cluzel, France, Honda
4. PJ Jacobsen, USA, MV Agusta
5. Sheridan Morais, South Africa, Yamaha
16… Niki Tuuli, Finland, Yamaha
Standings World Supersport Class after 4 of 13 rounds
1. Lucas Mahias, France, 65
2. Sheridan Morais, South Africa, 45
3. Roberto Rolfo, Italy, 41
4. PJ Jacobsen, USA, 39
5. Kyle Ryde, Great Britain, 36
…8. Niki Tuuli, Finland, 27
Results World Supersport 300 class Assen, Netherlands
1. Scott Deroue, Netherlands, Kawasaki
2. Glenn Van Straalen, Netherlands, Honda
3. Alfonso Coppola, Italy, Yamaha
4. Borja Sanchez, Spain, Yamaha
5. Dorren Loureiro, South Africa, Kawasaki
…11. Kimi Patova, Finland, Yamaha
…18. Renzo Ferreira, Brasil, Yamaha
Standings World Supersport 300 Class after 2 of 9 rounds
1. Scott Deroue, Netherlands, 50
2. Borja Sanchez, Spain, 26
3. Alfonso Coppola, Italy, 21
4. Glenn Van Straalen, Netherlands,20
5. Daniel Valle, Spain, Yamaha, 20
…17, Kimi Patova, Finland, 5
… Renzo Ferreira, Brasil, 0
Photographer: Philippe Damiens
---