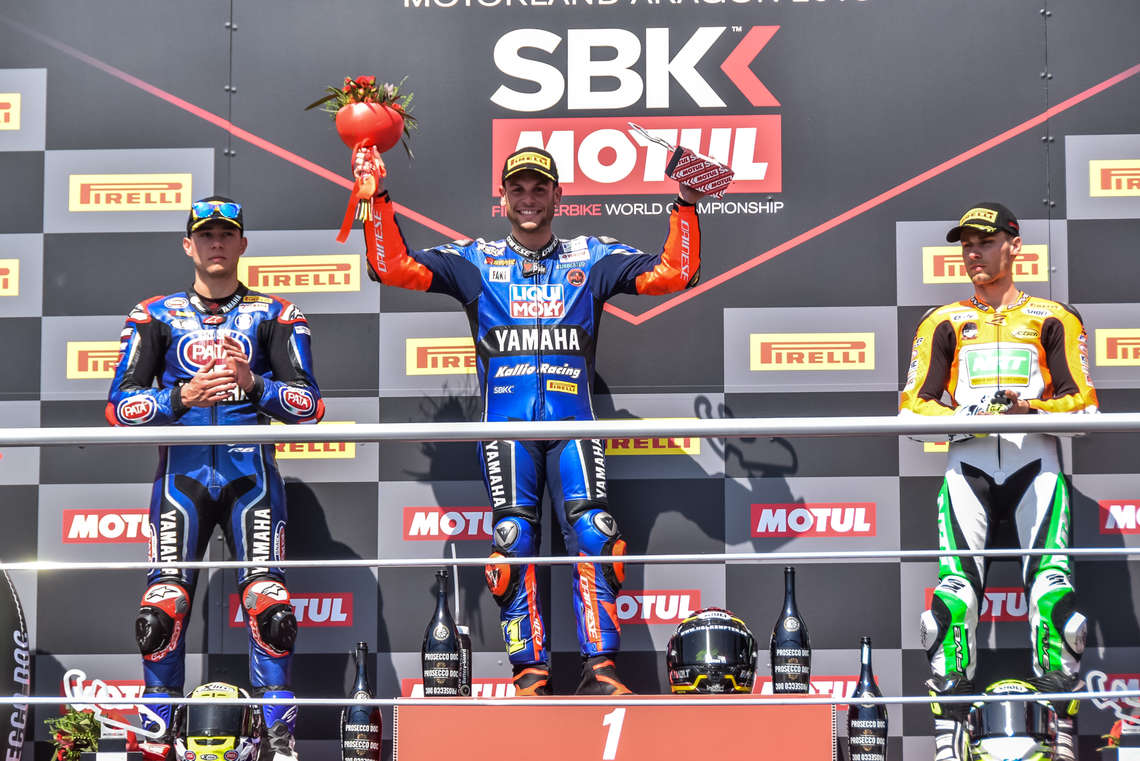 First victory of the season for Kallio Racing - Cortese seizes first WorldSSP win
Kallio Racing's German rider Sandro Cortese achieved his first FIM Supersport World Championship victory at round three today in Aragón, Spain.
Sandro Cortese who started for the first time of his Supersport career from the pole position didn't have the best possible start and was dropped to fourth. He soon managed to make his way to second. Cortese was battling on the second and third position quite some time with Italian Federico Caricasulon while French Jules Cluzelin was leading. On lap seven Cortese managed to take the lead and soon made a good gap to the rest of the riders even achieving fastest lap time of the race.
When only four laps were left Caricasulo overtook Cortese but on the following lap the German managed to lead his Yamaha back to the first position. Cortese crossed the finish line first grapping the maiden victory of his Supersport career leaving Caricasulo second and Cluzel third.
This was the first victory for Cortese since 2012, when he was still racing in Moto3.
Kallio Racing's young Belgian rider Loris Cresson who started from the 21st position had a great race and managed to make his way up to the 12th position.
Vesa Kallio:
"This was a great weekend. Sandro was strong since the beginning, the pole position and victory is an extremely brilliant result. He managed to control the race the whole time. With Loris we needed to push really hard the whole weekend as it was a bit demanding for him to find a relaxed feeling for the riding. But he managed to fight his way up in the race and 12th position for sure is a great result from here. So now we have a good feeling to go to Assen. The victory gave a really good feeling for the whole team and what is also great is that Sandro is now second in the points! I want to thank the whole team and all our partners who are doing this journey together with us this season."
Sandro Cortese:
"All in all we had a great weekend. From the first practice onwards we were really competitive. We worked extremely hard for the pole position and for the race. This was a special weekend with my first pole and first victory from Supersport but of course we try now to work as hard as we can for the next weekend to get good results also then. It will be again a tough weekend. Thanks to the team, they made a really great job! Now I am just looking forward the next race."
Loris Cresson:
"The weekend was not an easy one. We struggled to find a good set up during the practice, but we worked hard and during the warm up we found a good solution. At the race I took a good start, unfortunately I lost too much time with some riders but I managed to keep a good rhythm and finally grabbed the 12th position. I'm happy with how we did and I'm excited to go to Assen."
With his win Cortese moved just four points away from championship leader French Lucas Mahias who has now 58 points. Swiss Randy Krummenacher is third with 50 points and Cresson is 13th with 11 points.
Full results and championship standing: http://www.worldsbk.com/en/results%20statistics
The next WorldSSP round will be held already next weekend at the legendary TT Assen circuit, in the Netherlands.
---