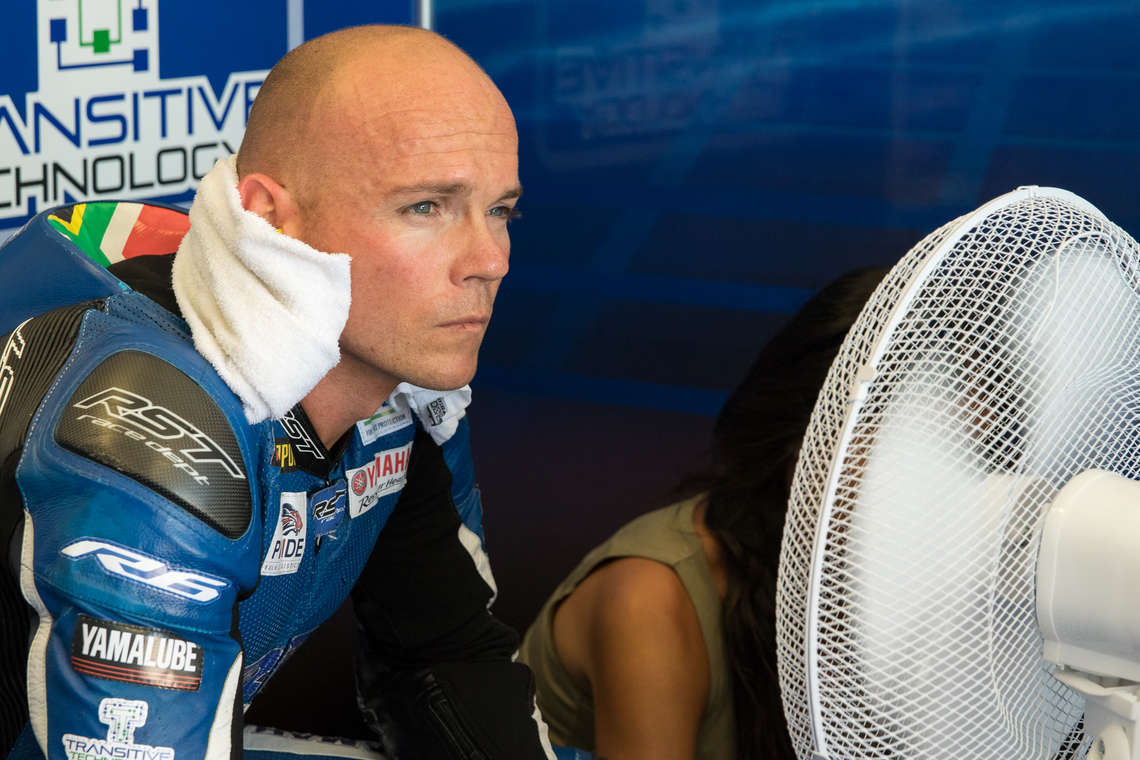 Difficult weekend for the Kallio Racing Team
Round seven of the 2017 FIM World Supersport World Championship took place in Misano, Italy and the whole Kallio Racing Team had a good fighting spirit. All the riders worked hard in the heat to make good results, but unfortunately, they had a bad luck.
Sheridan Morais was the only one who got the points, finishing the race in the eight place. He wasn't happy with the result, but is still looking forward the races after the summer break. Morais is third in the points standings.
"Tuff weekend, but still happy to walk away with the solid Championship position. We didn't have that much of a bad luck, but we had some issues with setups. We know where the problem is and it's good to have a summer break to work with the bike. We don't give up and we will work really hard with Kallio Racing Team in the next months", Morais said.
Niki Tuuli was feeling great in the Sunday morning session, but the race was anything but good. Another rider hit him behind and they both crashed hard.
"There was nothing I could do. Another rider hit me and I was in the air. I heart my knee and angle and I must see my doctor when I get back to Finland. I'm still quite happy that we found some good setups and I hope we can get my riding in the right order during the summer brake", Tuuli said.
In the 300 class Renzo Ferreira finished the race in the 22 position. Kimi Patova crashed hard because of another rider.
"I had a pretty good start, but everyone is so crazy in the race. I had some problems, because one guy took a contact to me. Anyways it was good, because I didn't crash and that was my goal. In the next race, I hope I can be in the top 15. Thank you for all my sponsors and my team", Ferreira said.
Team Manager Vesa Kallio is happy to have a summer break.
"The summer break will come in the right time for us. It has been quite difficult with these bikes, because we've had so many crashes. Now, during the break we'll try to test and develop new Yamaha R6, to be more competitive in the rest of the season", Kallio said.
Next Round: August 20, 2017 – Germany
Results World Supersport class, Rimini, Italy
1. Kenan Sofuoglu, Turkey, Kawasaki
2. Jules Cluzel, France, Honda
3. Federico Caricasulo, Italy, Yamaha
4. PJ Jacobsen, USA, MV Agusta
5. Kyle Smith, England, Honda
…8. Sheridan Morais, South Africa, Yamaha
…DNF Niki Tuuli, Finland, Yamaha
Standings World Supersport Class after 7 of 12 rounds
1. Lucas Mahias, France, 105
2. Kenan Sofuoglu, Turkey, 100
3. Sheridan Morais, South Africa, 76
4. Jules Cluzel, France, 75
5. PJ Jacobsen, USA, 68
…13. Niki Tuuli, Finland, 27
Results World Supersport 300 class
1. Mika Perez, Spain, Honda
2. Armando Pontone, Italy, Yamaha
3. Alfonso Coppola, Italy, Yamaha
4. Dorren Loureiro, South Africa, Yamaha
5. Robert Schotman, Dutch, Yamaha
...22 Renzo Ferreira, Brasil, Yamaha
...DNF Kimi Patova, Finland, Yamaha
Standings World Supersport 300 Class after 5 of 9 rounds
1. Scott Deroue, Dutch, 75
2. Mika Perez, Spain, 72
3. Marc Garcia, Spain, 65
4. Alfonso Coppola, Italy, 57
5. Borja Sanchez, Spain, 48
…22, Kimi Patova, Finland, 5
… Renzo Ferreira, Brasil, 0
Photographer: Philippe Damiens
---