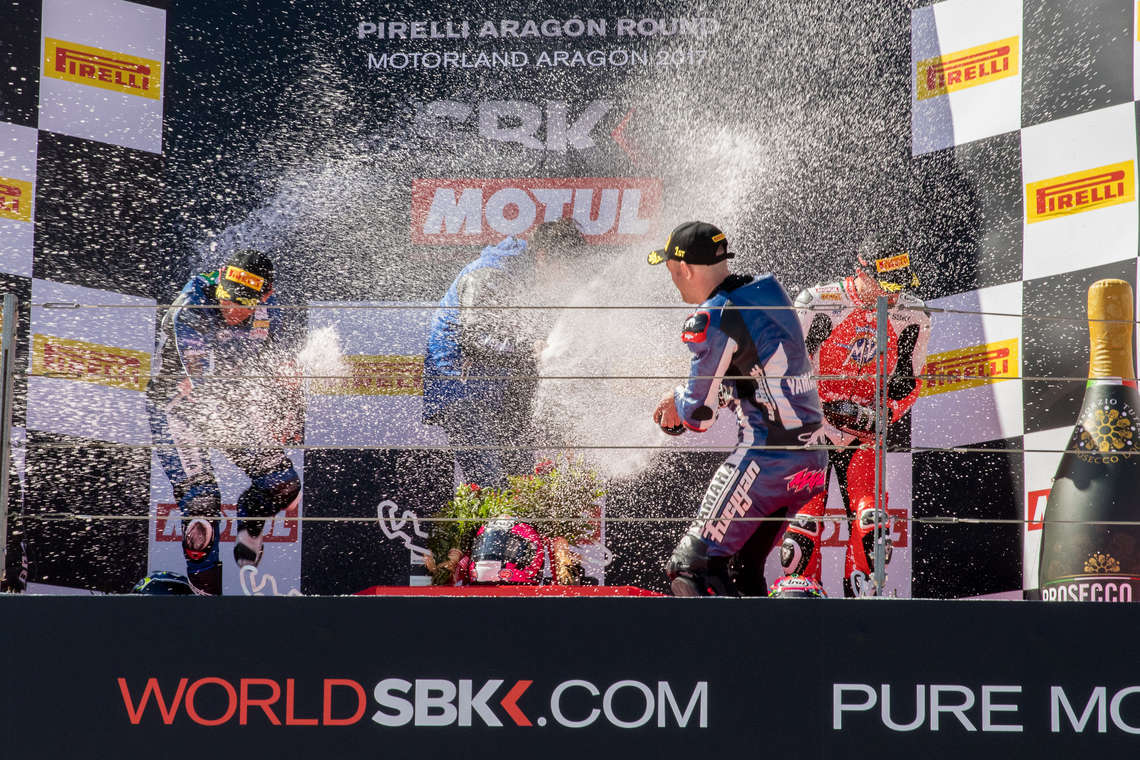 Another podium finish for Kallio Racing Team
It was a solid day of racing for Kallio Racing Team as Sheridan Morais finished on the podium in the World Supersport class in Aragon, Spain. Niki Tuuli crashed out of the race.
Sheridan Morais got off to a great start with his Yamaha YZF R6 machine. He was trying to pull away, but the race was way too tight for that. Riders were hunting each other throughout the race and they continued fighting till the checkered flag. Morais held strong to finish second.
"It was a great race and I'm happy to give my team another podium after Niki's great podium in Thailand. I'm looking forward to the next races where we know we can fight for the win. The race was pretty good. I tried to put my head down at the lead and I pushed to break away, but obviously, it's really difficult in this category. In the end, we were close to win, but I'm happy with the second place and I want to say thank you for my team for that", Sheridan said.
Niki Tuuli's race started well and he was making his way through the pack on the opening lap. Tuuli reached the top three, but unfortunately crashed on turn nine.
"We had a great setup for the bike and riding felt so smooth and easy. I made some good passes and reached the other riders, but then I went way too close to the rider in front of me and fell down braking too hard. I feel bad for the team, because they did amazing job with the setups and everything. In Assen I will be stronger and fight for the win", Tuuli said.
Team Manager Vesa Kallio was really happy for Morais's second place and the team effort.
"It was great to get the podium again. Morais rode good and Tuuli had some bad luck, but it's nice to see that we can fight for the win with both riders. Yamaha YZF R6 machines are working well and we have found a good setup. The whole team is working hard and I'm looking forward to next race in Assen", Kallio said.
In World Supersport 300 class Kallio Racing had bad luck when both riders Kimi Patova and Renzo Ferreira fell out of the race.
"The race wasn't too good for me, but we have to learn from this and be in good shape in Assen. This was the first race and next one will be easier", Ferreira said.
After a crash, Kimi Patova still found some positive things about the weekend.
"Weekend started well and we found good things on the track. In the race I got a good start and I was able to ride with good speed, but then someone hit me and the race was over. It was a pity, but in the Assen I will be stronger", Patova said.
Next Round: April 30, 2017 – Assen, Netherlands
Results World Supersport class Aragon, Spain
1. Lucas Mahias, France, Yamaha
2. Sheridan Morais, South Africa, Yamaha
3. PJ Jacobsen, USA, MV Agusta
4. Jules Cluzel, France, Honda
5. Michael Canducci, Italy, Kawasaki
DNF… Niki Tuuli, Finland, Yamaha
Standings World Supersport Class after 3 of 13 rounds
1. Lucas Mahias, France, 45
2. Roberto Rolfo, Italy, 40
3. Sheridan Morais, South Africa, 34
4. Kyle Ryde, Great Britain 32
5. Niki Tuuli, Finland, 27
Results World Supersport 300 class Aragon, Spain
1. Scott Deroue, Netherlands, Kawasaki
2. Daniel Valle, Spain, Yamaha
3. Mika Perez, Spain, Honda
4. Borja Sanchez, Spain, Yamaha
5. Angelo Licciardi, Belgium, Yamaha
…DNF Kimi Patova, Finland, Yamaha
…DNF Renzo Ferreira, Brasil, Yamaha
Standings World Supersport 300 Class after 1 of 9 rounds
1. Scott Deroue, Netherlands, Kawasaki, 25
2. Daniel Valle, Spain, Yamaha, 20
3. Mika Perez, Spain, Honda, 16
4. Borja Sanchez, Spain, Yamaha, 13
5. Angelo Licciardi, Belgium, Yamaha, 11
… Kimi Patova, Finland, Yamaha, 0
… Renzo Ferreira, Brasil, Yamaha, 0
Photographer: Philippe Damiens
---